Three decades after beating of Rodney King and the LA riots his daughter is still fighting for real change
Interview: Lora King tells Andrew Buncombe so much feels like 'recent history'
Wednesday 03 March 2021 16:19 Comments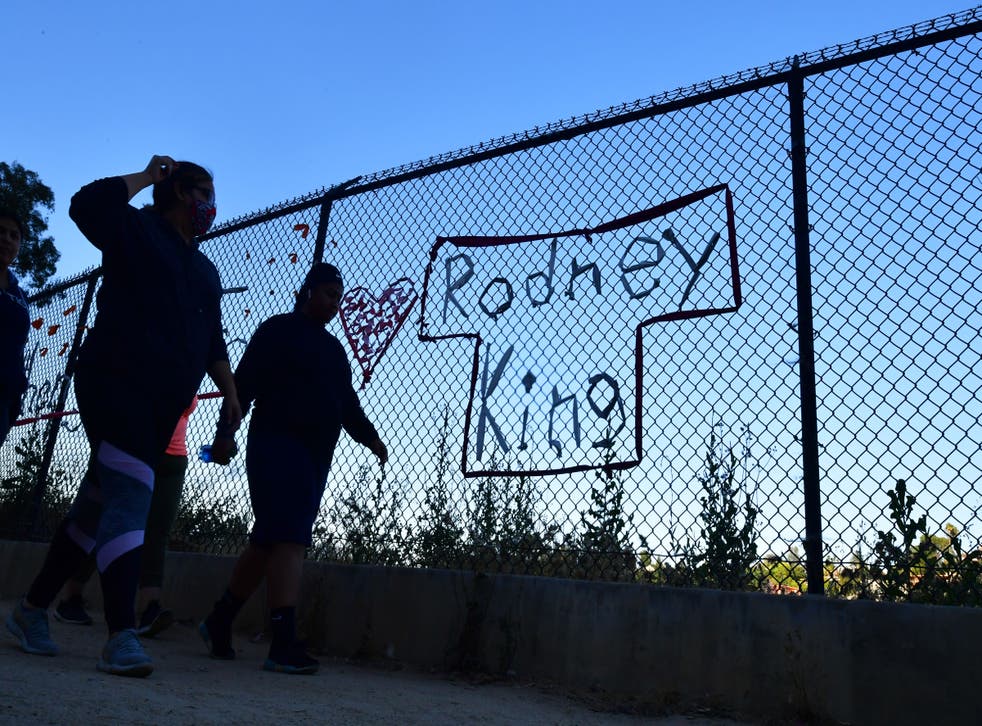 Leer en Español
Lora King was just seven when her father was beaten by officers from the Los Angeles Police Department – pummelled, stamped on, and struck with clubs so many times he never fully recovered.
She is now aged 37, but King says the assault upon her father, Rodney, feels like it happened just five years ago. The reason it feels like "recent history", she explains, is that such events keep being meted out by the police to people of colour, across the United States. 
It may be a different name, but the details are generally the same, and as often as not - as with the case of her father - those responsible are not held accountable. 
"Its still going on. So that's why I feel like it still is really recent, because it feels like time hasn't passed, because we're still in the same situation, if that makes sense," she says. "It's something that's repetitive, and it still keeps happening." 
The beating of Rodney King took place on March 3, 1991, after he led police on an early hours car chase in his Hyundai Excel, later explaining he was trying to avoid being detained for driving under the influence of alcohol, which. would have breached his parole. Ordered to get out of the vehicle and lie on the ground, he was beaten and struck dozens of times.
'We need to have empathy and better understanding', says daughter of Rodney King
The incident might have escaped public notice had it not been for a resident of the Lake View Terrace neighbourhood, George Holliday, who was the owner of a video camera. Holliday filmed the attack, and soon it was filling the news channels, triggering outcry and anguish.
Four officers would be charged, with three being cleared by a mostly white jury. The jurors could not reach a verdict on the fourth officer. Within hours, violence and rioting took hold in part of the city, that over six days would lead to the deaths of more than 60 people and $1bn worth of damage.
Witnesses and residents pointed out the destruction did not follow the beating of King, but rather the acquittal of the four officers more than 12 months later, after defence lawyers managed to move the trial out of Los Angeles itself and to the largely white Simi Valley.
"It was when we finally realised we could not trust the system," Sandy Banks, an African American journalist with the Los Angeles Times who won a Pulitzer prize for her coverage, told The Independent last year, on the 29th anniversary.
Lora King heads a foundation named for her father, who died in 2012, just months after publishing an autobiography, The Riot Within: My Journey from Rebellion to Redemption. He had been found lifeless in his swimming pool, and the coroner said he had died in an accidental drowning.
The group works to foster tolerance and mutual respect, and its website refers to King's comments in 1992, as the riots took hold and he pleaded: "Can't we all just get along".
Last year, when racial justice protests swept the nation following the killing by police in Minneapolis of George Floyd, King spoke of her empathy for Floyd's family, and in particular his daughter.
"It was very hurtful for me that she will have to watch that for the rest of her life because, like my situation, it's in the media so it's something that you can't escape from," she said.
Does she believe there is any significance in the diversity of the protests following Floyd's killing to what the country had seen before?
"It wasn't just African Americans - everybody was affected by this, because now America has to explain that to their children, because children are innocent, until they're exposed to the internet, or their friends are talking about it. And of course, they're going to bring it up to their parents. So parents are forced to explain this," she says.
She adds: "And you can't sugarcoat that because it is what it is. We all saw the same thing. It wasn't like there were clips cut out. We literally watched this man beg for his life, and he died on camera. So America, and the entire world, was forced to tell their kids the truth."
Does the ubiquity of cellphones and the fact so many incidents of police violence are now filmed - unlike when her father was assaulted - help in the struggle for justice?
She says it does, but technology is also a reminder of the enduring prevalence of such behaviour, and the systemic racism that underpins it.
"I definitely think it has opened more eyes, but at the same time, we're still in the same state. That was 30 years ago when that happened to my father," she says. 
"And then all the years before that, because my dad wasn't the first Rodney King - there was way more."
What does King make of the 6 January riot at the US Capitol when hundreds of supporters of Donald Trump, many of them carrying Confederate flags or other white supremacist symbols, sought to stop members of Congress ratifying the electoral college votes of Joe Biden?
She says it is a reminder that when people of colour and others protest in support of causes such as Black Lives Matter they are dismissed as "thugs and this and that".
"Yet when white people do it they're considered all these other names. It's never anything negative. It's a joke," she says. 
"When Black people do things, they can't even get close to the stairs before [police] guns are drawn out. And these people actually made it inside, and that's sick to me."
She adds: "[If that had been a group of black protesters] they would all be dead."
Is she optimistic about the possibility of meaningful change under Biden, and his vice president, Kamala Harris?
"I'm always open for hope, because at the end of the day, I do see light at the end of the tunnel. You know, God is amazing. And if it wasn't for him, a lot of us would have been lost. But considering his grace over our life, that's what gives me hope," she says.
"But mankind - it's just up in the air. You never know, because every month is a different valley. And I'm hoping they would change things - that will be great. That will be so amazing, but it's up in the air, you never know."
King is one of three daughters Rodney King had with different women. Lora King says they are in close touch. Her organisation works with many of the poorer communities of Los Angeles and elsewhere.
Does she believe that financial reparations for slavery - something Biden has suggested he supports considering in detail - would help start to address some of the intense economic inequality faced by Black Americans?
She says again the issue is complex because "money cannot buy everything and money can't replace a lot of things".
"I'm speaking for myself, it will help. But it can't change. Trauma … unfortunately, it's in everybody's DNA, even white Americans, because some people are judgmental, based off of their ancestors, not knowing who they are."
At the same time, "African Americans are behind because we were shorted". "It'd be beautiful if they did. But that's a lot of money. That's a whole lot of money that they would have to dish out."
She adds: "My thing is just to do right by people. You know, if we close our eyes, we've all been same skin tone. To me, judging somebody based off the their skin is the true definition of ignorance."
King says she will mark the anniversary of the assault on her father by distributing free meals in the Watts neighbourhood of southern Los Angeles. It has a large Hispanic and African American population. Several companies have provided food to feed at least 500 families. 
In doing so she will be helping to honour her father and his message.
"Just to give back to communities and give hope, because so much hope has been drawn out based off of these events that happen all the time. You know, this is a repetitive thing in their neighbourhood. This is not anything new, you know," she says. 
"My job, before I expire out of this world, is to give hope, to use my pain to push me forward to give hope to to anybody I can. And that's what I'm going to do." 
Register for free to continue reading
Registration is a free and easy way to support our truly independent journalism
By registering, you will also enjoy limited access to Premium articles, exclusive newsletters, commenting, and virtual events with our leading journalists
Already have an account? sign in
Join our new commenting forum
Join thought-provoking conversations, follow other Independent readers and see their replies