Rodney Reed: Texas appeals court issues dramatic stay days before execution
Texas was scheduled to execute a man for a 1996 murder despite evidence that could exonerate him
Alex Woodward
New York
Saturday 16 November 2019 00:05 Comments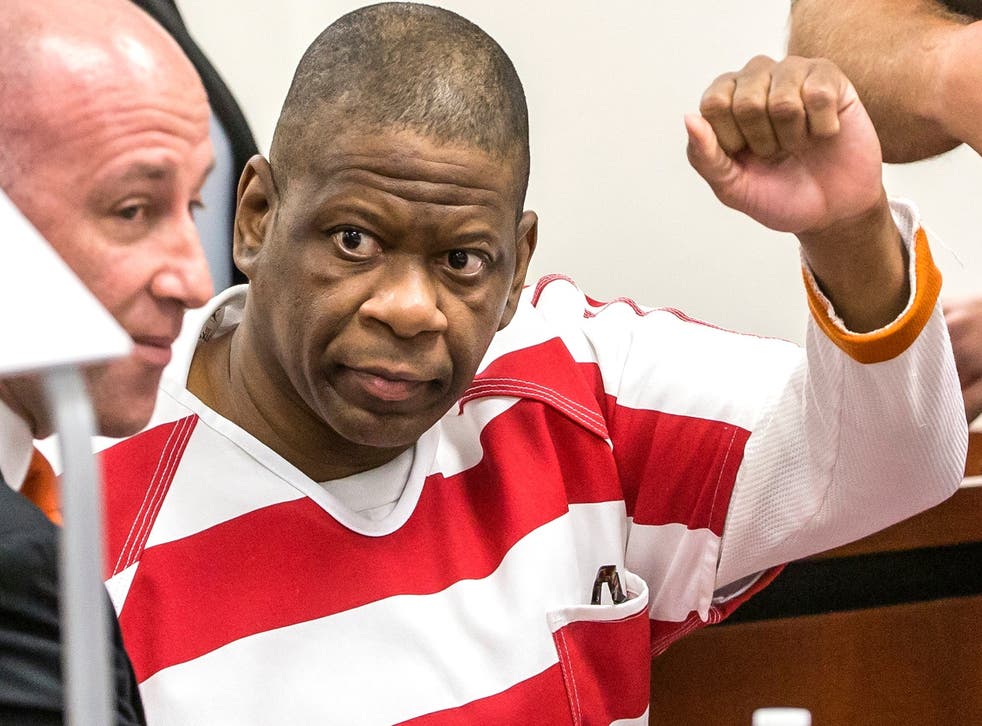 After a Texas parole board unanimously recommended the governor delay the execution of Rodney Reed, a state appeals court has issued a stay, ordering a trial court to hear new evidence.
The Texas Court of Appeals found that Mr Reed's claim of suppressed evidence as well "false testimony and actual innocence claims" will be considered before any further action is taken.
Mr Reed remains on death row despite mounting evidence that could prove his innocence in a 1996 murder.
The seven-member Texas Board of Pardons and Paroles also delivered a recommendation for a 120-day reprieve to Texas Governor Greg Abbott on Friday.
Mr Reed was scheduled to be killed by the state on 20 November. The appeals court order grants Mr Reed an indefinite stay, lifting his execution date.
The last testimony: The final words of Texas death row prisoners

Show all 21
He has been on death row since 1998
His attorneys with the Innocence Project said: "This opportunity will allow for proper consideration of the powerful and mounting new evidence of Mr Reed's innocence."

Ms Stites was strangled to death in 1996, and prosecutors argued that she was raped based on the discovery of DNA evidence that linked Mr Reed to the scene.

But Mr Reed has said he was having an affair with Ms Stites, which explained the evidence, and Mr Reed's attorneys have collected several testimonies that corroborate the affair.

Mr Reed's attorneys also have revealed new testimonies about Ms Stites' fiance, Jimmy Fennell, a former police officer who was released from prison in 2018 after pleading guilty in 2008 to kidnapping a woman while he was on duty.
That woman also said Mr Fennell raped her.
A man who was imprisoned with Mr Fennell also said he confessed to the murder of his fiancee. The inmate, Arthur Snow Jr, was formerly a member of a white prison gang, and Mr Fennell, who is white, had confessed that he killed Ms Stites because she had cheated on him with Mr Reed, who is black.
Attorneys say another man testified that he heard Mr Fennell say he would kill Ms Stites if he caught her "messing around".
A former sheriff's deputy also testified that Mr Fennell said "you got what you deserved" at Ms Stites' funeral.
An attorney for Mr Fennell has denied the claims.
The murder weapon — a belt — was not tested for DNA evidence, among several prosecutorial missteps, including the timeline of Ms Stites' killing, which state investigators later admitted in affidavits recanting their original reports. Attorneys for Mr Reed said their testimony makes the state's timeline "implausible".
Growing public pressure, including a rare bipartisan support among Texas politicians, including Republican Senator Ted Cruz and former Democratic Congressman and presidential candidate Beto O'Rourke, has urged Governor Abbott to delay Mr Reed's execution.
Mr Reed's attorney with the Innocent Project says he's "thankful" for the vote of reprieve but is demanding Governor Abbott "consider all of the facts in this case, and adopt the Board's recommendation as soon as possible."
Attorney Bryce Benjet said: "This time is critical to allow for proper consideration of the powerful new evidence of his innocence and possible DNA testing that could help prove who actually committed the crime."
Register for free to continue reading
Registration is a free and easy way to support our truly independent journalism
By registering, you will also enjoy limited access to Premium articles, exclusive newsletters, commenting, and virtual events with our leading journalists
Already have an account? sign in
Join our new commenting forum
Join thought-provoking conversations, follow other Independent readers and see their replies