Ronald Reagan 'prepared for historic Cold War meeting by reading Tom Clancy thriller'
Red Storm Rising seems to have influenced his thinking at a crucial juncture in the Cold War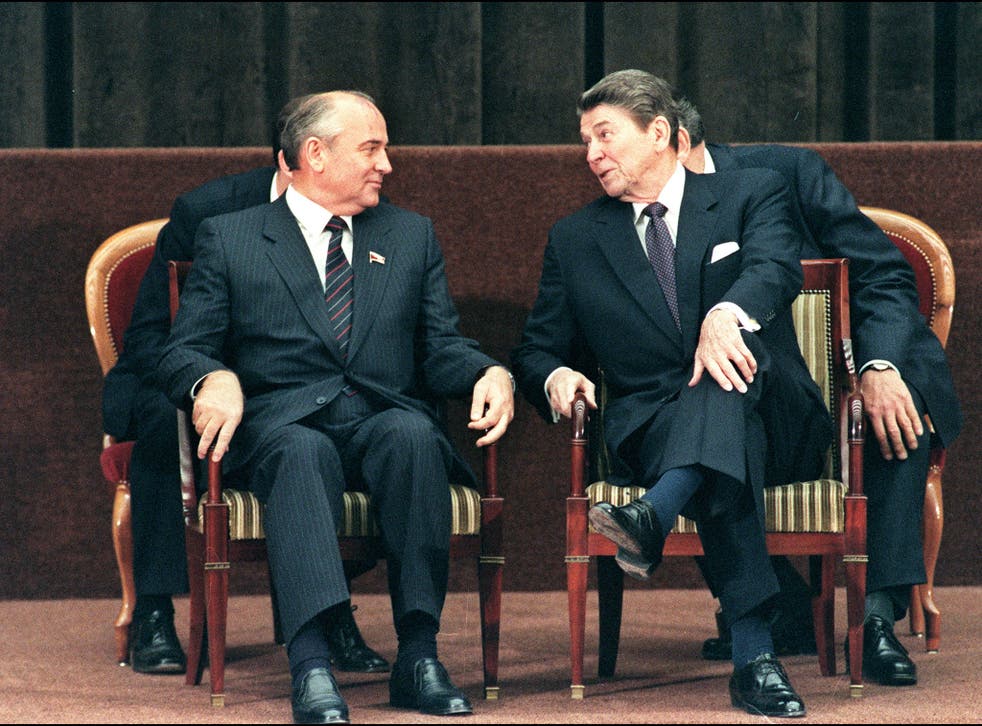 When preparing for a key summit on a matter of global security, it is usual for leaders to get themselves up to speed by reading as much incisive briefing as possible.
Few such meetings can have been more crucial than that between Ronald Reagan and Mikhail Gorbachev in Reykjavik in 1986 when the American and Soviet leaders met to discuss a thaw in the Cold War by reducing their nuclear arsenals.
So what did the world's most powerful man read to gain insight into the mindset of his Politburo opposite with world peace hanging in the balance? According to previously unseen secret documents the US president prepared for his Icelandic showdown by reading an airport thriller by the author Tom Clancy.
An account of a phone call between Mr Reagan and British Prime Minister Margaret Thatcher within hours of the Iceland summit reveals how the president "strongly commended" to her Red Storm Rising, a multi-million copy-selling pot boiler imagining a Third World War between NATO and the Warsaw Pact.
The memo detailing the conversation between the two leaders, whose closeness came to epitomise the "special relationship", describes how Mr Reagan heaped praise on Clancy, an insurance broker turned novelist, for providing an "excellent" account of Moscow's intent.
The US president, a former actor renowned for his hands-off style of leadership, had previously made known his admiration of Clancy's books, including nuclear submarine thriller The Hunt for Red October.
But his recommendation of the novel to his political soul mate provides confirmation that he was reading Red Storm Rising at the time of the Reykjavik meeting and, crucially, that it seems to have influenced his thinking at a crucial juncture in the Cold War.
The memo, marked secret and written by Mrs Thatcher's private secretary and foreign policy adviser, said: "The President strongly commended to the Prime Minister a new book by the author of 'Red October' called (I think) 'Red Storm Rising'. It gave an excellent picture of the Soviet Union's intentions and strategy. He had clearly been much impressed by the book."
Held in a former French consulate outside the Icelandic capital, the Reykjavik summit was one of the most extraordinary of the series of meetings between Reagan and Gorbachev that presaged the eventual collapse of the USSR.
Although declared a failure after it collapsed at the last minute, the meeting brought the first serious discussion between East and West of eliminating all nuclear weapons.
Such an epoch-making deal foundered over Soviet insistence that all further work on Mr Reagan's pet project - the so-called Star Wars anti-missile shield or Strategic Defence Initiative - be restricted to laboratories.
The exact extent to which the Clancy thriller coloured the President's thinking will remain unknown. But the Downing Street memo offers a tantalising suggestion that the former film star may have begun to conflate fact with fiction when it came to interpreting Mr Gorbachev's actions.
Red Storm Rising, which describes a war fought to the brink of a nuclear conflagration, features a slick and duplicitous Politburo chairman who makes Washington a generous offer on arms reduction while all the time secretly planning for war.
Mr Powell wrote: "The President also showed deep distrust of Soviet motives. Their attempt to freeze US research into strategic defence was cover for them 'to go ahead like crazy with their own missile defence plans'."
While the apparent use of a work of fiction as a crib sheet for the delicate process of negotiating away weapons of mass destruction might not inspire confidence in Mr Reagan's grasp of geo-political detail, Mr Clancy was at least highly rated as an observer of Cold War technology.
Red Storm Rising was written with apparent expertise in sensitive military secrets such as America's stealth bombers or the USSR's Typhoon-class nuclear submarines.
When a senior Washington admiral read Hunt for Red October, his initial response is reputed to have been to shout: "Who the hell cleared this?"
Clancy later revealed that the primary source for his insights in NATO strategy was not classified material but a freely available naval warfare board game.
Join our new commenting forum
Join thought-provoking conversations, follow other Independent readers and see their replies