Rose McGowan delivers first speech since accusing Harvey Weinstein of rape: 'It cannot stand and will not stand'
'It's time to clean house'
Jeremy B. White
San Francisco
Friday 27 October 2017 23:01 Comments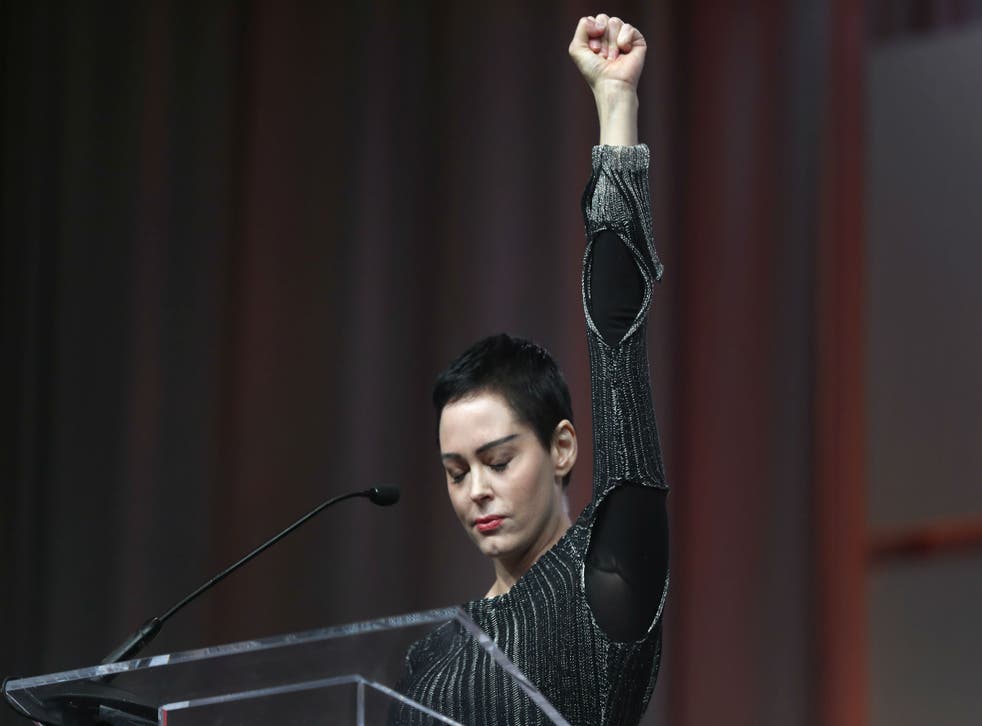 In her first public speech since accusing Harvey Weinstein of rape, actress Rose McGowan issued a rousing call to expose and root out Hollywood sexism.
Dozens of women have come forward to accuse Weinstein, a powerful producer, of sexual harassment and assault. He has denied any non-consensual sex occurred.
McGowan was among them, and social media users rallied around her after Twitter temporarily suspended the account she used to broadcast her accusation of rape. Twitter said McGowan had violated its rules by posting a private number.
It has been both traumatic and empowering to see women go public with their accusations against Weinstein, McGowan told her audience at the Women's Convention in Detroit.
"The triggering has been insane — the monster's face everywhere, my nightmare," McGowan said, according to the Associated Press. "I have been silenced for 20 years. I have been slut-shamed, I have been harassed, I have been maligned, and you know what? I am just like you. What happened to me behind the scenes happens to all of us in this society. It cannot stand and will not stand."
In the process of speaking out, McGowan said, she she "came to be a voice for all of us who've been told we are nothing" and who have been "looked down upon". She praised her supporters for "giving me wings" and said women needed to continue taking a stand.
"We are pure, we are strong, we are brave and we will fight", McGowan said, according to CNN.
Harvey Weinstein: his accusers

Show all 42
That imperative is especially strong in male-dominated Hollywood, McGowan said, noting that the Directors Guild of America is overwhelmingly made up of men.
"We are given one view and I know the men that are behind that view and they should not be in your mind and they should not be in mine. It's time to clean house," McGowan said.
Mimi Hayleyi: Harvey Weinstein "orally forced himself on me while I was on my period"
The snowballing allegations against Weinstein cost him his position with the Weinstein Company, the production company he co-founded.
He is on a growing list of powerful men in the entertainment world who have lost their positions amid accusations of sexual harassment, among them Fox News star Bill O'Reilly, journalist Mark Halperin and former Amazon Studios head Roy Price.
Register for free to continue reading
Registration is a free and easy way to support our truly independent journalism
By registering, you will also enjoy limited access to Premium articles, exclusive newsletters, commenting, and virtual events with our leading journalists
Already have an account? sign in
Join our new commenting forum
Join thought-provoking conversations, follow other Independent readers and see their replies