Roy Moore: Republicans resume campaign funding after Donald Trump backs accused candidate
State party gives tens of thousands of dollars to support the controversial candidates bid
Wednesday 06 December 2017 12:26
Comments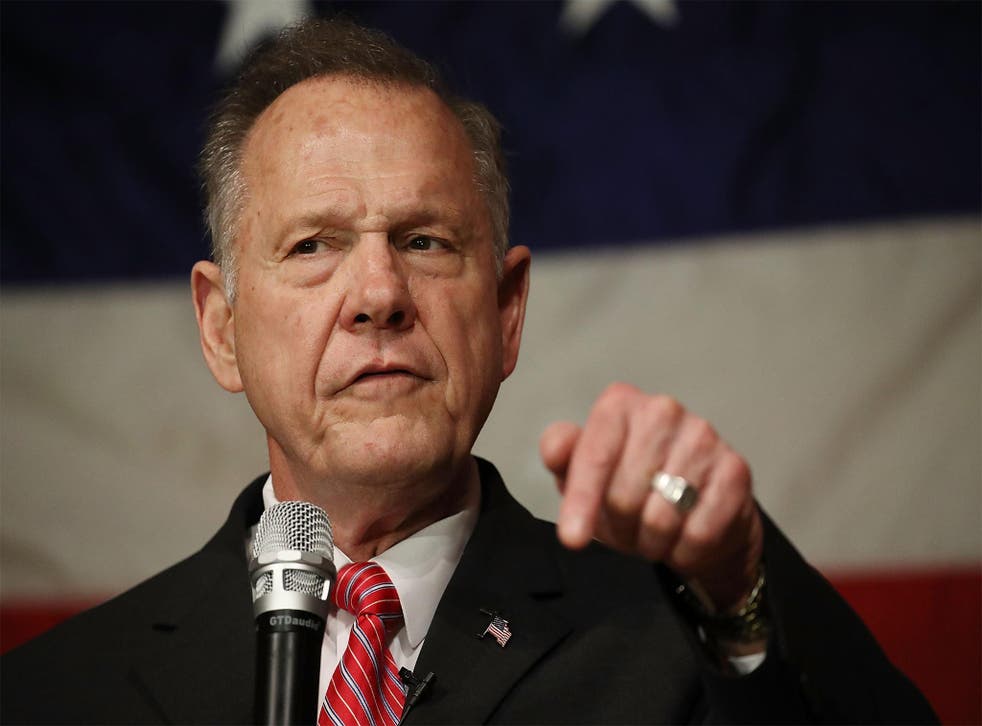 Donald Trump's Republican Party will resume funding the US Senate campaign of Roy Moore after the president endorsed the Alabama Republican, who is accused of sexual misconduct involving teenage girls.
The Republican National Committee (RNC) had transferred $50,000 (£37,500) to the Alabama Republican Party in support of Mr Moore, an official said. No RNC staff have been deployed to the state.
The state party can use the money as it sees fit, the official said on condition of anonymity.
A second transfer for the sum of $120,000 (£89,600) was made to the Alabama state Republican Party on Moore's behalf, making the total $170,000 (£127,000), an official said.
The RNC cut ties with Mr Moore last month after several women accused the former Alabama judge of sexual assault or misconduct when they were teenagers and Moore was in his early 30s.
The 70-year-old, has denied the accusations.
Earlier this week, the White House said Mr Trump had called Mr Moore to give him his support. In a tweet that acknowledged the president's endorsement, Moore quoted Trump as saying: "Go get 'em, Roy!"
In a sign of the deep divide within the Republican Party around the allegations facing Mr Moore, former US presidential candidate Mitt Romney criticised Mr Trump's endorsement, as did former RNC Chairman Michael Steele.
"Roy Moore in the US Senate would be a stain on the GOP and on the nation," Romney wrote on Twitter, using the abbreviation for Grand Old Party, which the Republican Party is sometimes referred to as.
Senate Majority Leader Mitch McConnell said last month he believed Moore's accusers and joined other senators in urging him to quit the race. But on Sunday, the Republican McConnell said it was up to Alabama voters to decide whether to send Moore to Washington.
Moore will face off with Democratic candidate and former US Attorney Doug Jones in a special election on Dec. 12.
"As I have said before - I believe these women. And so should you," Mr Jones said in speech earlier this year.
Thousands march against Donald Trump in LGBT rights parade

Show all 8
At the White House, Mr Trump told reporters he thought Mr Moore was going to do "very well" in next week's election.
"We don't want to have a liberal Democrat in Alabama," Mr Trump said. "We want strong borders, we want stopping crime, we want to have the things that we represent. And we certainly don't want to have a liberal Democrat that's controlled by Nancy Pelosi and controlled by Chuck Schumer," he added in reference to the Democratic leaders of the US House of Representatives and Senate.
Reuters
Register for free to continue reading
Registration is a free and easy way to support our truly independent journalism
By registering, you will also enjoy limited access to Premium articles, exclusive newsletters, commenting, and virtual events with our leading journalists
Already have an account? sign in
Register for free to continue reading
Registration is a free and easy way to support our truly independent journalism
By registering, you will also enjoy limited access to Premium articles, exclusive newsletters, commenting, and virtual events with our leading journalists
Already have an account? sign in
Join our new commenting forum
Join thought-provoking conversations, follow other Independent readers and see their replies