Rubio reaps rewards from water lunge gaffe
Tim Walker
Monday 18 February 2013 20:03 Comments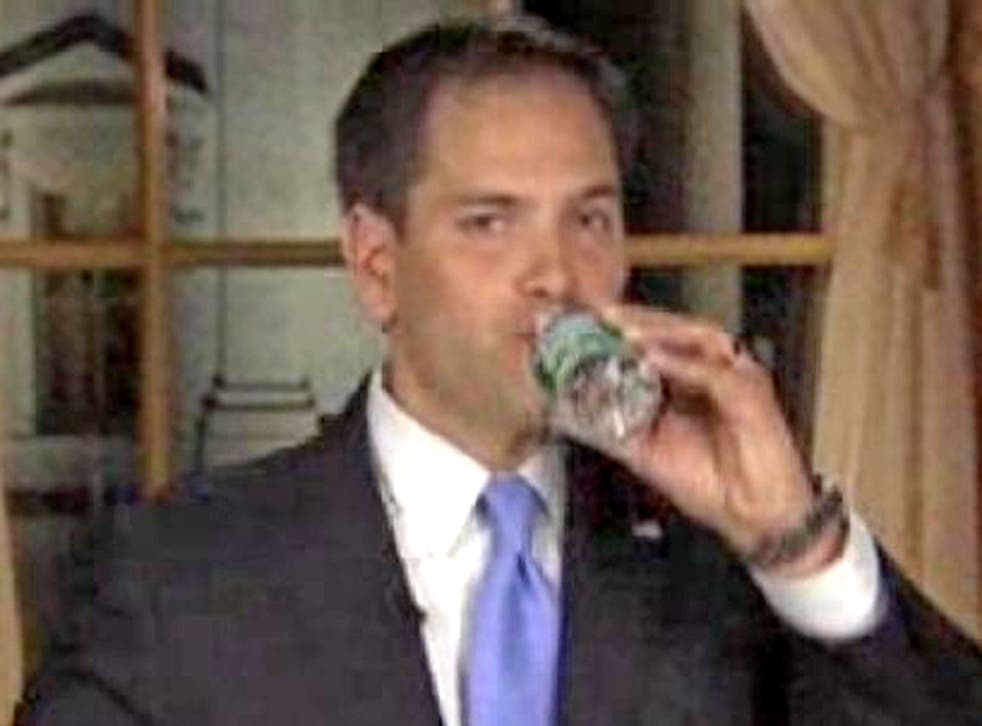 A week after he became the laughing stock of the internet with his so-called "water lunge", Florida Senator Marco Rubio has proved he has a characteristic crucial to any politician: the ability to bounce back.
In the days since the gaffe, he has raised more than $100,000 for his Political Action Committee (PAC), Reclaim America, by selling Rubio-branded water bottles.
The 41-year-old, who was elected to the Senate in 2010 and recently featured on the cover of Time magazine, was given the weighty responsibility of delivering the Republican response to President Barack Obama's State of the Union address last Tuesday evening. On camera, he appeared nervous and sweaty, like a latter-day Richard Nixon. At one point, his mouth dry, he was forced to reach awkwardly for a tiny bottle of water and take a gulp.
That moment proved to be viral gold, but Rubio too has turned it to currency. Just 24 hours after what appeared to be a PR disaster, his PAC website was offering a "Marco Rubio Water Bottle" to anyone who made a donation of $25 or more. "Send the liberal detractors a message that not only does Marco Rubio inspire you… he hydrates you too," reads the blurb.
According to the website Buzzfeed, more than 3,100 of the bottles have been sold since last Wednesday, when Rubio also made light of the incident during an appearance on ABC's Good Morning America.
"God has a funny way of reminding us we're human," he said.
Register for free to continue reading
Registration is a free and easy way to support our truly independent journalism
By registering, you will also enjoy limited access to Premium articles, exclusive newsletters, commenting, and virtual events with our leading journalists
Already have an account? sign in
Join our new commenting forum
Join thought-provoking conversations, follow other Independent readers and see their replies