Rupert Murdoch's media empire thrown into doubt as he announces divorce from Wendi Deng
US filing by News Corp boss, 82, said 14-year marriage had broken down 'irretrievably'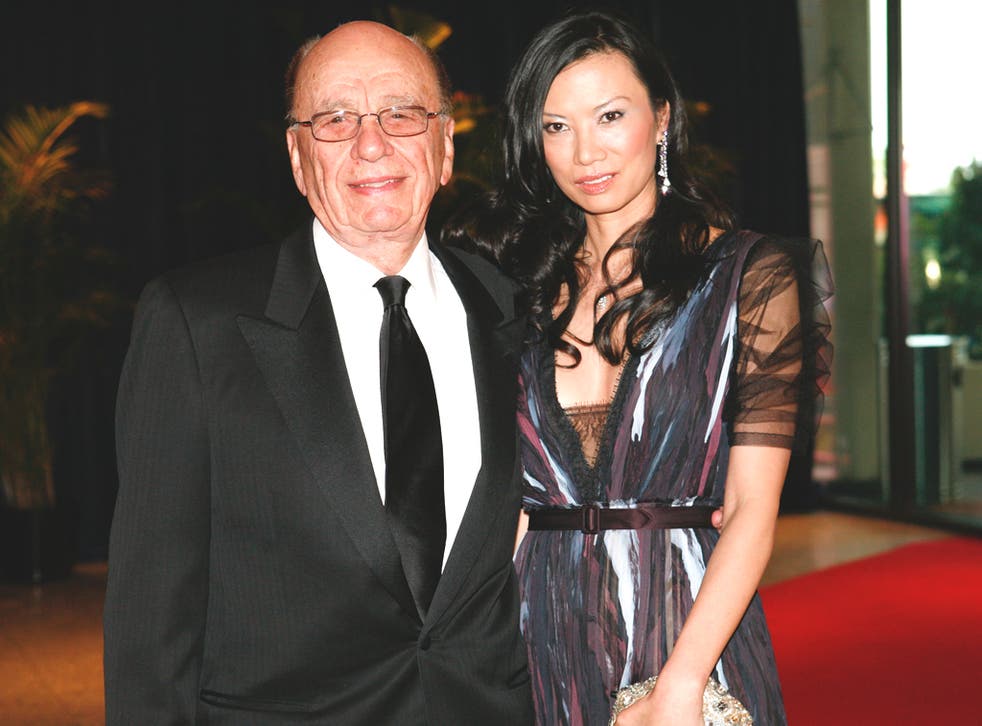 Rupert Murdoch, the chief executive of News Corp, has filed for divorce from his wife Wendi, prompting speculation that the world's largest media empire could become engulfed in a bitter inheritance battle.
Murdoch, 82, married the Chinese-born Wendi Deng, 44, famed for attacking a protestor who hit her husband with a custard pie, in 1999. The couple have two daughters, aged 11 and nine.
The media mogul, whose wealth is estimated $11.2 billion, filed for divorce on the grounds that his relationship with his third wife had broken down "irretrievably for more than 6 months".
The divorce petition was filed on Thursday in the New York Supreme Court.
Mrs Murdoch was informed in advance of her husband's decision, according to a person close to the family.
The divorce could prove one of the most expensive in legal history.
Murdoch's split from his second wife Anna Maria cost him $1.7 billion, including an $110 million cash settlement, in 1999.
Murdoch and Deng, who met at a Hong Kong company party in 1997, married just three weeks after his previous divorce was finalised.
A pre-nuptial agreement between Murdoch and Deng and two post-nuptial agreements will now be enforced.
Robert Peston, the BBC Business editor, tweeted that the "undisclosed reasons for Murdoch divorcing Deng are jaw-dropping."
During the marriage, Deng had played an increasingly prominent role in Mr Murdoch's business.
Murdoch, a father-of-six, has sought to negotiate a solution to demands by his four adult children that he resolve the succession question hanging over News Corp.
Deng insisted that Grace and Chloe, her two young children with Rupert, be represented in the family trust which controls News Corp, along with the oldest four children from his previous marriages - daughters Prudence and Elisabeth, and sons Lachlan and James.
When Rupert divorced Anna, she gave up her claim to half the Murdoch fortune in order to ensure that Elisabeth, Lachlan, and James, together with her stepdaughter, Prudence, would be guaranteed control of News Corp.
In the settlement, Rupert got four votes in the trust and each of the children got one vote. The adult children opposed the suggestion that Wendi's children should have voting representation in the trust.
Under a hard-fought agreement, each of the Murdoch children, including Wendi's, received a $150 million disbursement from the trust. However the Deng daughter received no votes.
If the arrangement were revisited as part of Mr Murdoch's latest divorce settlement, it could produce fresh resentments and undermine the billionaire's bid to maintain control of News Corp and reposition the company for the digital future, following the phone hacking scandal.
Under pressure from investors Murdoch has agreed to divide the business into two public companies: one for its entertainment assets, including the Fox film studio and television company and another for the publishing businesses, including UK newspapers The Sun and The Times.
A News Corporation spokeswoman said the divorce would have no impact on the company.
Analysts said the end of the Murdochs' marriage was unlikely to have an effect on the corporate separation, which will be completed on June 28.
"I doubt it has a substantial impact on the spin," said Gabelli & Co. analyst Brett Harriss. "Given that it's his third wife, I see it unlikely that he didn't plan for this contingency."
Deng was born to a well-off Chinese family. A champion volleyball player, by 16 she had enrolled at medical school in Guangzhou, a southern Chinese city.
Graduating from Yale in 1996, she went work at News Corp's Star TV in Hong Kong and in 1998 was deputed to act as Murdoch's interpreter in Shanghai and Beijing.
They wed in front of 82 guests in 1999 aboard Mr Murdoch's 155-foot yacht, the Morning Glory, in New York Harbour.
Previous nanny Ying Shu said Murdoch and Deng, who divorced her first husband in 1993,frequently took to separate beds. Hsu said. "The marriage isn't great. A lot of times they slept separately."
Deng achieved international prominence in 2011 when she landed a blow on a protester who threw a pie at her husband when he gave evidence before a Parliamentary inquiry into phone hacking. At the time it was seen as the fiercely protective act of a loving wife.
Rupert Murdoch's assets
Businesses
As the chairman of News Corp has a pay package worth over $20 million annually but his overall worth is put at £11.2billion by Forbes. News Corp itself is valued at $70.7 billion. Among its - and his - assets are 175 newspapers, including The Sun and The Sunday Times, Twentieth Century Fox Studio, and 35 TV stations, among them Fox News.
Homes
His most recent (known) acquisition was the $30 million, 13-acre Moraga Vineyards in Bel Air, LA, including a mansion, a guest house, office space and a wine cave. He has an apartment that cost $44 million in 2005 at 834 Fifth Avenue, one of New York's most desirable addresses, an 11-bed villa in Beverley Hills, a luxury apartment in Mayfair and, reportedly, homes in Beijing and Melbourne.
Yachts
The 200-foot superyacht Vertigo, the seventh largest sailing yacht in the world, cost about $80 million. It boasts six staterooms, a swimming pool, a gym and a crew of 11. It won 'Greatest Design' at the 2012 Monaco Yacht Show. The mogul also owns the 183-foot Rosehearty which has five luxury suites and is available for charter - at $370,000 a week.
Jets
Murdoch has two private jets, one of them being a Boeing 737 with custom-built interior and a price tag of $62-$82 million, depending on specifications. His other jet is a Gulfstream 550, which can carry up to 18 passengers and with a reputation as one of the most stylish long-range business aeroplanes. Prices start at £42.9 million.
Cars
Among the cars he is known to have around the world are three Range Rovers, each a different colour, and a $55,000 Lexus GS450H.
Join our new commenting forum
Join thought-provoking conversations, follow other Independent readers and see their replies