Jeff Sessions faces scrutiny over Michael Flynn's calls to Russia
The attorney general was sitting on the same national security council as Flynn when he sought to reassure the Russians that sanctions would be overturned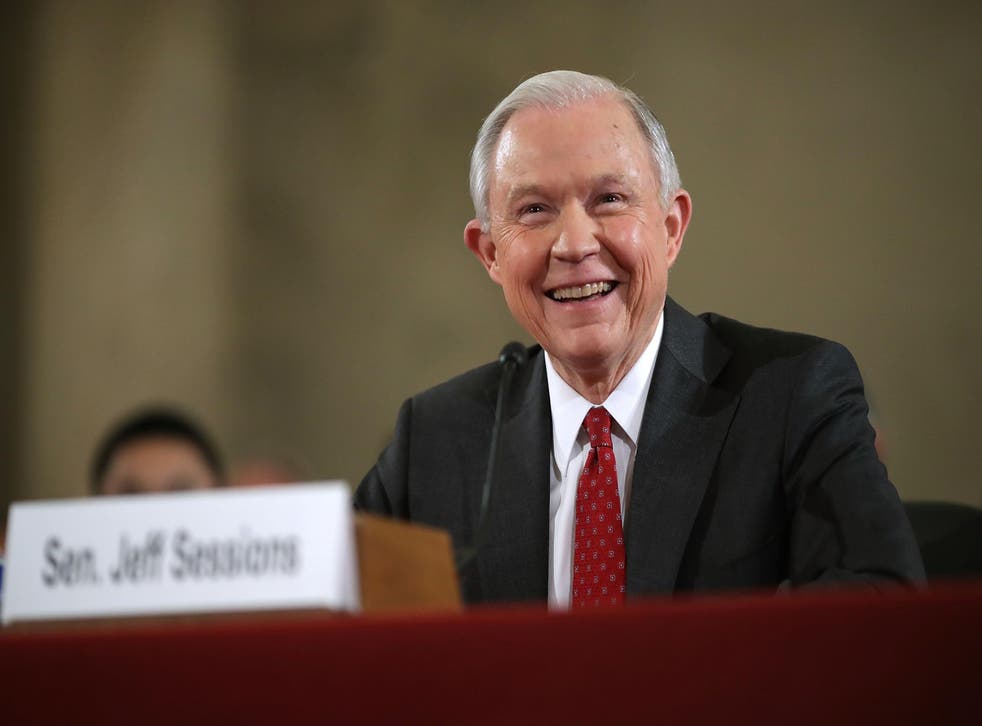 Jeff Sessions is once again in the spotlight after it was revealed he sat on the same Trump campaign national security council as Michael Flynn, the former national security adviser who was forced to resign after admitting he called the Russian ambassador to reassure them that sanctions would be overturned.
The Attorney General, who was sworn in last week despite opposition from Democrats and civil rights activists, is now being asked to recuse himself from his role at the nation's highest office after speculation is swirling that he may also have been involved in the Russia-related scandal.
That is despite revelations that Mr Sessions would lead the investigation against Mr Flynn.
The Trump campaign said in a statement on 7 October 2016 last year that his national security council included Mr Flynn, Mr Sessions, Republican Senator Tom Cotton and former Fox News anchor KT McFarland.
After earlier incorrect reports that she had also quit, Ms McFarland said she would remain in her role as the deputy national security adviser after Mr Flynn resigned.
Mr Sessions was reportedly a key architect of Mr Trump's Muslim ban, which barred nearly all travellers from seven Muslim-majority countries for at least 90 days and indefinitely suspended Syrian refugees. The executive order was signed on 27 January, before Mr Sessions was sworn in to office.
Michael Flynn resigns as national security adviser over Russia row
He has long been a supporter of the President, and acted as an adviser. During his senate confirmation hearing, he said he would recuse himself from any investigation into Hillary Clinton and her alleged misuse of her personal email server when she was secretary of state as he had spoken against her during the campaign.
Senate minority leader Chuck Schumer said that there needs to be "an independent and transparent investigation into General Flynn's action and the Trump's administration's knowledge of them".
"Gen Flynn's resignation is not the end of the story, it is merely the beginning and the American people deserve to know the truth," he said.
Cory Booker testifies that Jeff Sessions is not qualified to protect the rights of U.S. citizens
The President reportedly knew about Mr Flynn's calls with Russia to reassure Vladimir Putin that former President Barack Obama's sanctions would be overturned for at least three weeks.
White House Press Secretary Sean Spicer addressed the matter to reporters.
"It was not a legal issue, it was a trust issue. General Flynn is a dedicated public servant, he has served this country admirably. I think the president has appreciated his service to the country."
He added: "It was not a matter of law. It was a matter of trust."
Mr Trump's administration has been dogged by allegations of close ties to Russia, including his cabinet members like Rex Tillerson having received awards from the country and conducting business there for decades.
Mr Trump praised Mr Putin as being a "great leader" and his work to combat Isis in Syria, even though both countries have been accused of war crimes. Russia allegedly exerted a "campaign of influence" on the election by hacking Democratic computers and leaking information to WikiLeaks, as well as spreading fake news online, according to the FBI and CIA.
Join our new commenting forum
Join thought-provoking conversations, follow other Independent readers and see their replies