Sabrina Corgatelli: US hunting tourist posts picture of herself with dead giraffe after Cecil the lion outrage
Following public outcry after Zimbabwe's Cecil the lion was killed, trophy hunters posting pictures online have received increased criticism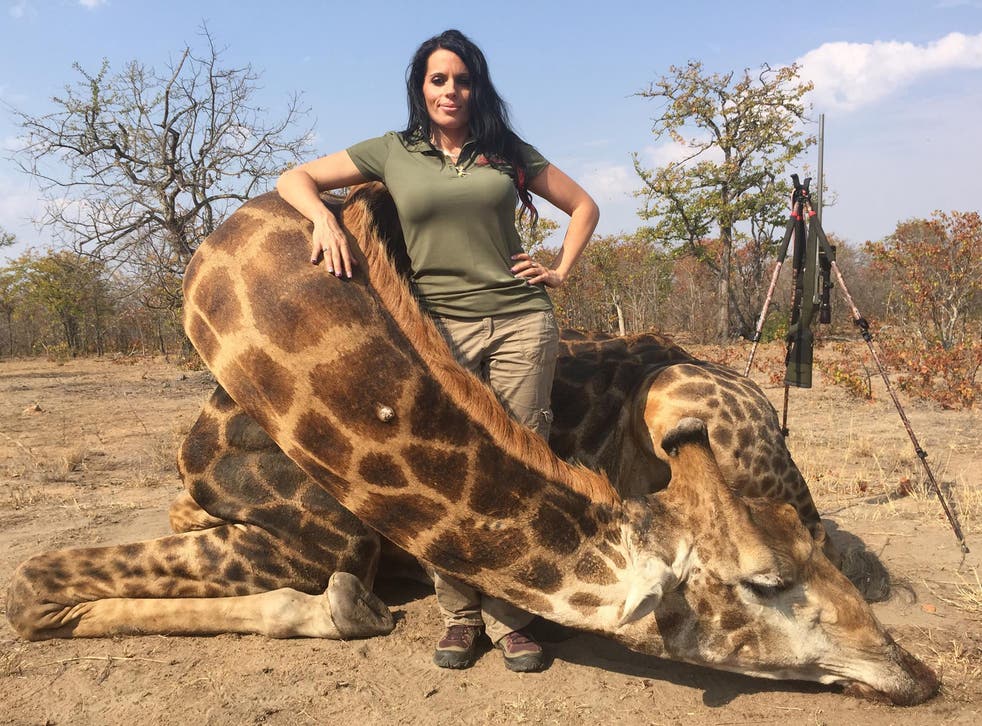 A US hunting tourist has provoked an online backlash after posting photos of herself with several dead animals in South Africa.
Sabrina Corgatelli, a senior accountant and hunting enthusiast from Idaho, posted pictures on her Facebook page of herself with animals including a giraffe that she shot dead.
Ms Corgatelli has been posting hunting pictures from Old Days Safari park in South Africa on social media since July and has told her "haters" that there is more to come.
The caption underneath the picture of Ms Corgatelli with the giraffe read: "Day #2 I got a amazing old Giraffe. Such a amazing animal!! I couldn't be any happier!! My emotion after getting him was a feeling I will never forget!!!"
Ms Corgatelli, an accountant for Idaho State University, commented under the picture, saying: "I have so much respect and love for this animal. It was the most ethical shot I have ever made!!! I have such a disbelief that I got a giraffe!!!"
Animal rights advocates online have fiercely criticised trophy hunters after Cecil the lion was shot and killed by a US dentist during an allegedly illegal hunt in Zimbabwe last month.
The most controversial animal killings

Show all 6
In response to critics Ms Corgatelli quoted the Bible on hunting: "Genesis 9:3 says, 'Every moving thing that lives shall be food for you. And as I gave you the green plants, I give you everything.'
Genesis 27:3 says, 'Now then, take your weapons, your quiver and your bow, and go out to the field and hunt game for me,'" she wrote.
Ms Corgatelli's trophy kills during her South African trip with her partner Aaron Neilson include giraffe, kudu, impala, wildebeest and warthog.
Register for free to continue reading
Registration is a free and easy way to support our truly independent journalism
By registering, you will also enjoy limited access to Premium articles, exclusive newsletters, commenting, and virtual events with our leading journalists
Already have an account? sign in
Register for free to continue reading
Registration is a free and easy way to support our truly independent journalism
By registering, you will also enjoy limited access to Premium articles, exclusive newsletters, commenting, and virtual events with our leading journalists
Already have an account? sign in
Join our new commenting forum
Join thought-provoking conversations, follow other Independent readers and see their replies