Same-sex marriage: American Samoa may be the only territory in the US where the historic Supreme Court ruling does not apply
'We're still reviewing the decision to determine its applicability to American Samoa'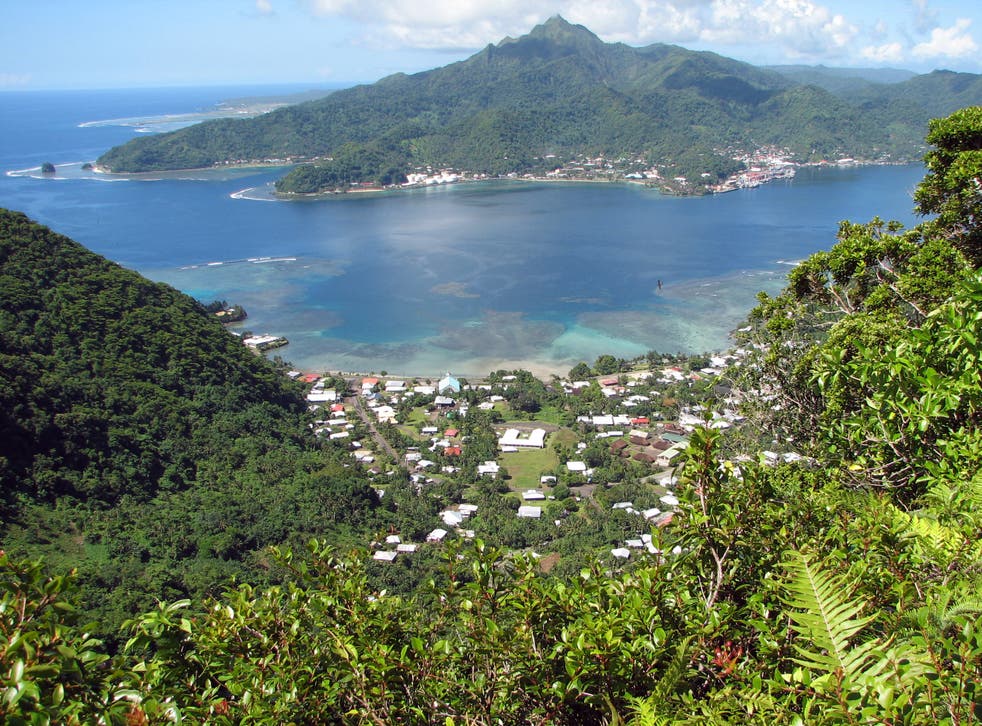 The Pacific islands of American Samoa is an unincorporated territory of the United States — much like Puerto Rico or Guam. But unlike those places, same-sex marriage may not be legal in American Samoa, despite the recent ruling from the US Supreme Court.
"We're still reviewing the decision to determine its applicability to American Samoa," the territory's Attorney General Tallauega Eleasalo Ale said.
When asked if same-sex marriage is legal in the territory, he replied: "I don't know. We're reviewing the law."
Every other US territory has voluntarily adopted the landmark law, and experts and advocates alike have called for American Samoa to do the same.
Rose Cuison Villazor, a professor at University of California, Davis' Law School, and an expert on territorial law, said: "It should be unquestioned. The Supreme Court's decision was pretty strong."
Same-sex marriage legalised across the US

Show all 15
Despite the limited self-governance rights afforded to US territories, many have argued that the right to marry is something different entirely.
"This is a question of individual right, individual liberty," said Omar Gonzalez Pagan, staff attorney for national gay rights group Lambda Legal.
Puerto Rico Governor Alejandro Garcia Padilla signed an executive order soon after the Supreme Court ruling; the US Virgin Islands Governor Kenneth Mapp has said he would do the same; Guam's territorial legislative Vice Speaker Benjaming F Cruz, who is gay, said it would not challenge or ignore the ruling; The Commonwealth of the Northern Mariana Islands also backs the law.
American Samoa - where around 50,000 people are spread across five small islands - is largely conservative Christian, with the government's motto 'Samoa, Let God Be First'. The territory, however, has a tradition of embracing faafafine — males who are raised as females and take on feminine traits.
Many faafafine, according to leading figure Princess Auvaa, do not actively support gay marriage out of "respect for our Samoan culture and religious beliefs."
There have not yet been any applications for same-sex marriage licenses in American Samoa, but Villazor said that isn't because couples don't want to marry.
She fears the legal review may make have a chilling effect: "I would think there are cultural barriers to begin with. The Attorney General might present some other legal and social barriers, too."
For same-sex marriage to be recognized in American Samoa, there would need to be a voluntary decision or litigation, said Chimene Keitner, another expert on territorial status issues at University of California, Hastings College of the Law.
Litigation would require "plaintiffs who have been denied the right to marry and are willing to take a public position on that and challenge their inability to marry," she said. Plaintiffs could also be those who were married elsewhere and want the marriage recognized in American Samoa, she said.
Princess Auvaa wants same-sex marriage to be legal in American Samoa. If it is found to be, she said, "I would be the first person to apply for a marriage license — if I had a boyfriend who would agree to marriage."
Additional reporting by Associated Press
Register for free to continue reading
Registration is a free and easy way to support our truly independent journalism
By registering, you will also enjoy limited access to Premium articles, exclusive newsletters, commenting, and virtual events with our leading journalists
Already have an account? sign in
Register for free to continue reading
Registration is a free and easy way to support our truly independent journalism
By registering, you will also enjoy limited access to Premium articles, exclusive newsletters, commenting, and virtual events with our leading journalists
Already have an account? sign in
Join our new commenting forum
Join thought-provoking conversations, follow other Independent readers and see their replies