Same-sex marriage: Texas attorney general asks state Supreme Court to reaffirm ban on gay marriage
Travis County probate judge on Tuesday declared the ban unconstitutional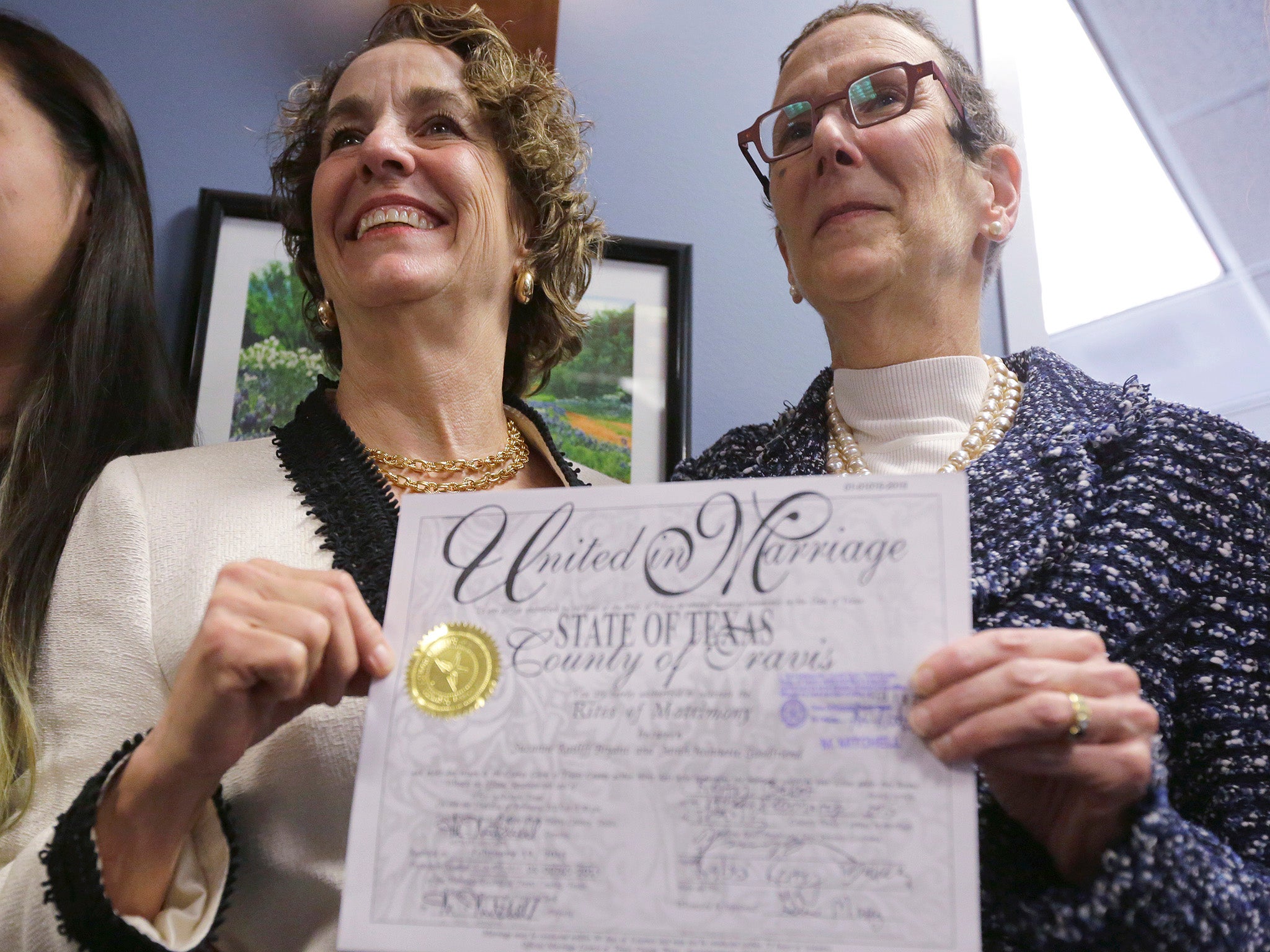 Texas Attorney General Ken Paxton has asked the state's Supreme Court to reaffirm the state's ban on gay marriage after a probate judge declared the ban unconstitutional earlier this week.
On Tuesday, a probate judge in Travis County, Texas ruled that the state's ban on same-sex marriage was unconstitutional and on Thursday a district court judge ordered a county clerk to issue a marriage license to a same-sex couple, Sarah Goodfriend and Suzanne Bryant.
The Washington Post reported that the order was given by the district court judge because one of the women to be married has ovarian cancer.
"We are all waiting for a final decision on marriage equality," the Travis County Clerk's office said in a statement. "However, this couple may not get the chance to hear the outcome of this issue because [of] one person's health."
But Mr Paxton has said he will try to void the marriage license since the district court judge did not comply with state law in ordering the issue of the license. It is believed that this is the first same-sex marriage license ever issued in Texas.
Despite a request from Mr Paxton, the Texas Supreme Court has not taken action on same-sex marriage since the probate judge struck down the ban earlier this week. Mr Paxton
"The Texas Constitution clearly defines marriage as between one man and one woman, as Texas voters approved by an overwhelming majority," Paxton said in a statement. "The law of Texas has not changed, and will not change due to the whims of any individual judge or county clerk operating on their own capacity anywhere in Texas. Activist judges don't change Texas law and we will continue to aggressively defend the laws of our state and will ensure that any licenses issued contrary to law are invalid."
In 2005, a large majority of Texas voters approved an amendment to the state's constitution defining marriage as a union between one man and one woman.
The US Supreme Court will take up the issue of same-sex marriage this spring and its ruling would affect all US states.
Follow Payton Guion on Twitter @PaytonGuion.
Join our commenting forum
Join thought-provoking conversations, follow other Independent readers and see their replies