San Antonio truck deaths: Driver could face death penalty after 10 die in back of lorry
James Mathew Bradley Jr has been charged with transporting illegal immigrants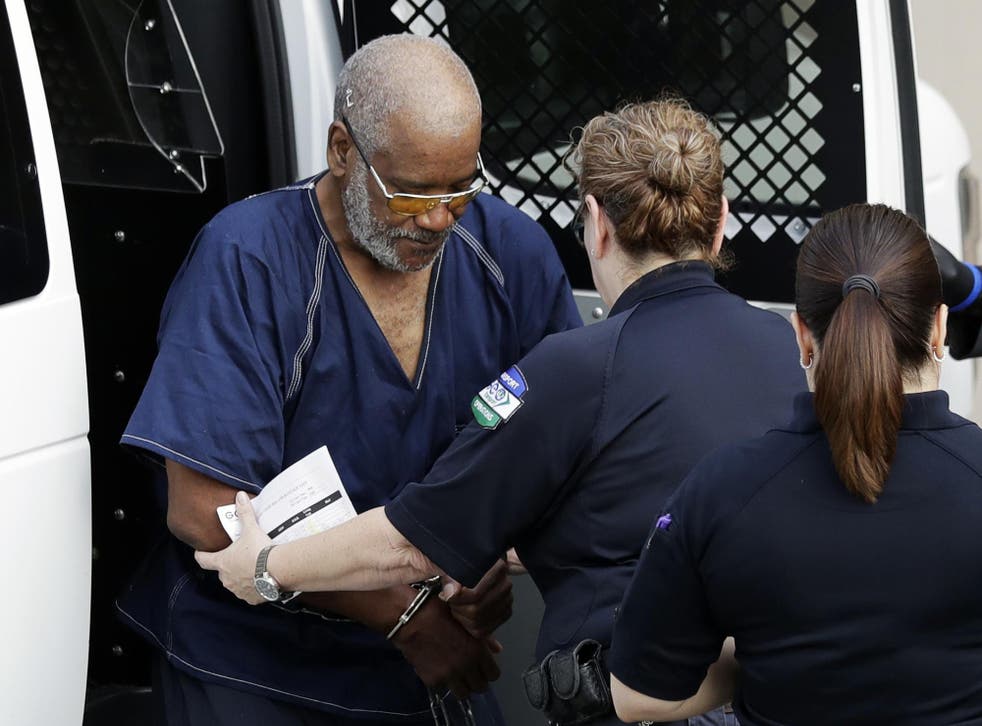 The truck driver charged in a Texas human smuggling case in which 10 people died could face the death penalty, the state attorney's office has said.
James Mathew Bradley Jr of Clearwater, Florida, has been charged with one count of transporting illegal immigrants. The crime is punishable by life imprisonment, death, or a $250,000 (£190,000) fine and three years of supervised release. He has yet to enter a plea.
The driver appeared in court on Monday morning, the day after 39 suspected illegal immigrants were discovered in the back of his truck outside a Walmart in San Antonio.
Officials said temperatures in the truck – which had no air conditioning or access to water – reached over 100F. Immigrations and Customs Enforcement (ICE) estimated more than 100 people were crammed into the truck at one point, some as young as 15.
Eight of the passengers were found dead and two more died on Sunday, officials said. Thirty victims were transported to locals hospitals, including 17 with life-threatening injuries. Most suffered from heat stroke, and many could suffer significant, permanent brain damage, the local fire chief said.
Mr Bradley denied any knowledge of the suspected illegal immigrants in the trailer, telling officers he discovered them only when he stopped at the Walmart to relieve himself. When he opened the back of the truck, he found 30 to 40 people, and at least one dead body, but did not call 911.
World news in pictures

Show all 50
The passengers were discovered only after one stopped to ask a Walmart employee for water.
Mr Bradley told investigators he was towing the trailer from Iowa to Brownsville, Texas for his boss, but was not given an exact delivery location or time.
Brian Pyle, the owner of the trucking company for which Mr Bradely worked, told The Washington Post he had no knowledge of the alleged smuggling.
"This was [Mr Bradley's] very first trip," Mr Pyle told the Post. "He had my name on the side, and I pay for his insurance. He makes his own decisions, buys his own fuel."
Nine dead bodies found in lorry outside supermarket car park
Passengers interviewed by Homeland Security Investigations (HSI) described being smuggled over the Rio Grande River by various groups, housed in "stash houses," and eventually piled into the back of the big-rig truck.
"To maximise their criminal profits, these human smugglers crammed more than 100 people into a tractor trailer in the stifling Texas summer heat resulting in ten dead and 29 others hospitalised," acting ICE director Thomas Homan said.
"Our ICE agents and officers, working closely with our law enforcement partners, will pursue these smugglers and bring them to justice."
Department of Homeland Security (DHS) Secretary John Kelly said the incident demonstrated the "brutality" of human smuggling rings.
"The Department of Homeland Security and its partners in the US, Mexico and Central America will continue to root out these smugglers, bring them to justice and dismantle their networks," he added.
Mexican officials confirmed that several of the victims came from Mexico, and asked American authorities for an exhaustive investigation. In a statement, the Mexican government said it was working to identify the victims and, if necessary, repatriate their remains.
Amy Fischer, policy director at the Refugee and Immigrant Center for Education and Legal Services (RAICES) in Texas, said the victims may be able to make a case for asylum, or for protection as victims of human trafficking.
"Our biggest fear is that instead of being offered some type of justice, instead of being able to pursue some kind of claim in court, [the victims] are instead swiftly deported," Ms Fischer told The Independent.
Under new DHS guidelines, illegal immigrants can be funnelled through an "expedited removal" process if they have lived in the US for less than two years.
Ms Fischer said the case highlights the dangerous journey that many asylum-seekers face in attempting to cross the border.
"This is happening in a context in which migrants and asylum seekers are regularly being turned away at the border," she said. "Folks who are trying to take refuge in our country and are forced into taking risky trips into the US. They're risking their lives in order to save their lives."
Ron Nirenberg, the mayor of San Antonio, said the incident "shines a bright light on the plight of immigrants looking for a better life and victims of human trafficking".
"Our response should serve as a lesson to the world that San Antonio will not turn its back on any man, woman or child in need," he added.
Register for free to continue reading
Registration is a free and easy way to support our truly independent journalism
By registering, you will also enjoy limited access to Premium articles, exclusive newsletters, commenting, and virtual events with our leading journalists
Already have an account? sign in
Register for free to continue reading
Registration is a free and easy way to support our truly independent journalism
By registering, you will also enjoy limited access to Premium articles, exclusive newsletters, commenting, and virtual events with our leading journalists
Already have an account? sign in