San Bernardino 'accomplice' Enrique Marquez says original plan was highway massacre
Mr Marquez who had bought the two assault rifles at a local sporting goods shop
David Usborne
US Editor
Friday 18 December 2015 21:34 Comments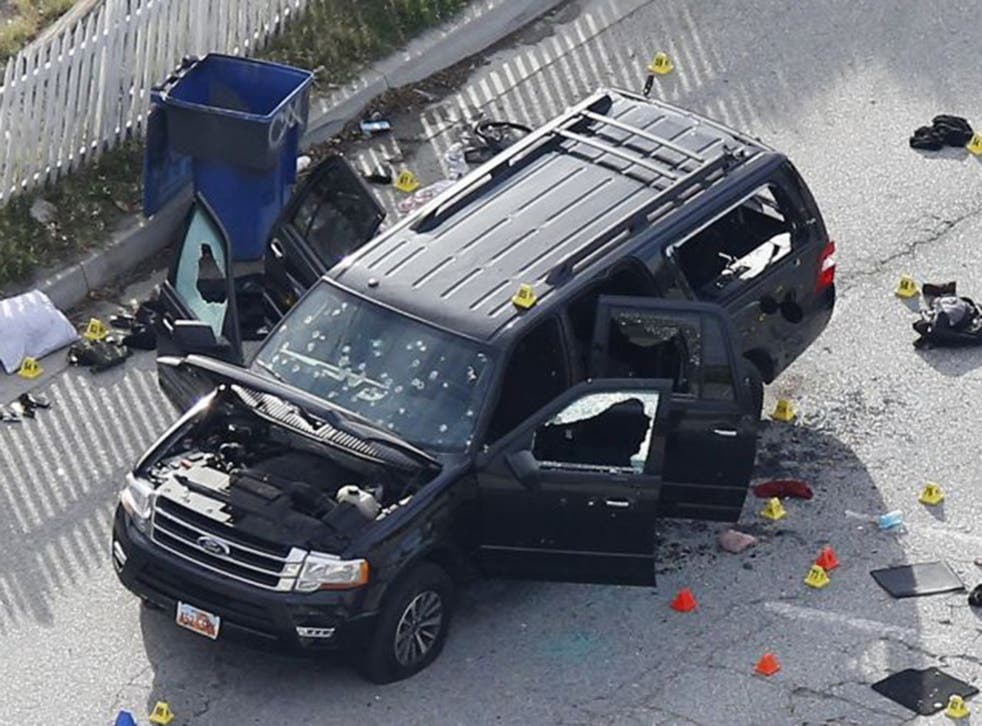 The weapons used in the San Bernardino mass shooting were bought in late 2011 and early 2012 as part of an earlier plot to kill as many people as possible at a local college cafeteria or to detonate pipe bombs on a nearby highway and then pick off drivers in their cars as the traffic stalled.
It was his claimed part in those plans – devastating in ambition but never carried out – that triggered the arrest this week of Enrique Marquez, a neighbour of Syed Rizwan Farook, who, with his wife, Tafsheen Malik, carried out the rampage on 2 December, killing 14 at an office Christmas lunch in the southern California city.
An FBI affidavit confirmed in part what was already known – that it was Mr Marquez who had bought the two assault rifles at a local sporting goods shop. But running to almost 40 pages, it also detailed the claimed longevity of the relationship between the two men, the slow simmer of their fascination with radical Islamic ideology, and the gestation of a shared desire to inflict widespread harm.
It is alleged to have begun when Mr Marquez moved next door to Farook in 2005 and fell under his sway. Within two years he had converted to Islam. By 2010 they were studying the teachings of the US-born cleric Anwar al-Awlaki, who was later killed a drone strike in Yemen, and reading the al-Qaeda online magazine Inspire.
But if Farook, who only later was to meet his wife, bringing her to the United States on a special fiancée visa last year, was highly focused, Mr Marquez could blabber. He also almost gave himself away in an early November posting on Facebook.
"Involved in terrorist plots, drugs, antisocial behavior, marriage, might go to prison for fraud, etc," he said of himself on the social media site. "No one really knows me. I lead multiple lives, and I'm wondering when it's all going to collapse on me."
Mr Marquez is expected to be formally charged on Monday and to enter a plea on 6 January. He is not accused of direct involvement in the latest killings – both Farook and Malik died in a police shoot-out. He is charged with buying the guns under false pretences and conspiring to support terrorism.
Barely had the last shots been fired in San Bernardino than Mr Marquez was talking. He called 911, the emergency number, and said he knew the shooters and wanted to kill himself. "They can trace all the guns back to me," he told the operator, according to the FBI affidavit. The next day he appeared distraught and intoxicated at a local hospital which committed him to its psychiatric ward.
The interviews with the FBI began soon after and lasted several days. What he revealed, laid out in the affidavit, especially about the campus and highway conspiracies, has sent new chills through an already traumatised local community. Tonight San Bernadino was preparing for a visit from President Barack Obama. He was to meet with some of the families of the victims, officials said.
Mr Marquez told investigators that the plan was first to attack either the cafeteria or the library at Riverside Community College, where both he and Farook had been students. They envisaged hurling pipe bombs into either of the two confined, always busy places, and then shooting people as they fled.
Alternatively, there was the rush-hour highway plan, which was to begin with a series of pipe bomb explosions to bring traffic to a standstill. "After deploying the explosive devices, Farook planned to move among the stopped vehicles, shooting his rifle into them and killing people," the affidavit said. "Marquez stated that he planned to shoot into the stopped vehicles from his position on the hills."
Register for free to continue reading
Registration is a free and easy way to support our truly independent journalism
By registering, you will also enjoy limited access to Premium articles, exclusive newsletters, commenting, and virtual events with our leading journalists
Already have an account? sign in
Join our new commenting forum
Join thought-provoking conversations, follow other Independent readers and see their replies