San Bernardino shooting: Female shooter reportedly pledged allegiance to Isis, investigators believe
Investigators are continuing to probe the attack
Andrew Buncombe
New York
Friday 04 December 2015 16:45 Comments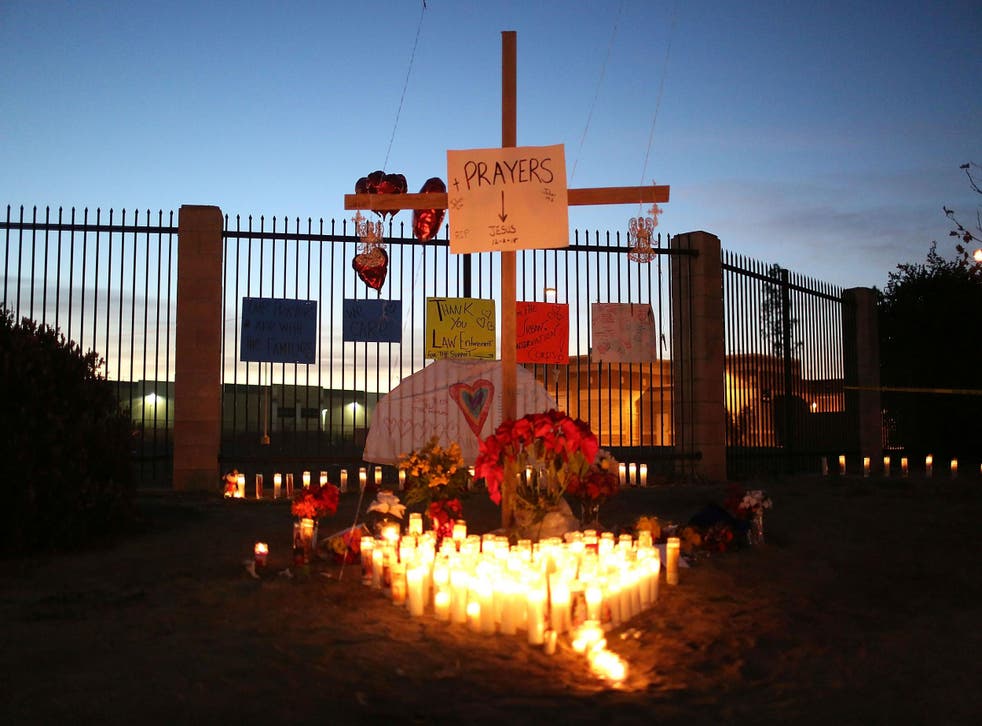 Tashfeen Malik, the female shooter in the California massacre that left 14 dead, pledged allegiance to Isis leader Abu Bakr al-Baghdadi, officials have said.
CNN said that according to three US officials, Ms Malik, the wife of Syed Rizwan, did so in a posting on Facebook under an account that used a different name.
Officials said there was no evidence yet that the group directed Ms Malik, and her husband to launch the attacks, which killed 14 and wounded 21.
"At this point we believe they were more self-radicalised and inspired by the group than actually told to do the shooting," one official told the New York Times.
The couple, who amassed a huge amount of ammunition and 12 pipe bombs at their home, dropped off their six-month daughter off with a relative, before embarking on a killing spree that left 14 dead and more than 20 injured.
President Barack Obama and the FBI have stressed investigators are still probing the circumstances of the attack and the motivation behind it. Mr Obama said it was too early to say whether the attack was terrorism, a work-related killing, or a combination of the two.
Vigils held for California shooting victims as suspect is described as 'a nice person'
Yet attention has increasingly focussed on the apparent increased radicalisation the couple underwent in the months before the assault on the Indland Regional Centre in San Bernadino, a facility that coordinates services for people with development difficulties.
The fact that Ms Malik apparently made aposting on Facebook - since reportedly deleted - will add to suspicions and claims that a "deeper terror matrix" may lie behind the shooting attack.
In the days leading up to the shooting, the couple took several steps to delete their electronic information, in an apparent effort to cover their tracks, officials said. Those efforts have led authorities to believe that the shooting was premeditated, it has been reported.
In pictures: San Bernardino shooting

Show all 15
Mr Rizwan, was born in Illinois and raised in Southern California, and worked worked for the San Bernardino County health department.
He met his wife online and brought her to the US from Saudi Arabia in the summer of 2014 on a K-1 visa, which designated her his fiancée, and required a rigorous background check.
He applied for a permanent resident green card for her in September 2014, and she was granted a conditional card last July.
Ms Malik's family is originally from Pakistan and the intelligence services in Islamabad have reportedly been in touch with her family. Reports said the family moved from the Layyah district in southern Punjab province to Saudi Arabia 25 years ago, and her father became increasingly "conservative and hard-line".
One of Ms Malik's uncles, Javed Rabbani, said Malik's father, Gulzar, changed while the family was living in Saudi Arabia.
"When relatives visited him, they would come back and tell us how conservative and hard-line he had become," Mr Rabbani told Reuters.
Mr Farook, 28, and Ms Malik, 27, lived with his mother in Redlands, about five miles from where the attack took place. It was with his mother that they left their six-month-year child before setting off on Wednesday morning.
It was also in Redlands on Wednesday afternoon, that police encountered the couple in their black SUV, and engaging in a gun-battle in which more than 450 bullets were exchanged and in which the couple died.
Laywer David Chelsey, who represents the family of Syed Rizwan Farook and Tashfeen Malik, told CNN he believed it was impossible that the 90-lb Ms Malik could have been involved in the shooting.
"There is a lot of disconnects and there is a lot of unknowns and there is a lot of things that quite frankly don't add up or seem implausible," he said,
"It just doesn't make sense for these two to act like some kind of Bonnie and Clyde or something. It's just ridiculous."
Mr Chelsey said he sat with the FBI for three hours to determine characteristics and affiliations that could have motivated Ms Farook to carry out the shooting, he said.
"They couldn't find anything," he said. "They were totally stumped. They were totally frustrated."
Register for free to continue reading
Registration is a free and easy way to support our truly independent journalism
By registering, you will also enjoy limited access to Premium articles, exclusive newsletters, commenting, and virtual events with our leading journalists
Already have an account? sign in
Join our new commenting forum
Join thought-provoking conversations, follow other Independent readers and see their replies