People found living in man-made cave in city close to San Francisco
Law enforcement found a 20-foot long, three-foot high, man-made cave with two people inside
Graig Graziosi
Sunday 28 March 2021 19:58 Comments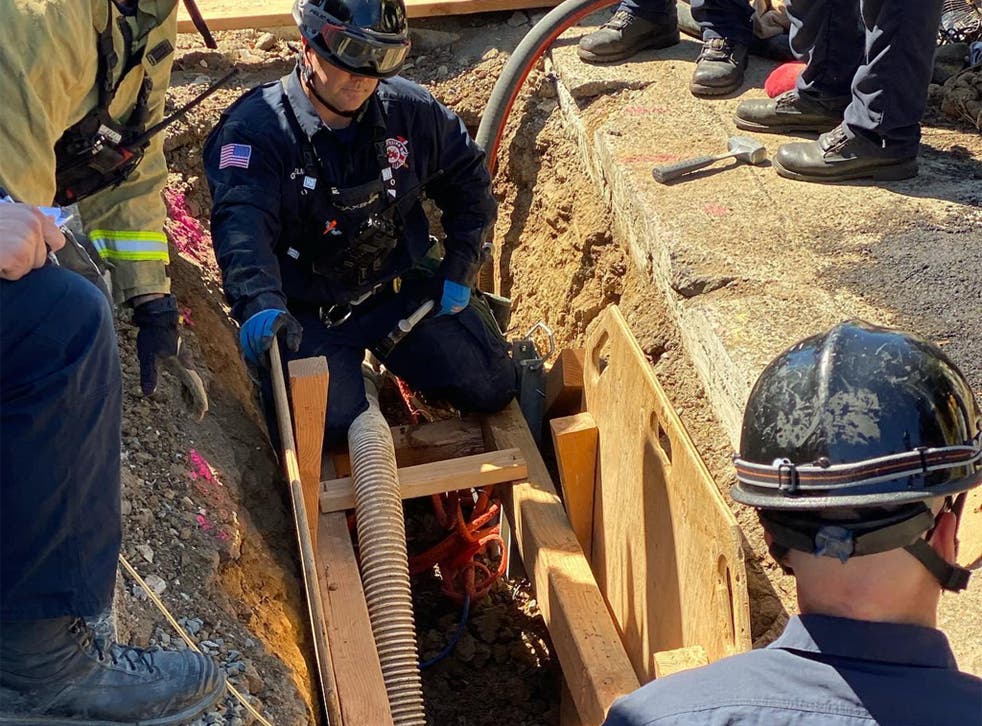 Leer en Español
Construction workers have found two people living in a man-made cave in a California city.
The laborers in Vallejo, about 30 miles from San Francisco, were excavating the site of an old bridge when they heard voices coming from a nearby embankment.
The workers called law enforcement and the fire department, fearing someone was injured. According to the San Francisco Chronicle, "dozens of police, firefighters and rescue workers from Vallejo and nearby agencies converged on the bridge at Sacramento Street and Farragut Avenue."
Law enforcement found a 20-foot long, three-foot high, man-made cave with two people inside.
Read more
The people were removed and relocated to an undisclosed location.
"We called in the police and fire departments to make sure we didn't injure anyone," Tom Walker, the manager of the bridge project, told the paper. "It's a rescue operation."
Mr Walker said it was not unusual for homeless individuals to use bridges for shelter, but noted the cavern was a first for him.
"It's really common to have homeless encampments under bridges but this is the first time I've seen something like this," he said.
Albert Wong, a Vallejo resident, said he saw workers removing the pair's personal items from the cave, including sleeping bags, clothes, backpacks and other items.
Mr Wong said the two people had "a lot of stuff" stored away in the cave.
Neighbors told the newspaper that they were aware of homeless individuals living in the community, though none were aware of the cave's existence.
Vallejo, like many of the San Francisco Bay area cities, has a sizeable homeless population. In the past, the city deconstructed homeless camps, which ultimately scattered the individuals living in them rather than providing suitable options for alternative housing.
Within the last year the city has started to shift its policies regarding homeless displacement, and began offering counselors to help people find transitional housing or, if they prefer to stay outside, city-approved camping sites.
Register for free to continue reading
Registration is a free and easy way to support our truly independent journalism
By registering, you will also enjoy limited access to Premium articles, exclusive newsletters, commenting, and virtual events with our leading journalists
Already have an account? sign in
Join our new commenting forum
Join thought-provoking conversations, follow other Independent readers and see their replies