Alex Jones accused of destroying evidence in Sandy Hook defamation case after deleting videos
Families of victims have been stalked and threatened by Mr Jones' followers after he called mass shooting  'completely fake', according to lawsuit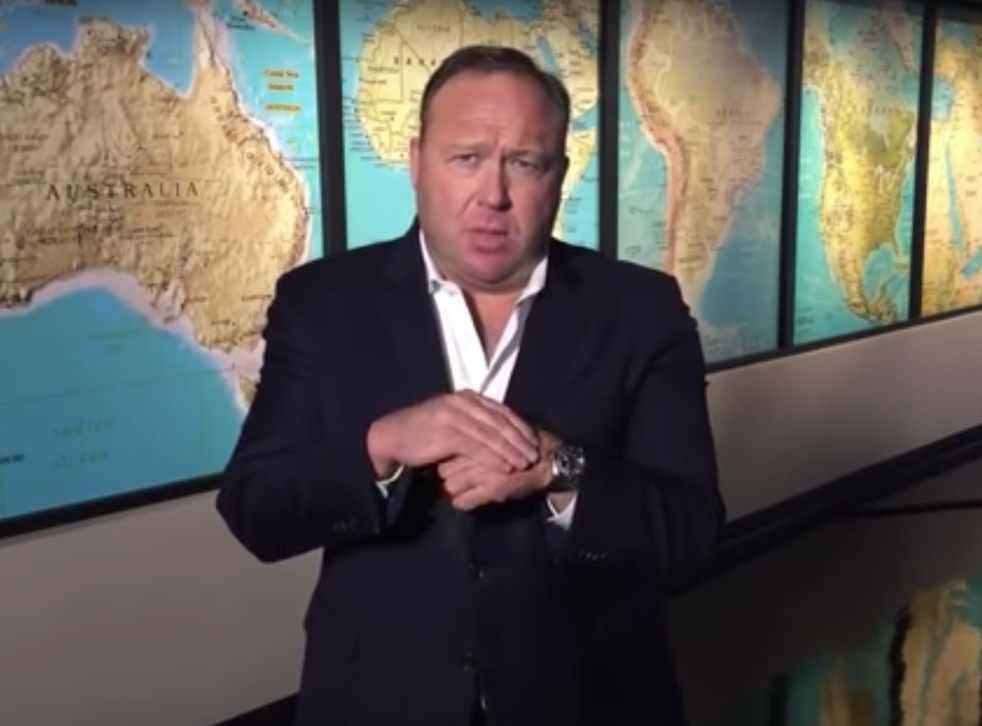 Lawyers for the families of two Sandy Hook shooting victims are accusing conspiracy theorist Alex Jones and his Infowars media business of intentionally destroying evidence relevant to the defamation cases against him, according to a motion filed on Friday in a Texas court.
Mr Jones is being sued by the families of nine Sandy Hook victims for spreading false claims that the 2012 shooting at the elementary school that killed 20 first-graders and six adults was a government-backed hoax, and that the families of the dead were actors.
Mr Jones said on his broadcast last week that he had told his staff to delete material after CNN cited Infowars content that violated Twitter's policies, according to the motion filed Friday.
Mr Jones has been protesting an unprecedented effort this month by Apple, Facebook, YouTube and other services to remove Infowars content from their platforms.
At least some of the deleted content was considered evidence in the Sandy Hook cases, and Mr Jones had been informed in writing in April that he was obligated by law to preserve all relevant material, according to the court filing in District Court in Travis County in Austin, Texas.
"As pressure mounted from pending defamation lawsuits and growing public indignation, Mr Jones chose to destroy evidence of his actual malice and defamatory conduct," the motion filed on Friday said.
Sandy Hook elementary school shooting 2012

Show all 5
The suit said that it was not known how much content had been deleted, but that it included written social media materials and videos.
The motion was filed on behalf of Neil Heslin, father of Jesse Lewis, a 6-year-old killed at Sandy Hook.
Over the five years since the shooting, families of the Sandy Hook victims have been stalked, threatened and subjected to online abuse by Jones' followers, after he spread false claims about the mass shooting, calling it "synthetic, completely fake with actors, in my view, manufactured," according to documents.
Friday's motion is the latest legal salvo in three separate defamation lawsuits filed by Sandy Hook families, which seek tens of millions of dollars in damages and pose an existential threat to Mr Jones' business.
Should the court find that Mr Jones and Infowars willfully destroyed evidence, he, and possibly his lawyer, could be assessed fines and be subject to punitive action.
Most importantly, the material that was destroyed could be presumed by the court as supporting Mr Heslin's claims against Mr Jones, bolstering his case.
The New York TImes
Register for free to continue reading
Registration is a free and easy way to support our truly independent journalism
By registering, you will also enjoy limited access to Premium articles, exclusive newsletters, commenting, and virtual events with our leading journalists
Already have an account? sign in
Register for free to continue reading
Registration is a free and easy way to support our truly independent journalism
By registering, you will also enjoy limited access to Premium articles, exclusive newsletters, commenting, and virtual events with our leading journalists
Already have an account? sign in