Sao Paolo's new mayor and why the writing's on the wall for graffiti
Since Joao Doria – star of Brazil's 'The Apprentice' – took office in January more than a 100 street-taggers have been arrested as part of his Beautiful City drive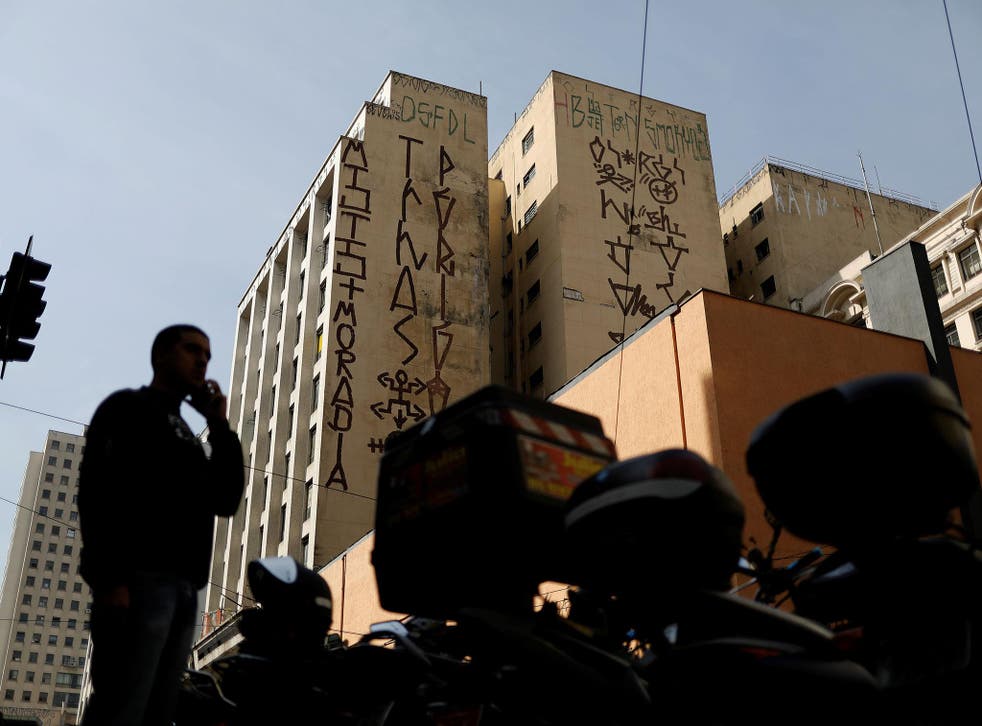 It took street artist Iaco Viana one minute to whip out a spray can and daub the surname "Doria" seven times across wall in Sao Paulo. It took four minutes for a police officer to arrive and take Viana away in handcuffs – a swift response to the provocative launch of the city's war on graffiti, led by its new mayor, Joao Doria – former host of O Aprendiz, Brazil's version of The Apprentice.
For this was not just any wall – weeks before Doria himself had donned orange overalls and a face mask to help spray grey paint over 15,000sq m of street art along that same stretch of Avenida 23 de Maio.
The fate of a number of murals, which were commissioned by the city's previous mayor, has sparked a debate over the world-famous graffiti scene in South America's biggest city and its place in the cleaner landscape imagined by Doria's Beautiful City programme.
The mayor has since conceded that the move to repaint that busy avenue was too hasty. He insists that his fight is not with the city's colourful street art but with a style of aggressive tagging known as pichacao.
The angular, runic font has conquered swaths of Sao Paulo's landscape as street artists scale buildings and landmarks, undetected, with paint rollers and spray cans in hand, drawing the ire of many who embrace other forms of graffiti.
"A muralist is an artist and has our respect," Doria has said, highlighting his plans to commission new works of street art. "Pichacao is aggression. It is not a social problem. It is mental, criminal."
Sao Paulo clamps down on graffiti

Show all 10
Doria says police have caught more than 100 people writing on walls illegally in Sao Paulo since he took office in January.
He has established a fine for pichacao of up to 10,000 real (£2,500), or 10 times Brazil's monthly minimum wage. But practitioners, known as pichadores, say that will do little to dissuade them from climbing high-rises and motorway overpasses to leave their mark.
"What other artist puts their safety at risk for what they do?" says a pichador known as Du.
"All art involves freedom of expression, but pichao is the expression of freedom. You're telling the world, 'Here I am. You can't ignore me.'"
Most pichadores write little more than their street name or the name of their crew, and forgo social commentary in rare instances. "Who is Doria?" one scrawled in a tag.
Pichadores often compete for the highest or most audacious tags, but few would deface another's work. Although many view the practice as a sign of urban decay, those who take part say pichacao has no ties to gangs in Sao Paulo.
Some in the graffiti world question the distinction between other street art and pichacaoã, which has been featured in the Berlin Biennale, at the Cartier Foundation in Paris and at Sao Paulo Fashion Week.
Originally inspired by heavy metal album covers of the 1980s, the cryptic calligraphy has won admirers in the global graffiti scene, including photographer Martha Cooper, who has documented the subculture's New York tradition for four decades.
"I'm a big fan of what they're doing in Sao Paulo. They've invented their own alphabet," says Cooper, who was introduced to the old guard pichadores on a recent visit to Brazil.
"It's not acts of random vandalism at all," she adds. "It's a way of making your environment your own."
Reuters
Register for free to continue reading
Registration is a free and easy way to support our truly independent journalism
By registering, you will also enjoy limited access to Premium articles, exclusive newsletters, commenting, and virtual events with our leading journalists
Already have an account? sign in
Register for free to continue reading
Registration is a free and easy way to support our truly independent journalism
By registering, you will also enjoy limited access to Premium articles, exclusive newsletters, commenting, and virtual events with our leading journalists
Already have an account? sign in
Join our new commenting forum
Join thought-provoking conversations, follow other Independent readers and see their replies