Saudi Arabia expels Canadian ambassador after criticism of arrest of women's rights activists
'Any other attempt to interfere with our internal affairs from Canada means that we are allowed to interfere in Canada's internal affairs'
Bethan McKernan
Monday 06 August 2018 07:35 Comments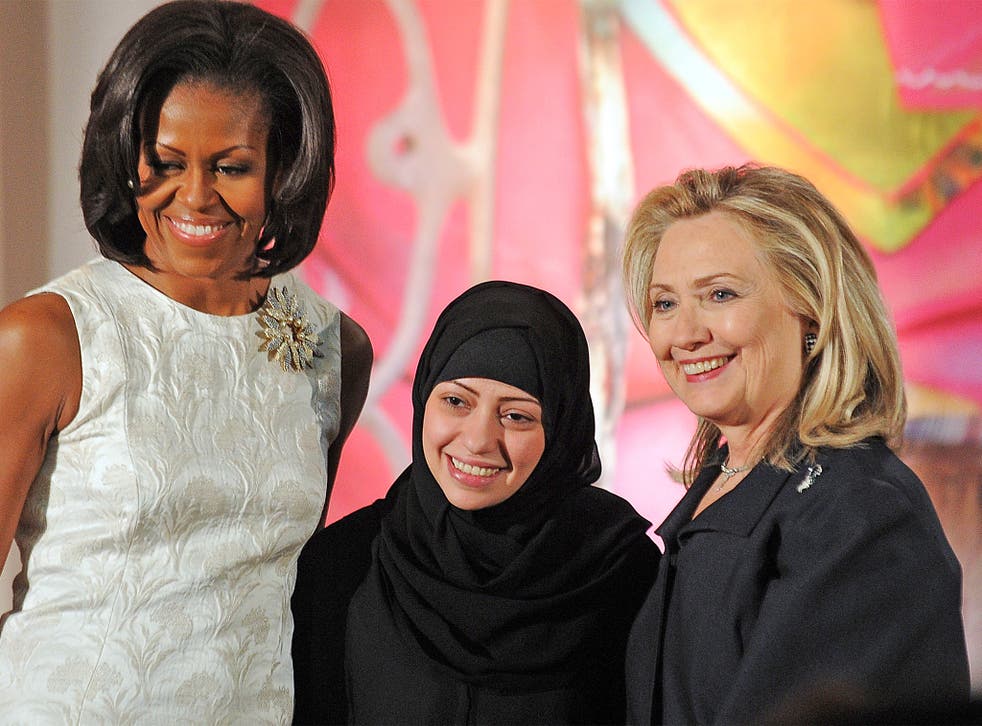 Saudi Arabia has given the Canadian ambassador to the kingdom 24 hours to leave after Ottawa criticised the arrest of women's rights activists in the ultra-conservative country.
The Saudi foreign ministry also said it was freezing "all new business" between the two states and had withdrawn its own ambassador.
"Any other attempt to interfere with our internal affairs from Canada means that we are allowed to interfere in Canada's internal affairs," it declared in an extraordinary statement on Sunday night.
The spat comes after Canada's diplomatic department tweeted about the detention of two more activists in the Middle Eastern country on Friday, the latest in a crackdown which began in May.
"Canada is gravely concerned about additional arrests of civil society and women's rights activists in Saudi Arabia, including Samar Badawi," it posted. "We urge the Saudi authorities to immediately release them and all other peaceful human rights activists."
Ms Badawi, arrested last week, is a lawyer and sister to blogger Raif Badawi, who was sentenced to 1,000 lashes and 10 years in prison in 2012 for criticising clerics. His wife Ensaf Haidar and three children now live in Quebec.
Her whereabouts, and those of Nassima al-Sadah, are currently unknown. Several other prominent female activists remain in prison near Jeddah, where no charges have been brought against them.
In a statement following the latest arrests, Marie-Pier Baril, a spokesperson for Canadian foreign minister Chrystia Freeland, said: "Canada will always stand up for the protection of human rights, very much including women's rights, and freedom of expression around the world.
"Our government will never hesitate to promote these values and believes that this dialogue is critical to international diplomacy."
World news in pictures

Show all 50
The announcement caught Riyadh's diplomatic community off guard, a source with knowledge of the situation told Reuters, noting that both the Saudi and Canadian ambassadors were away on leave when it was made.
Saudi Arabia ended its almost 30-year-old ban on women driving in June. The huge leap forward for women's rights in the country was marred, however, by a spate of arrests of civil society activists, which analysts said was intended as a signal that only King Salman and his powerful son, Crown Prince Mohammed bin Salman, would decide the pace of modernisation in the country.
It was not immediately clear on Monday what new Saudi-Canada business would be affected by the announced freeze but trade between the two nations reached $3 billion (£2.3 billion) in 2016, according to the Press Association, with tanks among Canada's top exports to the kingdom and oil among its biggest imports.
Saudi neighbour and ally Bahrain said it supported Riyadh's decision, but it was not immediately clear whether it would also sever business ties with Canada.
Saudi Arabia's Vision 2030 encompasses a host of social and economic reforms which have been unveiled since Mohammed bin Salman was appointed crown prince by his father last June. The moves are designed to eventually wean the kingdom off dependence on oil.
The 32-year-old has reined in the power of the country's notorious religious police, reopened cinemas and promised a return to a more "moderate" Islam.
Saudi woman's new car set on fire by young men who harassed her
Critics have said the reforms are a carrot for the Saudi public ahead of the economic hardship they inevitably face in future and point out the decrees do not go as far as addressing the kingdom's strict laws on freedom of expression, assembly, or the liberal use of capital punishment.
"Canadian foreign minister Freeland's tweet calling for women's rights activists to be released was by no means interference in Saudi Arabia's internal affairs. It was a defence of universal human rights agreed to globally and binding on Saudi Arabia," Middle East Director of Campaigns at Amnesty International, Samah Hadid, told The Independent.
"Saudi Arabia's response should be to end its crackdown on human rights activists and free the women human rights defenders and all other prisoners of conscience, not to lash out with punitive diplomatic and trade sanctions.
"Now is the time for other governments, like the UK and US to join Canada in increasing the pressure for genuine, lasting human rights reforms in Saudi Arabia."
The kingdom has also been embroiled in diplomatic rows with Germany and Sweden in recent years after official criticism of its foreign policy and human rights record.
News agencies contributed to this report
Register for free to continue reading
Registration is a free and easy way to support our truly independent journalism
By registering, you will also enjoy limited access to Premium articles, exclusive newsletters, commenting, and virtual events with our leading journalists
Already have an account? sign in
Join our new commenting forum
Join thought-provoking conversations, follow other Independent readers and see their replies