Married science teacher, 22, arrested for sex with teen student
Police say they texted Hunter Day from the boy's phone - and she responded saying her door was unlocked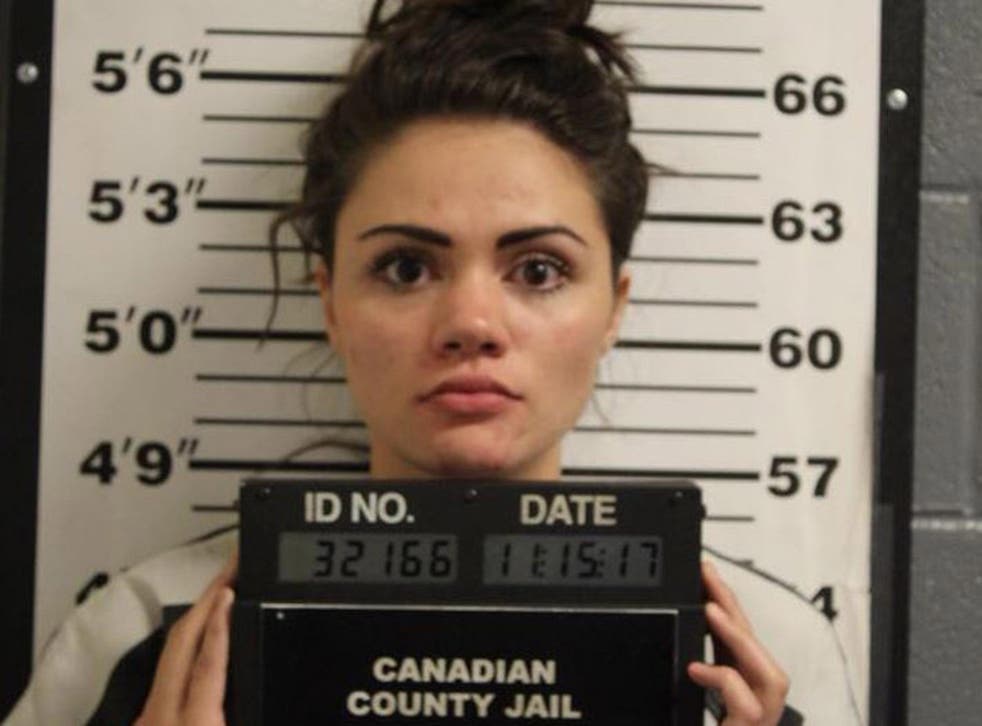 A married teacher has been arrested in Oklahoma after she was accused of having sex with an underage boy and sending him nude photos.
Hunter Day, who teaches science at Yukon High School in Yukon, Oklahoma, was arrested on Wednesday after the boy's parents called the police with growing concerns about their relationship.
Investigators at Canadian County Sheriff's office say evidence of a relationship between the pair had been found on his phone, including explicit text messages and nude pictures of Ms Day.
They say Ms Day and the boy, who cannot be named for legal reasons, had arranged to meet on the day of her arrest.
When officers arrived at her home, they used the boy's phone to text her "I'm here" and she allegedly responded saying "The doors [sic] unlocked as usual".
They say when they entered the house she was sitting in the living room with the lights off and candles lit wearing only a Christmas cat t-shirt and running shorts.
During her arrest, she reportedly confessed to sending "bra and panty" pictures of herself to the boy and receiving intimate pictures from him in return.
Canadian County Sheriff Chris West said: "This is a classic case of a serious breach of public trust. School teachers are entrusted to protect and educate our children, not to engage in an unlawful sexual relationship with them.
World news in pictures

Show all 50
"I'm no longer surprised by the people who commit these crimes, because predators come from all walks of life".
Ms Day was booked into the local jail after being charged with second-degree rape, soliciting sex with a minor and possession of child pornography where her bail was set at $85,000 (£64,000).
She had received an emergency certification to teach science earlier that year, Fox News 9 reported.
In some US states, schools can award emergency certificates to unqualified candidates, such as those who do not have a bachelor's degree, so they can work as teachers when they are unable to find enough suitable applicants for an open position.
During a press conference on Thursday, the Yukon Schools Superintendent Jason Simeroth said he would not comment on Ms Day's employment at the school, where her husband works as a football coach, during the investigation.
In a statement later released on Twitter, a spokesman said: "The safety and well-being of our students is our number one priority.
"Yukon utilizes application references, interviewing protocols and state background checks prior to hiring any employee in the district in an effort to protect our students.
"None of these security checks revealed anything that would have alrerted the district to the possibility of this event."
It said Yukon public schools was "fully co-operating with local law enforcement officials" but added that it was "not at liberty" to comment further on the case.