Man who faces 20 years in prison for 'giving migrants food and water' sees case end in mistrial
Conference in July will decide how to proceed after hung jury fails to determine 'humanitarian' geography teacher's guilt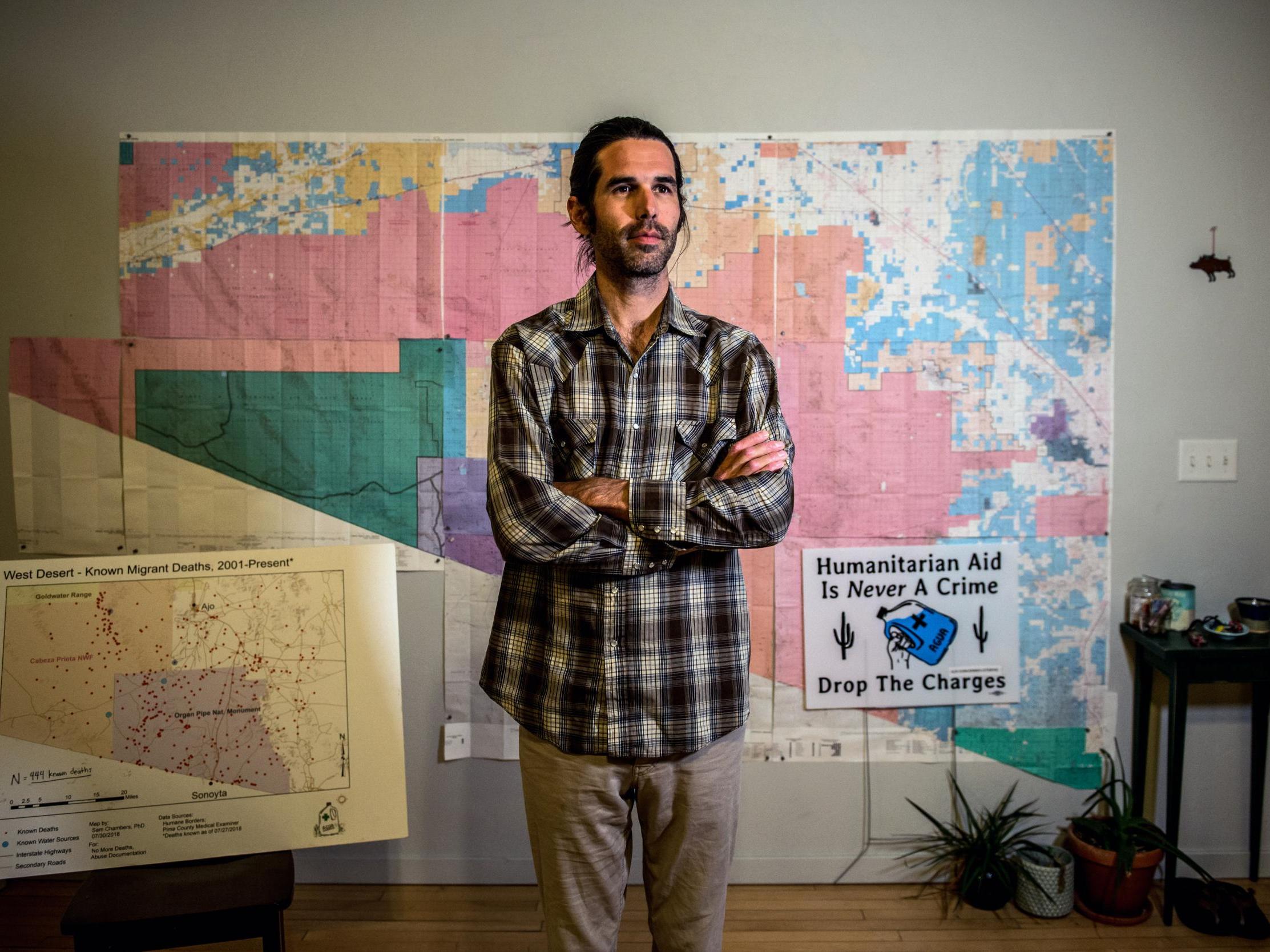 For 15 years, volunteers have trekked into the Arizona desert to place jugs of water, canned beans and blankets in spots where migrants traverse the most treacherous reaches of the borderlands.
When those provisions have been unable to help, the volunteers have searched for migrants who are missing, and for the remains of those who have died.
Increasingly, these kinds of efforts have landed people in jail.
In 2017, a summer that saw a brutal heat wave, several volunteers with the group No More Deaths were arrested on federal misdemeanour charges for placing water in a federally protected wilderness area.
The stakes were raised significantly in 2018, when US Border Patrol agents set up surveillance near one of the humanitarian bases and filed three felony charges against Scott Warren, a 36-year-old geography teacher who helped a pair of migrants from Central America who had arrived there hungry, dehydrated and with blistered feet.
Migrants clash with authorities as they seek to cross the US border
Show all 23
Mr Warren's case resulted in a mistrial on Tuesday, after jurors said for a second day that they were unable to reach a verdict.
Judge Raner C Collins of US District Court in Tucson set a conference for 2 July to discuss how to proceed.
The trial had drawn worldwide attention and spurred 30 vigils across the United States, a reflection of the fraught debate over immigration issues since President Donald Trump made border security a central issue of his administration.
Key to the case was Mr Warren's intent: was he wholly motivated by a humanitarian purpose when he gave food, water, shelter and clean clothes to the two men from Central America?
Or was he illegally concealing the men when he allowed them to remain at the volunteer group's camp?
Jurors had announced on Monday that they were deadlocked, but they resumed deliberations on Tuesday after the judge ordered them to try again – one sign of the difficult questions raised by the case.
"Scott Warren remains innocent, both as a legal matter and as a factual matter, because the jury could not unanimously conclude otherwise," the lead defence lawyer, Gregory Kuykendall, said after the jury was dismissed.
"The government put on its best case with the full force of countless resources, and 12 jurors could not agree with that case."
Mr Warren read a brief statement. "In the time since I was arrested in January 2018, no fewer than 88 bodies were recovered from the Arizona desert," he said.
"The government's plan in the midst of this humanitarian crisis? Policies to target undocumented people, refugees and their families. Prosecutions to criminalise humanitarian aid, kindness and solidarity."
Prosecutors made no comment after the jury was dismissed.
From the beginning, defence lawyers contended that the case was part of the government's escalating security strategy on America's southwest border.
Armed vigilantes 'illegally' detain hundreds of migrants on US border
"Threatening humanitarians with felonies and prison time for helping migrants survive in the desert is part of the Trump strategy to deter immigration. This case is a test of that," Mr Kuykendall said in an interview.
Mr Kuykendall argued in court that Mr Warren had not committed a crime by helping the migrants, even if what he did might have allowed them to stay out of sight of law enforcement agents.
"Scott Warren is a law-abiding, life-giving Good Samaritan," he told the jury.
But federal prosecutors said the real issue was whether Mr Warren went much further than helping save the men's lives.
"This case is not about humanitarian aid, or anyone in medical distress," said Nathaniel Walters, one of the prosecutors. The issue the jury was asked to decide, he told the court, was whether Warren attempted to "shield" two unauthorised immigrants from law enforcement for several days.
Warren was charged with one count of conspiracy to transport unauthorised immigrants, which carries a 10-year sentence, and two counts of harbouring them.
His trial, which began on 29 May, was widely seen as a test of the legal limits for providing humanitarian aid to migrants who are otherwise subject to arrest.
UN human rights officials called for charges in the case to be dropped, noting that Arizona has some of the US-Mexico border's deadliest migrant corridors, accounting for over a third of the more than 7,000 border deaths recorded over the last two decades.
Temperatures in the Sonoran desert can reach 120 degrees in summer and fall below freezing in winter.
"Humanitarian aid is not a crime," the UN Office of the High Commissioner for Human Rights said in a statement.
Mr Warren's defence lawyers said their client was targeted by the Justice Department because No More Deaths had distributed a video showing Border Patrol agents destroying jugs of water that the group had placed in the desert.
Mr Warren was arrested a few hours after the video was posted online. A spokesman for Customs and Border Protection, Robert Daniels, said the agency could not comment during the pending prosecution.
Trump complains US troops can't get 'rough' with migrants
Border Patrol agents arrested Mr Warren and the two migrants – Kristian Perez Villanueva, from El Salvador, and Jose Sacaria Goday, from Honduras – on 17 January 2018, at a house called the Barn, about 110 miles from Tucson.
The site serves as a base camp for No More Deaths – the group's volunteers congregate there, store provisions in its shed and set out from there to search the desert for migrants' remains.
Mr Perez said in a videotaped deposition that he and Mr Sacaria had crossed the border near the Mexican town of Sonoyta with some other men by climbing a fence.
On 17 January, he said, after walking for eight hours, guided through the desert by a compass and the stars, the two men reached a gas station, where a man offered to drive them to a place to rest.
That place was the Barn, located in Ajo, a town of about 3,000 people some 32 miles north of the border.
That driver was identified by prosecutors and a Border Patrol agent as Irineo Mujica, a Mexican American with dual citizenship who is a leader of the Pueblo Sin Fronteras, a group that has organised caravans from Central America to the United States and operates a shelter on the Mexican side of the border. He was arrested by Mexican authorities last week.
Central American migrants trek north to seek a better life
Show all 8
The migrants found no one at the Barn but managed to gain access to a bathroom on the property, according to Mr Sacaria.
When Mr Warren arrived about 40 minutes later, he said: "We just asked him to let us rest for a few days, one or two days, that we were going to leave."
Mr Warren's lawyer said the activist was surprised to find the men at the Barn.
After asking them a few questions, he said, Mr Warren began to follow the No More Deaths group's protocol, which among other things called for screening the men for ailments and providing them with sustenance.
"Scott intended one thing, to provide basic human kindness in the form of humanitarian aid," Mr Kuykendall, his lawyer, said in court.
But federal prosecutors said Mr Warren conspired to transport the migrants and shield them from US Border Patrol agents, who testified that they saw him giving the men directions that would help them avoid a checkpoint.
"I was watching the defendant pointing to the north and moving his hand around to different landmarks to the north of the Barn, and I watched the two Hispanic males that were with them just kind of following around where he was looking," Brendan Burns, one of the agents, told the court.
Mr Burns said he and his partner, John Marquez, had taken turns observing the men from a distance using a tripod-mounted "spotting scope" and a set of binoculars.
In his testimony, Mr Warren said he was helping the migrants orient themselves in their surroundings to "self-rescue", part of the No More Deaths protocol.
During cross-examination, Border Patrol agents said they knew Mr Warren would be in the area when they decided to conduct surveillance of the house, and they moved in to arrest him when they saw him with the two men.
Donald Trump says he isn't going to 'shoot undocumented immigrants but shooting immigrants would be very effective'
Judge Collins, who was appointed by President Bill Clinton in 1998, rejected a pretrial motion by the defence to dismiss the case on the grounds that Mr Warren's arrest amounted to selective enforcement in violation of the Fifth Amendment.
As border security has been tightened near legal crossings, migrants have increasingly been taking routes through remote, desolate stretches of desert.
More than 3,000 migrants have died in the Arizona desert since 2000.
At least eight other volunteers from No More Deaths have been prosecuted this year in connection with the group's activities in aid of migrants. Four were convicted on misdemeanour charges and were sentenced to fines and probation; another four pleaded guilty to violating regulations in the Cabeza Prieta National Wildlife Refuge and were fined.
Mr Warren also faces misdemeanour charges for driving a truck on a road in the wildlife area. Judge Collins has not ruled on that case.
New York Times
Join our commenting forum
Join thought-provoking conversations, follow other Independent readers and see their replies