Sean Hannity 'called AIDS a gay disease' and compared homosexuality to 'playing in a sewer'
'I feel sorry for your child,' the talk show host told a gay caller
Emily Shugerman
New York
Wednesday 11 October 2017 20:46 Comments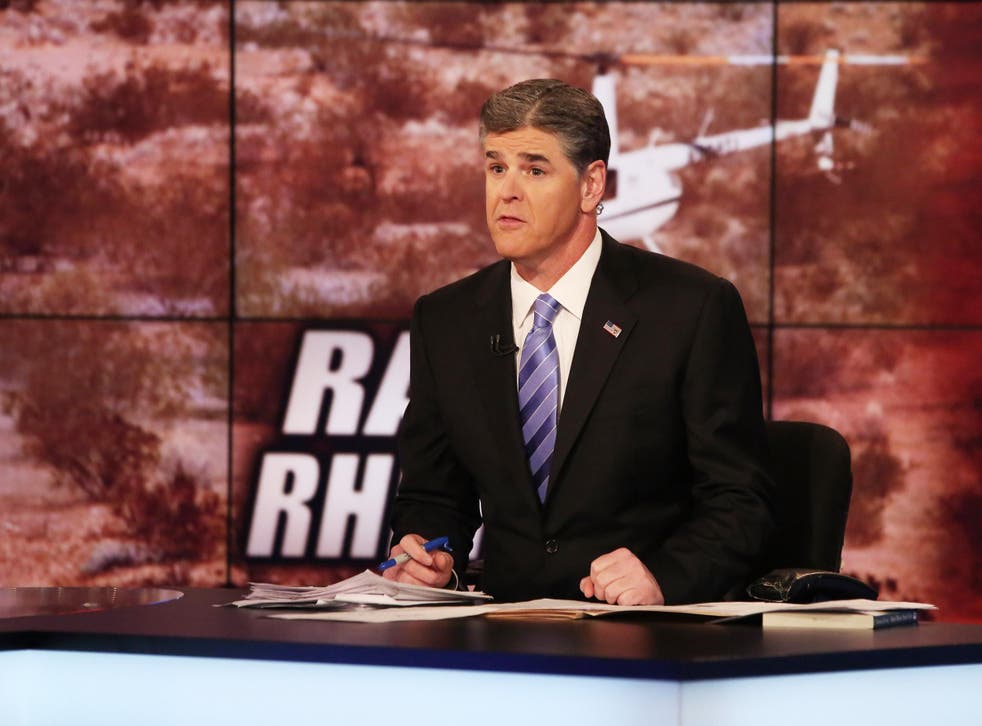 Long before he became a conservative media icon, Fox News host Sean Hannity was yanked from his college radio station for allegedly calling AIDS a "gay disease".
The young Mr Hannity – then on his third, unsuccessful attempt to graduate college – hosted a radio show at the University of California at Santa Barbara in 1989. The show trafficked in the brash, conservative opinions Mr Hannity became known for, on everything from homosexuality to the liberal elite.
In one notable segment, Mr Hannity interviewed Gene Antonion, a Lutheran minister and author of the book "The AIDS Cover-up? The Real and Alarming Facts About AIDS". Mr Hannity lauded the book for telling "the real truth about this deadly, deadly disease," and praised Mr Antonion for saying "what the homosexuals don't want you to hear."
In one portion of the interview, Mr Hannity claimed there was "sort of a brainwashing" going on regarding the "true information" about AIDS.
"What is the coverup all about that the media is hiding from the general public?" Mr Hannity asked, according to the Washington Post. "…They won't let you say it's a gay disease." (Mr Hannity denies making this specific remark.)
Sean Hannity attacks gun control after Las Vegas shooting
In the same segment, Mr Hannity called gay people "disgusting," and compared their sex lives to "playing in a sewer," according to tapes obtained by Media Matters. He also called homosexuality a "lower form of behaviour," before accusing gay people of being "filled with hatred and bigotry".
"I feel sorry for your child," he told Jody May-Chang, a lesbian woman who called into the show.
Ms May-Chang later complained to UCSB about Mr Hannity's comments. Following a flood of similar complaints, the school pulled Mr Hannity from the station.
Fox News 'finest moments'

Show all 13
The station's student manager recalled Mr Hannity being "extremely upset" at the development. ("I thought he was going to hit me," the manager told the Post.)
The radio host went so far as to call the ACLU and ask them to take his case. The civil liberties organisation agreed.
Peter Eliasberg, chief counsel at ACLU of Southern California, said the organization would stand by its decision today.
"Whatever criteria they may have used [to decide who got a show,] Hannity qualified, and they gave him a time slot," Mr Eliasberg told The Independent. "And under those circumstances, to pull that time slot away from him on the grounds that people hate what he says … is very troubling."
He added: "It's really problematic when the government says, 'You're on,' and then says, 'You're not on any longer because our listeners don't like what you have to say'."
Sean Hannity says 'I'm voting for Donald J Trump'
Faced with the threat of a lawsuit, the university decided to allow Mr Hannity back on the airwaves. But the victory only drove Mr Hannity to double down on his demands, asking UCSB for a formal apology and double airtime. The school declined, and Mr Hannity never returned to the station.
Still, Mr Hannity – now the nation's second-highest-rated radio host – says he's come to regret his comments from that particular segment.
"Almost 30 years ago when I was starting out in radio in my 20's, I interviewed a controversial guest who made several incendiary comments," he said in a statement to The Independent. "I was young and stupid with no clue how to do a show. I'm actually very libertarian on social issues and people's personal lives."
He added: "I'm now 55 years old and yes, I freely admit the comments in my 20's were ignorant and embarrassing."
Register for free to continue reading
Registration is a free and easy way to support our truly independent journalism
By registering, you will also enjoy limited access to Premium articles, exclusive newsletters, commenting, and virtual events with our leading journalists
Already have an account? sign in
Register for free to continue reading
Registration is a free and easy way to support our truly independent journalism
By registering, you will also enjoy limited access to Premium articles, exclusive newsletters, commenting, and virtual events with our leading journalists
Already have an account? sign in
Join our new commenting forum
Join thought-provoking conversations, follow other Independent readers and see their replies