SeaWorld announces birth of its last ever killer whale
Last in generation of the aquatic mammals bred in confinement born after theme park announced end of its breeding programme last year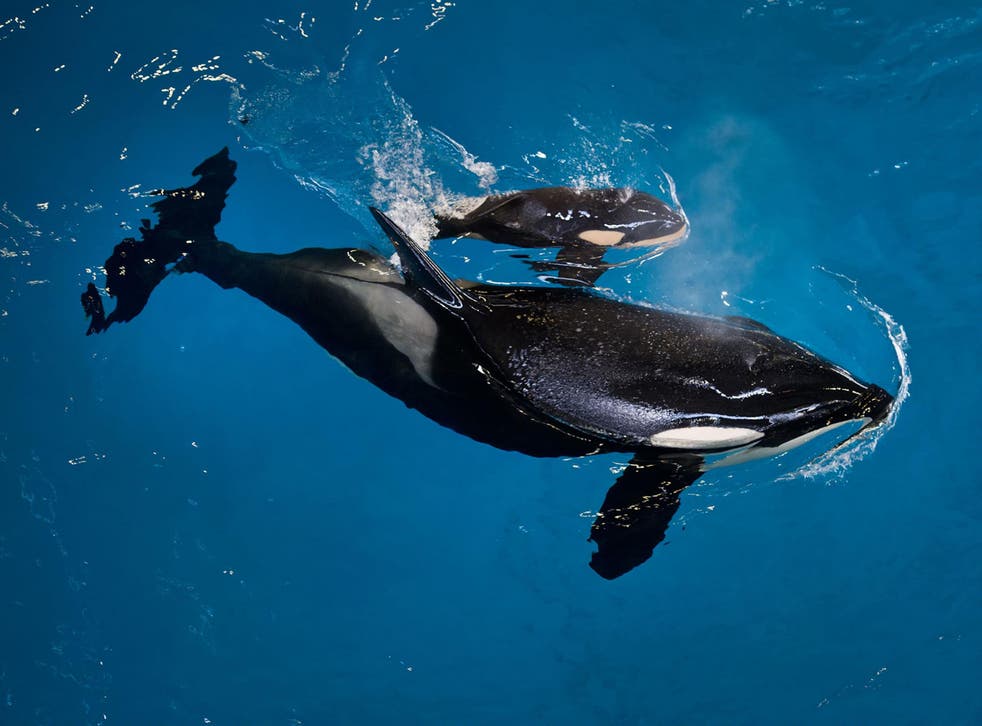 SeaWorld has announced the birth of the last killer whale to be born at the theme park, just over a year after it decided to stop breeding orcas following animal rights protests and declining ticket sales.
The Orlando-based company said the orca — the last in a generation of whales bred in confinement — was born on Wednesday afternoon. The mother, 25-year-old Takara, was already pregnant when SeaWorld announced in March 2016 that it had stopped breeding its orcas.
SeaWorld did not immediately name the calf because the park's veterinarians had not yet determined whether it was male or female.
Hendrik Nollens, vice president of veterinary services for SeaWorld Parks and Entertainment, said the birth was a historic moment and that the company would now work to ensure the species would be protected in the coming years.
"Although this is the last killer whale birth at a SeaWorld park, our work to understand and protect this species will continue for decades to come," said Mr Nollens.
Chris Bellows, vice president of zoological operations, said it was an "emotional" and "proud" moment.
"This is an exciting and emotional day for us at SeaWorld and we are all so proud to share this new killer whale calf with the world, after a year and a half of planning, and observing and providing all the special care," he said.
SeaWorld's killer whales

Show all 10
Following pressure from activists and declining ticket sales, SeaWorld announced the end of its orca shows and breeding programme last year. The park came under intense criticism following the 2013 documentary Blackfish, which shed a light on the conditions of orcas living in captivity.
Despite the criticism over their breeding programme, SeaWorld's chief zoological officer, Chris Dold, described the birth was a celebration because any whale birth is "extraordinary". He said: "These are extraordinary moments. It's a tempered celebration only because we're focused on the health of these guys."
SeaWorld has said it is phasing out its orca shows following years of criticism and falling attendance numbers, but activists have reportedly been unconvinced, with locations in San Antonio, Texas, and Orlando not expected to end their once popular orca shows until 2019.
Register for free to continue reading
Registration is a free and easy way to support our truly independent journalism
By registering, you will also enjoy limited access to Premium articles, exclusive newsletters, commenting, and virtual events with our leading journalists
Already have an account? sign in
Register for free to continue reading
Registration is a free and easy way to support our truly independent journalism
By registering, you will also enjoy limited access to Premium articles, exclusive newsletters, commenting, and virtual events with our leading journalists
Already have an account? sign in
Join our new commenting forum
Join thought-provoking conversations, follow other Independent readers and see their replies