Secret papers 'show how Shell targeted Nigeria oil protests'
Documents seen by <i>The IoS</i> support claims energy giant enlisted help of country's military government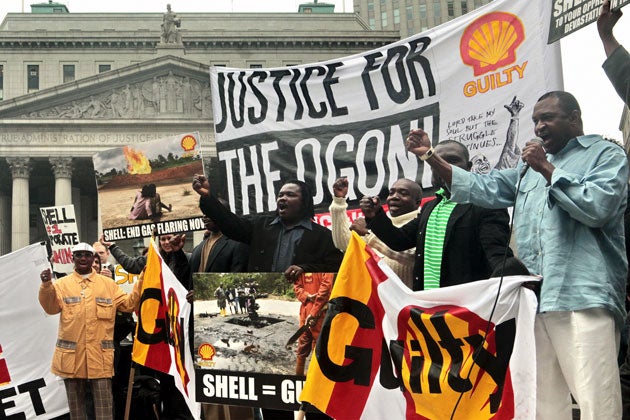 Serious questions over Shell Oil's alleged involvement in human rights abuses in Nigeria emerged last night after confidential internal documents and court statements revealed how the energy giant enlisted the help of the country's brutal former military government to deal with protesters.
The documents, seen by the IoS, support allegations that Shell helped to provide Nigerian police and military with logistical support, and aided security sweeps of the oil-rich Niger Delta. Earlier this month Shell agreed to pay $15.5m (£9.6m) in a "humanitarian settlement" on the eve of a highly embarrassing US lawsuit.
One of the allegations was that Shell was complicit in the regime's execution of civilians. The Anglo-Dutch firm denies any wrongdoing and said it settled to help "reconciliation". But the documents contain detailed allegations of the extent to which Shell is said to have co-opted the Nigerian military to protect its interests.
The legal settlement came 14 years after the Abacha government hanged nine protesters, including Ken Saro-Wiwa, the environmentalist and writer, after a charade of a trial in 1995. Saro-Wiwa led a successful campaign against Shell in his Niger Delta homeland, even forcing the company to quit Ogoniland in 1993. The campaign focused on environmental devastation and demanded a greater share of oil revenues for his community. As the campaign grew, the Ogoni suffered a brutal backlash that left an estimated 2,000 dead and 30,000 homeless. The documents claim there was systematic collusion with the military and Mobile Police Force (MPF), known as the "Kill and Go". Shell has always denied this but is believed to have settled in court as a result of the embarrassing contents.
In one document written in May 1993, the oil company wrote to the local governor asking for the "usual assistance" as the Ogoni expanded their campaign. There was a stand-off between the Ogoni and the US contractor Willbros, which was laying a pipeline. Nigerian military were called in, resulting in at least one death.
Days later, Shell met the director general of the state security services to "reiterate our request for support from the army and police". In a confidential note Shell suggested: "We will have to encourage follow-through into real action preferably on an industry rather than just Shell basis". The Nigerian regime responded by sending in the Internal Security Task Force, a military unit led by Colonel Paul Okuntimo, a brutal soldier, widely condemned by human rights groups, whose men allegedly raped pregnant women and girls and who tortured at will. Okuntimo boasted of knowing more than 200 ways to kill a person.
In October 1993, Okuntimo was sent into Ogoni with Shell personnel to inspect equipment. The stand-off that followed left at least one Ogoni protester dead. A hand-written Shell note talked of "entertaining 26 armed forces personnel for lunch" and preparing "normal special duty allowances" for the soldiers. Shell is also accused of involvement with the MPF, which worked with Okuntimo. One witness, Eebu Jackson Nwiyon, claimed they were paid and fed by Shell. Nwiyon also recalls being told by Okuntimo to "leave nobody untouched". When asked what was meant by this, Nwiyon replied: "He meant shoot, kill."
One former Shell employee, Kloppenburg Ruud, head of group security in the mid-1990s told lawyers that the deployment of Nigerian security forces at two Shell jetties in the delta was at the company's request.
Since the settlement, Malcolm Brinded, Shell's executive director, said: "We wanted to prove our innocence and we were ready to go to court. We knew the charges against us were not true." He added: "I am aware that the settlement may – to some – suggest Shell is guilty and trying to escape justice," but said this was not the case.
Shell 'lobbied' Guardian to soften its Nigeria stance
Confidential internal documents reveal how the oil giant lobbied The Guardian newspaper to reduce its support for Saro-Wiwa.
In an assessment of the political and security situation, a Shell executive noted: " The Guardian newspaper ran a much more balanced article on the Ogoni issue, with their position moving from apparent support for Saro-Wiwa to the middle ground. There is a slight possibility that this may have been influenced by the meeting we had with The Guardian's editor the week before."
Peter Preston, The Guardian's editor from 1975 to 1995, said yesterday that he could not remember a meeting with Shell. "I have absolutely no memory of one. And Nigerian politics was never one of my interests."
Matthew Bell
Join our commenting forum
Join thought-provoking conversations, follow other Independent readers and see their replies