The Secret Service spent $137,505 renting golf carts at Donald Trump's clubs
President 'isn't working and taxpayers are being forced to pick up the tab'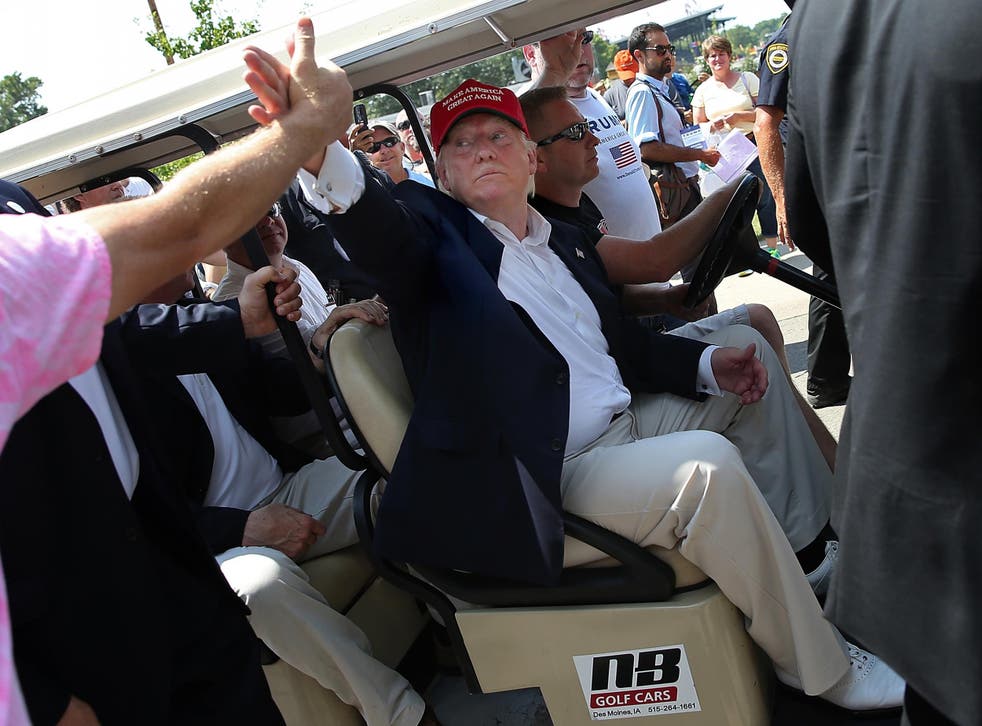 The US Secret Service has reportedly spent at least $137,505 (£105,178) renting golf carts to protect Donald Trump at his private clubs.
According to federal purchase orders obtained by American Bridge, a political action committee that campaigns against the country's Republican leadership, the sum includes a $61,960 (£47,374) contract to rent golf carts at the Trump International Golf Club in Florida.
The contract runs from 29 September until 38 May 2018 and is the largest payment for the vehicles so far, according to USA Today, which first reported the figures.
"President Trump isn't working and taxpayers are being forced to pick up the tab," Harrell Kirstein of American Bridge told the US daily. "Instead of wasting so much time and money on his vacation, he should do his job and address the multitude of crises facing the country that are piling up on his watch."
According to the report, the agency has made other golf-related purchases since Mr Trump became President, spending $15,600 (£11,936) this month on the installation of ballistic glass for Mr Trump to watch the Presidents Cup golf competition.
Mr Trump, who repeatedly criticised Barack Obama for taking too much time off work, has himself come under fire for spending time playing golf. It was reported in the summer that Mr Trump had taken more than three times as many holiday days as his predecessor.
Donald Trump's least presidential moments so far...

Show all 30
Controversy has surrounded the Secret Service's budget since the agency ran out of funding to pay overtime to hundreds of agents to protect the Trump family.
In Mr Trump's administration, 42 people have protection – including 18 members of his family – up from 31 during Mr Obama's leadership. Congress has moved to raise the cap on agents' overtime pay from $161,900 to $187,000 ( (£123,788 to £142,980).
Mr Trump is not legally allowed to pay for or provide any of his own security, which is intended to prevent possible conflicts of interest.
Join our new commenting forum
Join thought-provoking conversations, follow other Independent readers and see their replies