Police investigating videos of Black 13-year-old being shot with BB guns at sleepover
Lawyer says 'to call it bullying minimises gravity and horror of this attack'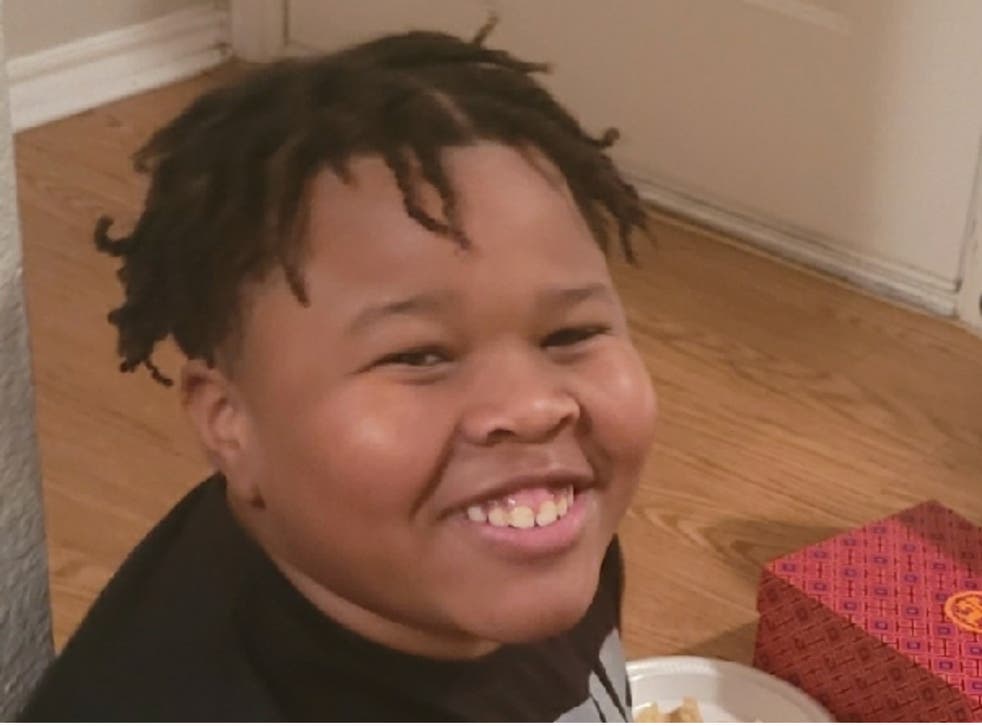 An investigation into bullying and allegations of racism has been started after videos showed a 13-year-old boy being shot with BB guns, called racial slurs, and being made to drink what looked like urine during a sleepover in Plano, Texas.
SeMarion Humphrey, who is Black, is in eighth grade in Haggard Middle School and was invited to a sleepover at the house of a fellow student with whom he had become friends. SeMarion's mother Summer Smith told CNN that he didn't know that some boys who harassed him at school would also be at the sleepover, which took place on the weekend of 12 February.
Kim Cole, the lawyer for Ms Smith and SeMarion, said that "to call it bullying minimises the gravity and the horror of this attack".
SeMarion was ridiculed and mocked, called the N-word as well as homophobic slurs. Ms Cole called the actions "pre-calculated" and "racially motivated".
Ms Smith said that she has been reporting incidents to the school for months, according to CBSDFW. She said in a viral Facebook video that the sleepover had been planned for her son to be bullied. During a news conference on Friday, she said of the accused students: "How horrible must you be. This is not a prank. This is beyond bullying. You are evil, they are evil."
Ms Smith said SeMarion had also been harassed while he was a member of the football team, leading him to leave the team. She told CNN that her son reported it to the school and the football coach but that she felt their attitude towards the ordeal was that "boys will be boys".
Read more: After two years of bullying, my son was broken
SeMarion still interacts with the members of the football team who harassed him in their capacity as classmates, according to Ms Smith and Ms Cole.
Ms Cole claimed that another video from the evening shows SeMarion being slapped as he was sleeping. The attorney added that SeMarion at first didn't tell anyone about the alleged bullying as he had been threatened to not reveal anything about what had happened.
SeMarion told the principal about what had happened last week after school officials became aware of the videos being shared around the school. The school then informed Ms Smith, according to her attorney.
The Plano ISD Board of Trustees issued a statement on 7 March, saying: "We support this important investigation, which is well underway. Due to federal legal restrictions regarding the confidentiality of student information, Plano ISD is unable to release specific student information, including disciplinary actions. We can assure you that the appropriate measures have been taken to protect the victim and to investigate this matter from the district's authority."
Ms Smith said that she felt "devastated" after she found out what had happened and that she "cried for a long time".
She added: "I was just angry, I was sad, I was confused because he was at his friend's house."
Ms Cole said that she will try to make the school district enact changes in how they handle harassment as "right now, what Plano ISD is doing is not working".
Ms Cole said that SeMarion felt "empowered" during a protest last week and that he "was just ecstatic" to see that people showed up to support him. The attorney added that SeMarion wore a shirt and held a sign with the message "Justice for Me".
A fundraiser has been set up by Ms Cole, writing on the GoFundMe page that SeMarion needs "therapy and is planning to change to a private school. Please donate what you can to help with the expenses of therapy and private schooling". $91,195 has been raised of the $100,000 goal. 3,300 people have donated to the cause.
Plano Police Public Information Officer David Tilley told CNN that they're "aggressively investigating this case".
Register for free to continue reading
Registration is a free and easy way to support our truly independent journalism
By registering, you will also enjoy limited access to Premium articles, exclusive newsletters, commenting, and virtual events with our leading journalists
Already have an account? sign in
Register for free to continue reading
Registration is a free and easy way to support our truly independent journalism
By registering, you will also enjoy limited access to Premium articles, exclusive newsletters, commenting, and virtual events with our leading journalists
Already have an account? sign in
Join our new commenting forum
Join thought-provoking conversations, follow other Independent readers and see their replies