Serial escapee bison filmed being chased by police after fleeing its farm for the sixth time - video
The bison's owner said the reason for the latest escape was due to Easter making the animal feel 'a bit frisky'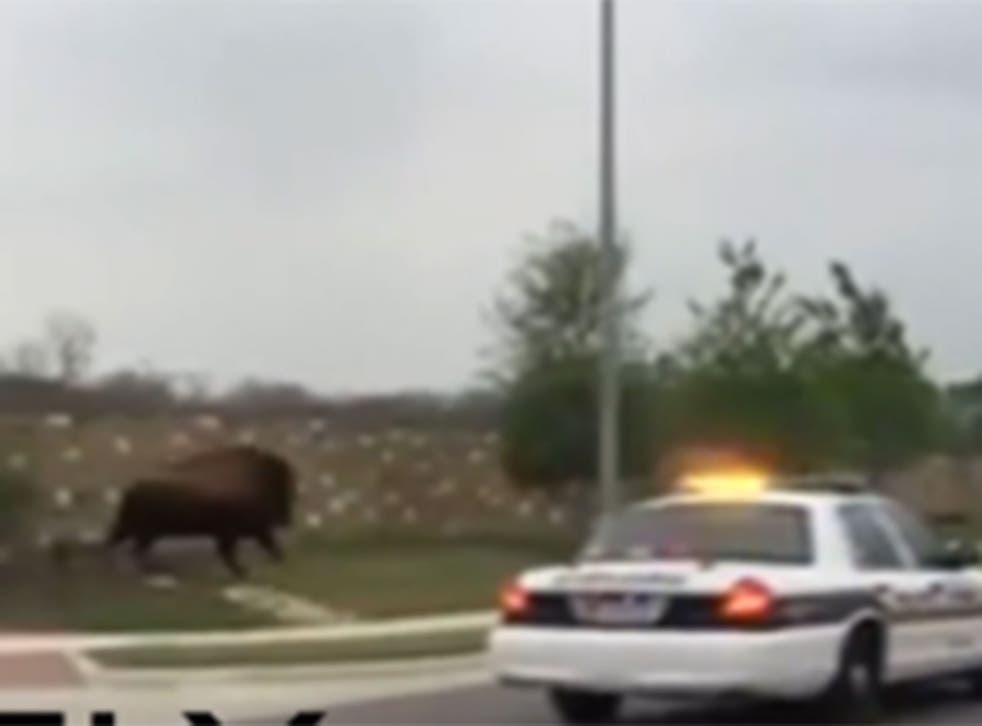 Police in Texas were involved in a high-speed chase of an unusual nature on Friday after they had to stop and capture an escaped bison that had been spotted running through a residential area by homeowners.
In a video released on the Round Rock Police Department's Facebook page over the weekend, a patrol car is seen chasing down the animal that was seen running past traffic, among houses and near a shopping mall on Friday morning.
After a short chase, the police and animal control officers were eventually able to stop the 5-year-old bison and get it back to its owner Joe Don Kotrla-Chipps.
Kotrla-Chipps, said the bison was called Big Boy and that he had made a number of escape attempts in the past.
In total, Kotrla-Chipps said that Big Boy has left the farm on a total of six previous occasions.
He blamed the latest incident on the coming of spring, saying the animal tended to get a "bit frisky" when spring was "in the air".
He said: "The fence has been plenty adequate for 25 years for all my other buffalo, but this one is a jumper."
Register for free to continue reading
Registration is a free and easy way to support our truly independent journalism
By registering, you will also enjoy limited access to Premium articles, exclusive newsletters, commenting, and virtual events with our leading journalists
Already have an account? sign in
Register for free to continue reading
Registration is a free and easy way to support our truly independent journalism
By registering, you will also enjoy limited access to Premium articles, exclusive newsletters, commenting, and virtual events with our leading journalists
Already have an account? sign in
Join our new commenting forum
Join thought-provoking conversations, follow other Independent readers and see their replies