Seven killed and a military helicopter shot down amid wave of violence in Mexico
The chaos that was centred around Guadalajara, Mexico's second biggest city, in Jalisco state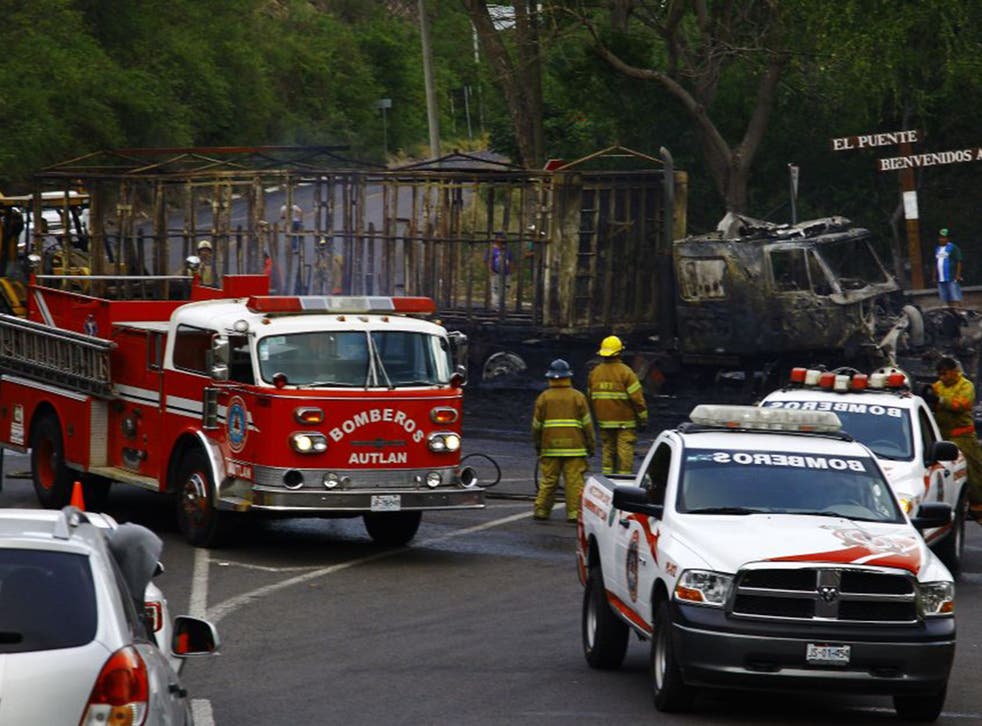 A wave of violence erupted across western Mexico this weekend as drug cartel operatives shot down a military helicopter, blocked 39 roads with burning vehicles and set fire to 11 banks and 16 petrol stations across the region. Seven people were killed, 19 were wounded and 19 were arrested amidst the chaos that was centred around Guadalajara, Mexico's second biggest city, in Jalisco state.
Mexican officials said the paramilitary-style attacks were trigged on Friday by the launch of a military operation to bolster security in the state and apprehend members of the Jalisco New Generation Cartel, a powerful organisation responsible for a number of recent attacks against the authorities.
The cartel had previously used burning buses to block off major roads across Guadalajara on three occasions in the last three years, each time in response to the arrests of key figures. It is thought to be a diversionary tactic to enable other leaders to escape arrest.
Friday's coordinated attacks surpassed those past instances in terms of scale and audacity, with the violence affecting 25 towns across Jalisco and spilling over into at least three neighbouring states.
It began with a convoy of cartel gunmen opening fire at a Cougar helicopter loaded with military personnel. The attack left three soldiers dead, three more missing and 12 others injured as the helicopter was forced into an emergency landing.
Cartel operatives then began hijacking and emptying cars and public buses before setting them ablaze to form rudimentary roadblocks, as well as torching petrol stations and banks that were empty because of the three-day holiday weekend that began on Friday.
Panic spread across the region with unverified news and rumours circulating on social media, while authorities advised people to remain in their homes until the situation was under control. Jalisco Governor Aristoteles Sandoval called for "citizens to remain calm and to ignore information that is not confirmed by officials".
Writing on Twitter, President Enrique Peña Nieto lamented the loss of life and vowed to punish the culprits. "The criminal group responsible for the events today will be dismantled, as has happened to other criminal organisations," he said.
Founded just five years ago, the Jalisco New Generation Cartel has grown rapidly into one of Mexico's most prominent criminal enterprises. Responsible for trafficking marijuana, cocaine, heroin and crystal meth to the United States, the cartel has access to heavy weaponry and was even caught manufacturing its own assault rifles at a clandestine factory in Guadalajara last year.
The cartel killed at least 21 police officers throughout a string of ambushes and assassination attempts across Jalisco in March and April and it is also thought to have been behind the murder of federal congressman Gabriel Gomez Michel last October.
The Peña Nieto administration has proved adept at capturing Mexico's most wanted drug lords since taking office in 2012, but it has not been able to significantly reduce the level of violence in the country.
Bali Nine pair executed

Show all 22
The insecurity has already begun to affect next month's midterm elections, with a team of assassins shooting dead Ulises Fabian Quiroz, a mayoral candidate from the ruling Institutional Revolutionary Party (PRI), in the troubled southern state of Guerrero on Friday.
The relentless violence is stoking opposition to the PRI, with opposition parties calling for a change in strategy in the drug war that has left over 100,000 dead in the last eight years.
Enrique Alfaro, who represents the liberal Citizens' Movement and is the favourite to become the next mayor of Guadalajara, told The Independent on Sunday that the authorities must "change the reactive focus of security policy to a preventative focus, to tackle the causes of the problem and not just the effects."
With widespread poverty and unemployment leaving millions of Mexicans with little alternative to a life of crime, Mr. Alfaro proposed introducing educational grants and free sporting and cultural programs to provide disaffected youths with greater opportunities. He also emphasised the need to root out corruption and advocated more centralised, better paid police forces that would be less vulnerable to infiltration.
Join our new commenting forum
Join thought-provoking conversations, follow other Independent readers and see their replies