Sex and the City writer Cindy Chupack: My career has been a laundry list of dreams
The Golden Globe and Emmy-winning writer is about to direct her first feature film, a battle that has lasted more than eight years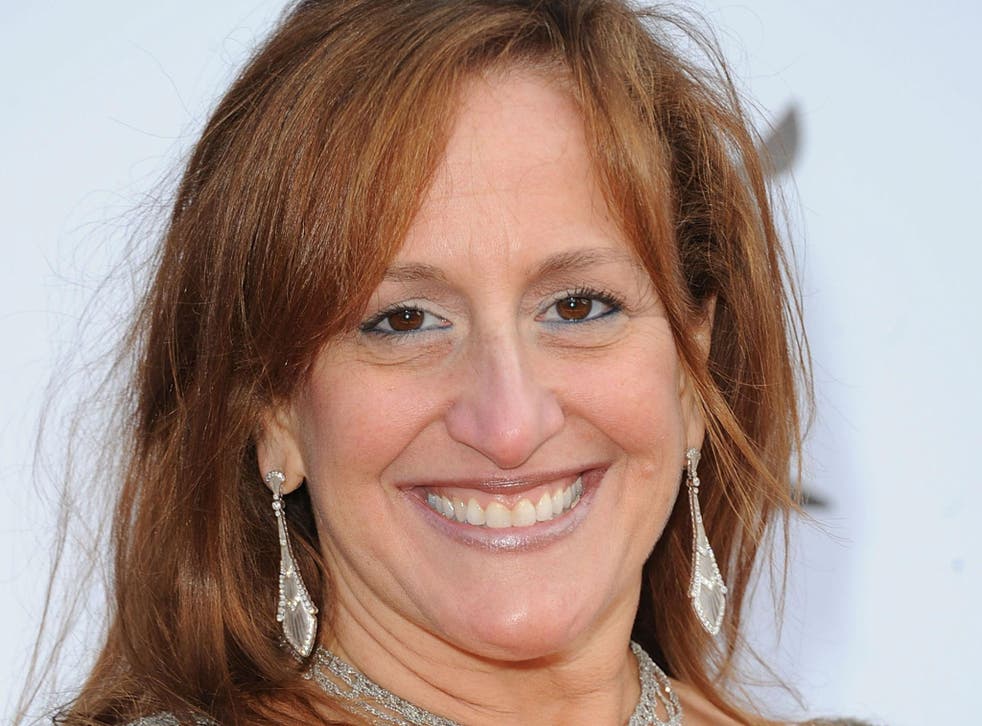 It might seem surprising that screenwriter and author Cindy Chupack had to wait so long to direct her first film.
The winner of multiple Emmys and Golden Globes has battled for eight years to get the green light for her upcoming feature, Whatever Makes You Happy, yet she has been a distinct voice on the most popular shows in American history. Her resume includes Coach, Everybody Loves Raymond, Sex and the City, Modern Family, Divorce and Better Things.
"The first year I thought 'for sure it's [the film is] happening' and I looked at apartments in New York," she said. "We were all set and something fell apart. The second year I tried to play it a little cooler but still got my heart broken… So now when I talk about it, my friends are like, 'Oh, your imaginary friend'."
Sex and the City writer Cindy Chupack in conversation with the Independent's Rachael Revesz
Her film, Whatever Makes You Happy - it might be re-named - is based on William Sutcliffe's novel about a group of women who travel to visit their children in New York on Mother's Day, determined to feel loved and needed again.
Another script Chupack wrote, an adaptation of Nick Hornby's How to Be Good, might be turned into a film in the near future by Mirimax.
But nothing is certain in show business, especially when so much of the financing and the go-ahead depends on men looking for the next blockbuster.
In such a male-dominated industry, did she have a solid career plan?
It was more like a laundry list of dreams, said Chupack, which included going to a sea cave in New Zealand, learning to boogey board, winning an Emmy, writing a movie that gets seen, and working on Sex and the City.
"Some of those things still have to be checked off," she said. "Just having that laundry list of things that sounded exciting, for my career and personal life. In fact for the longest time the only thing I didn't check off was to get married, have a kid, fall in love. That was just a line item on the list, like, get a boogey board."
During her five years at Sex and the City, she poured her "dating escapades, all the failures, humiliations" into the show. Michael Patrick King, the creator, had a habit of making writers tackle subjects that were the most personal to them.
The end result is a show that, besides the uber-aspirational lifestyle and obsession with expensive shoes, reflects the reality of many women's lives. Women became more comfortable discussing "funky tasting spunk" over brunch, and the show's cast - Sarah Jessica Parker, Cynthia Nixon, Kim Cattrall and Kristen Davis - were propelled to global stardom.
The show has been off the air for more than 13 years, yet it is so popular that rumours of the third film are always circulating.
So, that episode, series two, when Miranda's house guest married her interior designer? That happened to Chupack. Attending your own book party without a date? Straight from Chupack's life. Carrie wondering, at the age of 38, whether she can still have children? Yep, Chupack.
"We were really trying to get out what was actually so hard, and heart-breaking and true about what we were going through," she said. "And then we would get to the funny."
The phrase that Carrie is always typing on her mac - "I couldn't help but wonder" - became iconic for any aspiring writer. Chupack said you could always tell who wrote which episode, depending on what Carrie was "wondering".
Chupack has also written two books, chronicling her myriad of bad dates, divorcing her first husband after realising he was gay, marrying her "bad boy" second husband at 40, and her struggles with fertility. Neither of the books were as successful as He's Just Not That Into You, written by her colleagues' Greg Behrendt and Liz Tuccillo - subject she has often joked about - but her own essays are witty and as addictive as eating a tub of ice cream in one sitting.
Three Golden Globes and two Emmys line her shelves. But her career started, arguably, by luck. One article she submitted to now defunct magazine, New York Woman, led to seven years of screen writing in LA, before coming back to New York to enjoy what she described as her career love affair with Sex and the City.
Working at hit sitcom Modern Family was tough, however, and the first time she felt that being a woman was a disadvantage. Most of her women predecessors had only lasted about six months to a year. She was constantly second guessing herself in the predominantly male writers' room, wondering if she was speaking too much, too little, or interrupting. It turns out the other writers thought she was doing all of that.
"It was like being at a dinner party where you don't feel like you're fitting in, and that's a hard place to be," she said.
Even though she won an Emmy for her season there and was nominated for a Writer's Guild Award for one of the three episodes she wrote, she moved on quickly.
The feeling was very different when she was at Everybody Loves Raymond - a "Jewish, menschy writers' room" - nearer the start of her career. The men treated her more like a little sister, she said, mentoring her and advising her on what house to buy.
"Maybe there was a different feeing when I was at a slightly lower level or less experienced than when I'd had more, I'm not sure," she said.
It was around the time of Modern Family when she started to try and get her film made, but as a first-time female director, selling a plot about a mostly middle-aged, female cast, she realised how women were valued less at home and abroad, and how filmmakers tended to mis-market a film that appealed to women to boys and men instead.
"All this talk that was bubbling to the surface about how there were less opportunities for women in the business started to feel true to me in a way that it hadn't before during my career," she said.
Chupack is proud of her achievements, but she is also incredibly self-deprecating, describing herself as a "most comfortable second in command". Was she just putting herself down?
Chupack resisted that theory.
"It's a question of what does your life need to be, and who made that rule that says you need to be at the top of it, or even creating something that is physically yours versus working on other things you enjoy?"
"Maybe that's a false humility that women have and we need to get over, but I respond to the feeling that your work could always be better, you hope it's good, but you know it could improve," she said.
She also plays down her wealth, saying she has just "worked on a lot of great shows" and has kept the same condo for 20 years. The big money, she said, is when you write a show that goes into syndication.
But that could all be about to change with Whatever Makes You Happy. She is already in talks with Netflix and hopes to start filming this year in New York City.
She has also worked on a dark comedy called I'm Dying Up Here, based on a book about stand-up comedians in the 1970s, which is premiering on Showtime in June and is executive produced by Jim Carrey. She will also be pitching a pilot about a group of expats in Paris to networks.
"I like to have a lot of balls in the air," she explained, adding that she beats procrastination by lighting a scented candle, or going for a hike around where she lives in LA - punctuated by a few episodes of Real Housewives.
Her advice to aspiring writers is simple.
"Just keep in touch when you feel the most fulfilled and happy writing, and not having the end result of an audience or an award be the prize," she said, "but just have pride in what you've written, feeling that it's true and it might reach people and resonate with people."
And in a world where women are always debating whether they can "have it all" in their personal lives and careers, Carrie Bradshaw was given a happy ending. What level of realistic expectations does that send to the rest of us?
She laughed loudly. She said she was still single at the end of the show, and had campaigned loudly for Carrie Bradshaw to end up with Big, the handsome financier who essentially dangles a carrot on a stick for all single women.
"I don't know what that means, but I wanted that romantic ending at the time", she said, "but now, looking back, it maybe could have been just as poignant if it was just her and her friends."
Register for free to continue reading
Registration is a free and easy way to support our truly independent journalism
By registering, you will also enjoy limited access to Premium articles, exclusive newsletters, commenting, and virtual events with our leading journalists
Already have an account? sign in
Register for free to continue reading
Registration is a free and easy way to support our truly independent journalism
By registering, you will also enjoy limited access to Premium articles, exclusive newsletters, commenting, and virtual events with our leading journalists
Already have an account? sign in
Join our new commenting forum
Join thought-provoking conversations, follow other Independent readers and see their replies