Shocking footage captures 11 US policemen striking an unarmed suspect more than 50 times
Francis Jared Pusok, from Apple Valley in California, fled authorities on a horse before his beating at the hands of officers
Rose Troup Buchanan
Saturday 11 April 2015 23:25 Comments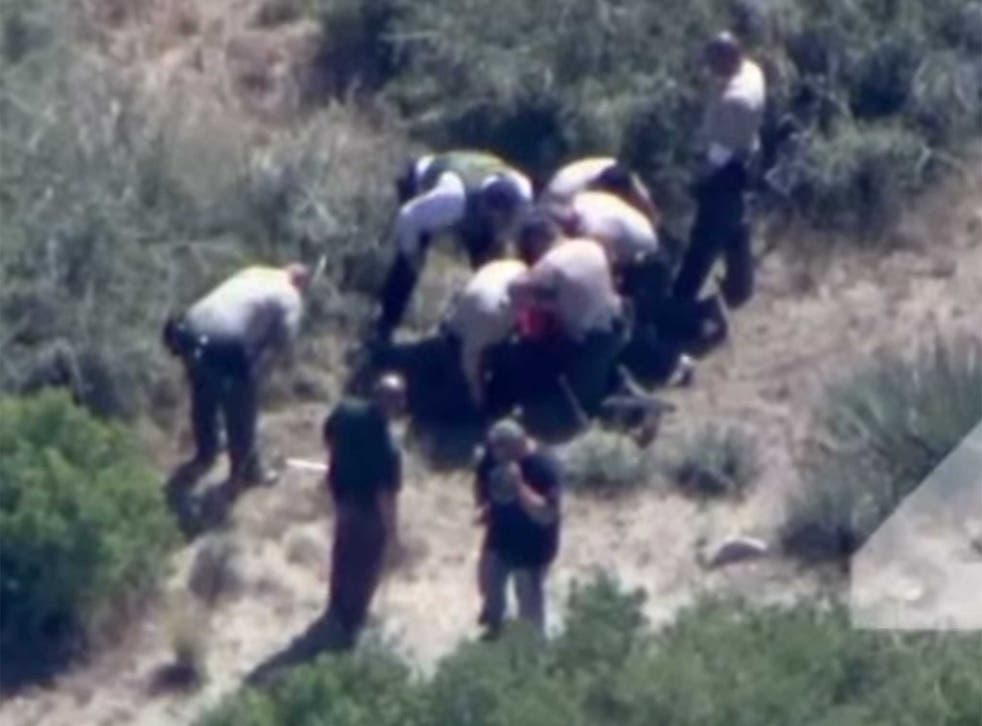 Footage has emerged of the moment 11 US police officers brutally kicked an unarmed and seemingly unconscious man after he was Tasered onto the ground.
The shocking video, captured by US TV channel NBC News, shows Francis Jared Pusok, from Apple Valley in California, fleeing authorities on horseback on Thursday.
The 30-year-old is tasered off the allegedly stolen horse and falls to the ground, raising his hands to two approaching officers as he does so.
Warning: Some viewers may find the following footage distressing
Pusok, lying face down in the sand of the desert, voluntarily places his hands behind his back – but not before one officer appears to Taser him twice more.
The two officers begin kicking and punching Pusok, who remains on the ground, one striking him twice on the head and the other kicking him in the groin.
Later in the video the two are joined by nine others – approximately five of whom appear to take turns beating the man.
In total, it appears that Mr Pusok was kicked 17 times, punched him 37 times and struck him with batons four times. Three of these blows appeared to be directly to his head.
"Well, it is disturbing," San Bernardino County Sheriff John McMahon admitted to NBC News, after the footage went public.
Yesterday, Sheriff McMahon confirmed that 10 deputies have been suspended – on paid administrative leave – over their actions in the video, telling a press conference their actions did appear "to be excessive".
The FBI have opened an investigation, with the results referred to federal prosecutors.
Meanwhile, the family of Pusok had remained in the dark regarding his welfare.
"I still, to this moment, do not know how he is doing," said girlfriend and mother to his three children Jolene Bindner yesterday. "I don't know what hospital he's in, they have failed to tell me anything about him."
"He could still be unconscious for all I know. I don't know."
Yesterday, it emerged that Pusok had been remanded in custody on several criminal charges, including felony evasion and possession of stolen property, after being treated at a local hospital for a number bruises and abrasions.
He originally drove off in a car after officers arrived to search a house regarding an identity theft investigation. After abandoning the vehicle, Pusok is said to have stolen a horse before the San Bernardino deputies caught up with him in the desert.
According to police authorities three deputies were injured during the search, with two suffering from dehydration and one hurt after being kicked by the horse. All three were taken to hospital for treatment.
Additional reporting by Reuters
Register for free to continue reading
Registration is a free and easy way to support our truly independent journalism
By registering, you will also enjoy limited access to Premium articles, exclusive newsletters, commenting, and virtual events with our leading journalists
Already have an account? sign in
Join our new commenting forum
Join thought-provoking conversations, follow other Independent readers and see their replies