Canadian Sikh man 'to sue news outlets' after he is wrongly labelled a terrorist after Paris attacks
Some Spanish news outlets used a photoshopped image of Veerender Jubbal in reports on France
Will Grice
Monday 16 November 2015 10:38 Comments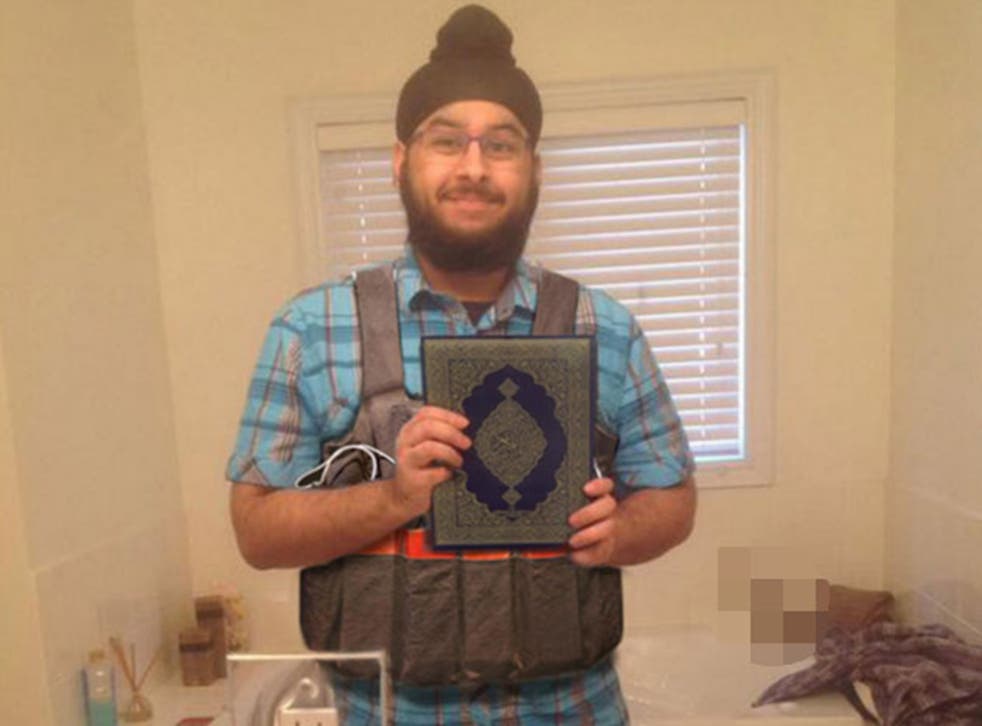 A Canadian Sikh man is threatening to sue news outlets after an image of him was photoshopped and wrongly identified as one of the Paris attackers.
Veerender Jubbal said he was concerned for his own safety after an innocent selfie he took in front of the mirror was edited to show him wearing a suicide vest and holding the Koran.
The photo was posted online with captions claiming it showed one of the gunmen behind the shootings which killed 129 people across the French capital on Friday night - and it quickly circulated across social media around the world.
The photo was later disproved and shown to be a hoax. Mr Jubbal, a journalist tech journalist, says he fears he may have been the target of a smear because of his previous criticism of the GamerGate community.
Mr Jubbal, a Sikh man living in Canada, had to correct many of the people tweeting the image by saying, "Let us start with basics. Never been to Paris. Am a Sikh dude with a turban. Lives in Canada."
In another tweet, he suggested so-called "garbage" GamerGaters had taken his image and misused it. Those who adhere to the GamerGate movement say it is a fight for more ethical coverage of video gaming, but they have been accused of launching misogynistic attacks on female gamers and tech journalists.
Since the image of Mr Jubbal went viral online, it has been used by at least two Spanish news sources calling him a possible suspect in the French shootings.
The Independent has approached Mr Jubbal for comment, but is yet to receive a reply. However, he has tweeted that he may consider pressing charges against the news outlets using his image in their reports on Paris.
Mr Jubbal said the spread of the image was not limited to European news reports, and tweeted that a cousin in India said "the whole thing [was] in the India Times". He said: "This whole thing puts me in a bad position, where I could be harmed or hurt."
Register for free to continue reading
Registration is a free and easy way to support our truly independent journalism
By registering, you will also enjoy limited access to Premium articles, exclusive newsletters, commenting, and virtual events with our leading journalists
Already have an account? sign in
Join our new commenting forum
Join thought-provoking conversations, follow other Independent readers and see their replies