Sikh soldier wins right to wear turban in US army while on active duty
The prohibition on 'articles of faith' was introduced during the admininstration of Ronald Reagan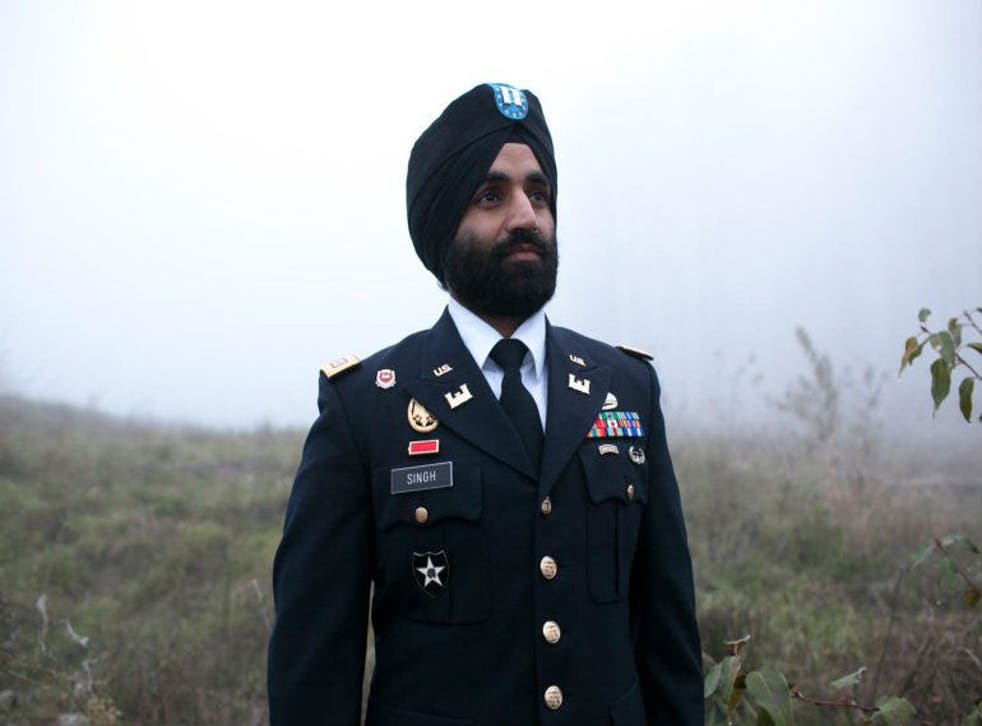 Ever since he was a child, Simratpal Singh wanted to be a member of the US army.
But equally as important as serving his country, was the desire to remain true to his faith. Last year, after a decade of service, which had seen him win bravery metals in Afghanistan, Mr Singh, who is Sikh, launched a legal challenge to a decades-old rule that forbade him wearing a turban or maintaining a beard.
Recently, Mr Singh succeeded in overturning the rules that were part of an executive order passed by President Reagan in the 1980s. As as result, he can keep his beard and wear either a black or camouflage turban - the first American soldier in 35 years to be allowed to do so while on active duty.
"Ever since I was a kid I had a fascination of being a soldier," Mr Singh, 28, told CBS News.
Sikhs are required to maintain several "articles of faith" as part of their tradition. Among these are the requirement to wear a beard and turban.
Yet in 2006, on his first day as a cadet at West Point military academy, he was forced to shave his beard and remove his turban. This was something he had never done before.
"I remember one of the hardest things to do was to look in the mirror the next day and kind of have that self-image of yourself shattered completely of what a good Sikh is supposed to be," he said. "It was a hard adjustment."
Germany: 3 injured in bomb attack against wedding at Sikh prayer hall in Essen
His commanding officer, Major Vanessa Bowman, said the ruling had not created a problem.
"It didn't create any tension for us in the office. Captain Singh is a very professional officer. He comes to work, he does his job," she said.
Since his victory, three more Sikh soldiers have received so-called religious accommodations.
Mr Singh said he was inspired by his great grandfather and others who fought with the British in the two World Wars.
"Some day when Sikh American parents tell their kids that they can be whatever they want to be in this great country of ours, I hope that it rings a little bit more true," he told the news channel.
"And it means that they can serve in the Armed forces just as freely."

Register for free to continue reading
Registration is a free and easy way to support our truly independent journalism
By registering, you will also enjoy limited access to Premium articles, exclusive newsletters, commenting, and virtual events with our leading journalists
Already have an account? sign in
Register for free to continue reading
Registration is a free and easy way to support our truly independent journalism
By registering, you will also enjoy limited access to Premium articles, exclusive newsletters, commenting, and virtual events with our leading journalists
Already have an account? sign in
Join our new commenting forum
Join thought-provoking conversations, follow other Independent readers and see their replies