Why has America taken so long to confront its dark history?
Efforts to force debate on the legacy of slavery come at fraught time for nation under Donald Trump, writes Andrew Buncombe
Saturday 31 August 2019 18:03 BST
Comments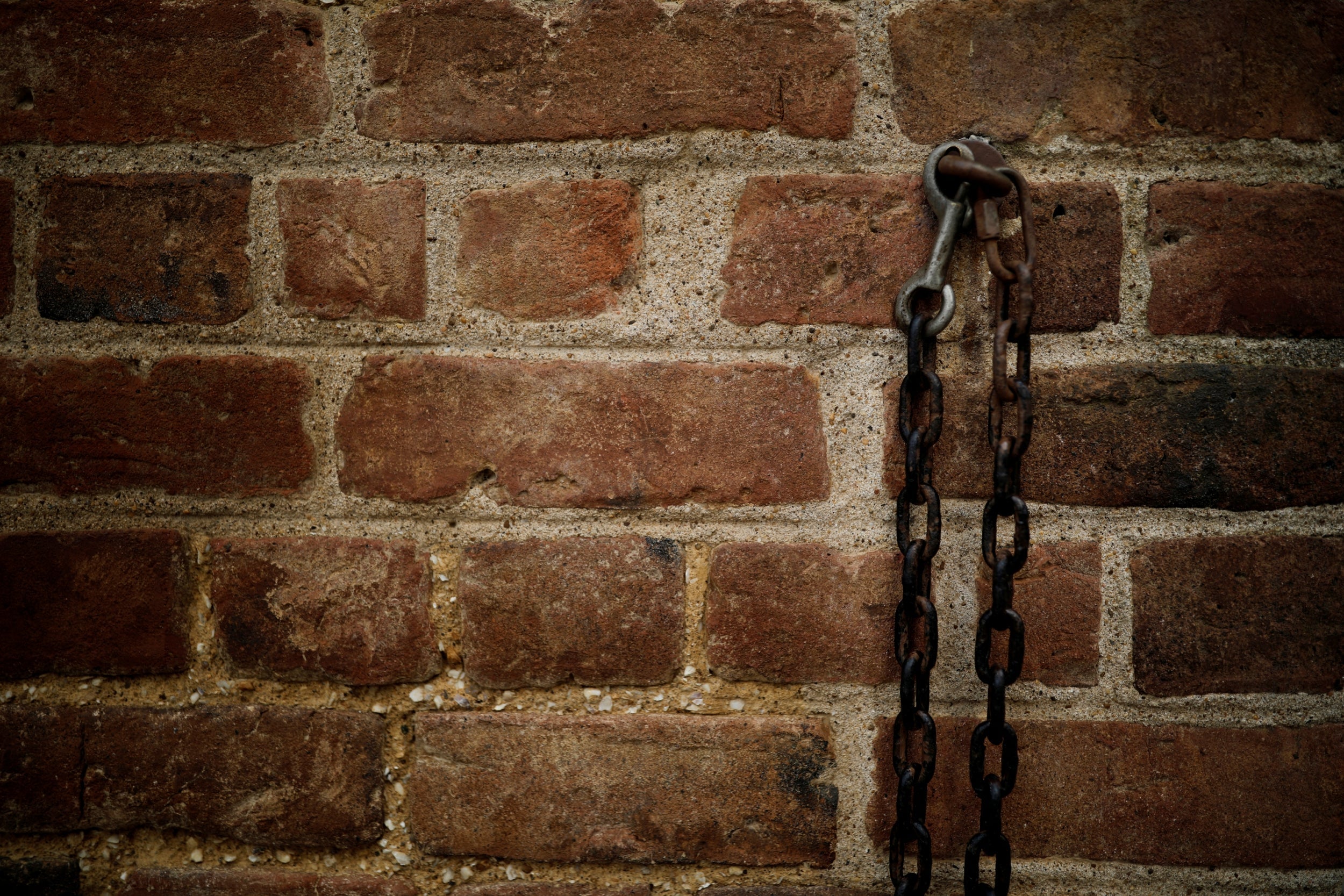 Sherri Burr recently learned she is almost certainly related to a notorious Broadway villain.
After years digging through archives and then undertaking a DNA test, the law professor – who is African American – learned she is most likely a descendant of Aaron Burr. Burr, who was white, served as America's third vice president, but is best known for shooting dead founding father Alexander Hamilton in an 1804 duel, an episode memorialised in Lin-Manuel Miranda's astonishingly successful musical.
On a sunny day last weekend, 215 years after her ancestor killed Hamilton, and 12 months after the Aaron Burr Society formally acknowledged Burr had fathered two children with a woman of colour who worked as his servant, she was among 60 people who gathered in Philadelphia to unveil a headstone for John Pierre Burr – one of at least two children the vice president fathered outside of his marriage.
"It was a beautiful day," says Burr, professor of law at the University of New Mexico and author of Complicated Lives: Free Blacks in Virginia, 1619-1865.
"We had a pastor who blessed the headstone. I was happy, because John Pierre was a champion for justice and the underground railroad."
Modern Slavery in the UK
Show all 13
As America marks the 400th anniversary of the day 20 African slaves were brought ashore at Jamestown, Virginia, the first of around 380,000 shipped directly to the US amid an estimated transatlantic abduction of more than 12 million people, the ceremony at Eden Cemetery in Philadelphia's western suburbs offers a powerful insight into the nation's struggle to confront its darkest history.
Attended by both white and black descendants of Burr, the group was able to acknowledge the vicious, inhumane nature of slavery, a system of chattel that enabled America to win its independence and build its power, and a place where, in 1776, Thomas Jefferson, himself a slave owner who fathered children with an African woman, Sally Hemings, could declare "all men are created equal", even though they very obviously were not treated as such.
"It does not take a brain surgeon to realise the system of slavery was a terrible, vicious system," says Stuart Johnson, who is white and is president of the Aaron Burr Association and who took part in the unveiling. "And it took the Civil War – a bloody, terrible thing – to end it."
Few seem ready for such a clear headed reckoning. When Kamala Harris, an African American senator from California who is seeking the Democratic Party's presidential nomination, cautiously voiced support for studying whether there ought to be reparations for slavery – "We had more than 200 years of slavery. We had Jim Crow for almost a century. We had legalised discrimination, segregation. We have to recognise that everybody did not start out on an equal footing" – she faced a major backlash.
These conversations come at a fraught time for the nation. Donald Trump may or may not be more racist than some of those who preceded him in the Oval Office, but he is more prepared to use racist language openly. The imprimatur of those words as commander-in-chief, allied to the massive power of social media, has emboldened many who share his views, but who may not previously have voiced then aloud.
"In the past we had coded language. Now it is more direct," says Cassandra Newby-Alexander, professor of history at Norfolk State University, located 50 miles from Jamestown, where the English warship White Lion unloaded its human cargo. "There is a step-by-step process to embolden this racism, but I think it may only work for one-third of people. There are more white people unhappy with this level of hate speech."
Candace Owens claims black people were doing better during first 100 years of slavery than now
A fundamental reason for America's refusal to acknowledge its past – not alone among nations – says writer Rachel Swarns, is that it is "hard history". Two hundred years of slavery was followed by the Civil War, an event that somehow inspired twisted racists such as the Charleston church killer Dylann Roof; the intentional failure of reform during Reconstruction, and then the system of Jim Crow, in which black people were returned to being second-class citizens, lynched, murdered, refused the right to live in certain areas and even to vote.
Today, efforts to suppress the voting rights of minorities persist with vigour in states such as Georgia, while the criminal justice system is utterly discriminatory against people of colour. Three years ago, when the Alabama-based Equal Justice Initiative (EJI) announced plans to establish a museum to lynching victims, it estimated at least 4,000 African Americans were summarily murdered – their killings frequently watched by large crowds – between between 1877 and 1950.
"It is hard history, and it's particularly hard for Americans because it runs counter to the narrative we tell about ourselves – you know, freedom and justice for all," says Swarns, whose work includes American Tapestry: The Story of the Black, White, and Multiracial Ancestors of Michelle Obama.
"I think it is much easier to think about slavery as something that is very disconnected from us – long time ago, history book-slow, nothing to do with me today. We're often known for not being big at looking in the rear view mirror."
She adds: "Coming to an understanding that slavery was as foundational as it was for a country that expounds these ideals is profoundly difficult. That is on a macro level. At a personal level, I think it is just difficult for people."
Among Swarns' revelations was that the founders of Georgetown University in Washington DC, which was established by Jesuits, owned slaves. Her 2017 report triggered reflection by a number of US universities where slavery had contributed to their wealth, as well as half-a-dozen in Britain, among them the universities of Oxford, Glasgow, Bristol and East London.
Earlier this year, students at Georgetown voted to pay additional tuition fees to help establish a fund to benefit the descendants of the 272 slaves who were sold in 1838 to pay off the institution's debts.
Swarns, a contributing writer for the New York Times and associate professor of journalism at New York University, says such gestures give her hope, just as incidents such as the 2017 neo-Nazi march at Charlottesville, make her despair. She says this dichotomy, the shifting back and forth of progress, is also part of America's story.
"The truth is we're all of that. That is what we are," she says. "The things you're talking about – both the things that are heartening and the terrifying – play out for us in real time. But I have to be hopeful. And I believe the conversation is happening more. You had the House of Representatives talking about where there should be a study into reparations, you have candidates for president talking about it. At the same time you have the guy in El Paso [charged with murdering more than 20 people after allegedly opening fire in Walmart last month] and the guy in Pittsburgh [who allegedly opened fire at the Tree of Life synagogue in October 2018 and killed 11 people.] All of this complexity, is all us right now."
Carol Anderson, professor of African American Studies at Emory University in Atlanta, has written about the backlash triggered among some white Americans following the election of Barack Obama, the country's first and only African American president. The reemergence of Tea Party activists, and congressional obstruction, was part a pattern dating to the Civil War and the passage of the 13th Amendment that officially ended slavery.
Each time African Americans have made advances, she says in her book White Rage: The Unspoken Truth of Our Racial Divide, white reaction has resulted in a deliberate roll back. The end of the Civil War and Reconstruction was greeted with the Jim Crow era, the Supreme Court's Brown v Board of Education decision resulted in the shutting down of schools in the South, while the bloody opposition to the Voting Rights Act of 1965 led to a new, coded response – the so-called Southern Strategy and the "war on drugs", that took the vote from millions of black people, while helping project Richard Nixon and Ronald Reagan into the White House.
Anderson tells The Independent the US is currently divided between those states wanting to expand access to the ballot box and make the electorate more inclusive, and those seeking to restrict access, in order to reduce the number of minority voters.
"A big problem [with America not acknowledging its past] is that a lot of people do not think they did anything wrong," says Anderson. "Some people choose not to know. When you need to keep maintaining this idea of a 'shining city on the hill', then the years of buying, breeding and branding of slaves does not fit well with that narrative."
Some Americans believe the events of 1619 should not be memorialised at all. When the New York Times magazine announced it was dedicating an issue to mark the arrival of the the first enslaved Africans and what that presaged, a number accused the newspaper of stoking racial tensions.
Newt Gringrich, a former Republican speaker of the House and a close ally of Trump, tweeted: "The New York Times 1619 Project should make its slogan 'All the propaganda we want to brainwash you with'."
Burr, the writer and academic from New Mexico who discovered her link to America's third vice president, says the opposite. In her words, Americans cannot talk enough what happened, both then and now.
"The reason people don't want to talk about slavery is that they don't want to dig up the past. They don't want to take responsibility," she says.
"All aspects of what happened to those original Africans, and what happened afterwards, should be discovered and analysed. Not enough people can be told about the 400th anniversary, not enough speeches can happen."
Join our commenting forum
Join thought-provoking conversations, follow other Independent readers and see their replies