Sloth discovered clinging to a motorway barrier in Ecuador
Transit Commission of Ecuador returns 'beautiful' animal to its habitat after it was discovered in the city of Quevedo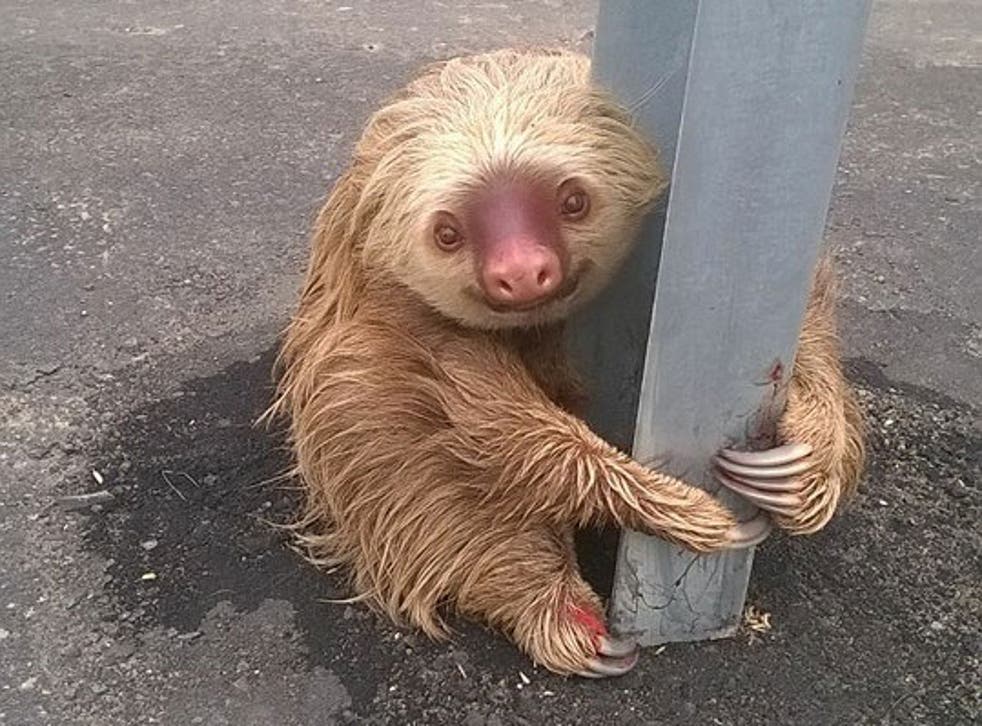 Photos of a "beautiful" long-haired sloth clinging to a motorway barrier have been liked and shared by thousands of people on social media.
Officers from the Transit Commission of Ecuador found the animal on a motorway in the city of Quevedo.
Pictures posted by the government organisation on their Facebook page showed the sloth peering curiously at the officials as they worked out what to do with it.
The animal seemed to smile for the camera in one of the pictures, but continued to cling to the barrier.
The Transit Commission posted a comment on the post reassuring thousands of people concerned for the sloth that it had been safely returned to its habitat after being checked by a vet.
At the time of writing the images have been shared over 11,000 times, and received over 39,000 likes.
Many Facebook users praised the officials for handling the sloth so well, and noted how "beautiful" the animal was.
Andres Mora said in a comment: "Lately I see them [doing] very well with this campaign and respect to the urban wildlife, really congratulations [sic]."
Some people noted the sloth appeared to have wandered out of its natural habitat because the motorways intruded on their space.
Nestor Guanotuna commented, saying: "That happens and will keep happening because the genius designers of that project didn't leave a biological corridor for terrestrial species whose habitat is protected by the woods… We're not the only ones with the right to live."
Register for free to continue reading
Registration is a free and easy way to support our truly independent journalism
By registering, you will also enjoy limited access to Premium articles, exclusive newsletters, commenting, and virtual events with our leading journalists
Already have an account? sign in
Join our new commenting forum
Join thought-provoking conversations, follow other Independent readers and see their replies