Snake-handling pastor dies after refusing treatment for bite
Jamie Coots had appeared on US TV promoting snake-handling church services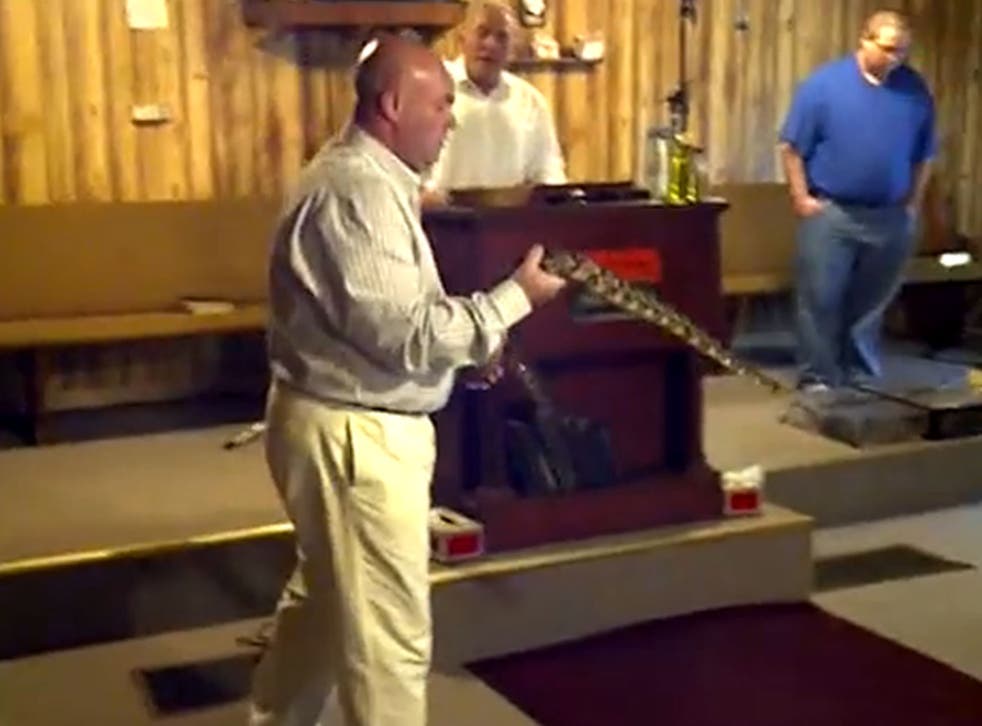 A snake-handling preacher from the US state of Kentucky died on Saturday (EST) after he reportedly refused medical treatment for a bite.
According to Middlesboro Police Department, the emergency services were called at about 8:30pm on Saturday to respond to a snake-bite victim at a church.
When the ambulance arrived, they were told that Jamie Coots had gone back to his home in Middlesboro, Kentucky. When they arrived at his house, he refused medical treatment for a snakebite wound on his right hand.
Emergency workers left around 9:00pm and when they returned an hour later, Mr Coots was dead.
Middlesboro Police Chief Jeff Sharpe confirmed in a statement that Mr Coots refused treatment or being taken to hospital despite being warned of the dangers.
Before he died, Mr Coots had appeared in a National Geographic television programme called Snake Salvation, which told the story of Pentecostal preachers who defy the law and use serpents as part of their religious services.
The show revealed how snake-handling, which is illegal in most places, is practiced as a test of faith and guided by the theory that true believers will not be harmed.
See Pastor Coots handling snakes at a service in 2011
It is particularly popular in parts of Appalachia. Middlesboro lies near the junction of Kentucky, Virginia and Tennessee and is about 60 miles (100 km) north of Knoxville, Tennessee.
YouTube videos credited to pastorcoots2012 depict serpent handling services at Mr Coot's former Full Gospel Tabernacle in Jesus Name church, where congregation members dance to music with snakes in the arms.
He also appeared on ABC's Nightline last year, where he said snakes had bitten him nine times, and cost him a part of a finger.
"If the Bible told me to jump out of an airplane, I would," he said on the show.
About a year ago, Coots was charged in Tennessee with illegally possessing poisonous snakes.
As part of a plea deal, he surrendered the snakes and his sentence of just under a year in jail was suspended, according to local media.
Additional reporting by Reuters and AP
Register for free to continue reading
Registration is a free and easy way to support our truly independent journalism
By registering, you will also enjoy limited access to Premium articles, exclusive newsletters, commenting, and virtual events with our leading journalists
Already have an account? sign in
Register for free to continue reading
Registration is a free and easy way to support our truly independent journalism
By registering, you will also enjoy limited access to Premium articles, exclusive newsletters, commenting, and virtual events with our leading journalists
Already have an account? sign in
Join our new commenting forum
Join thought-provoking conversations, follow other Independent readers and see their replies