Racist Snapchat story targeting Sikh man on flight sparks outrage on social media
A Sikh professor said the bigoted posts highlight 'what it's like for anyone who appears to be Muslim to travel by plane'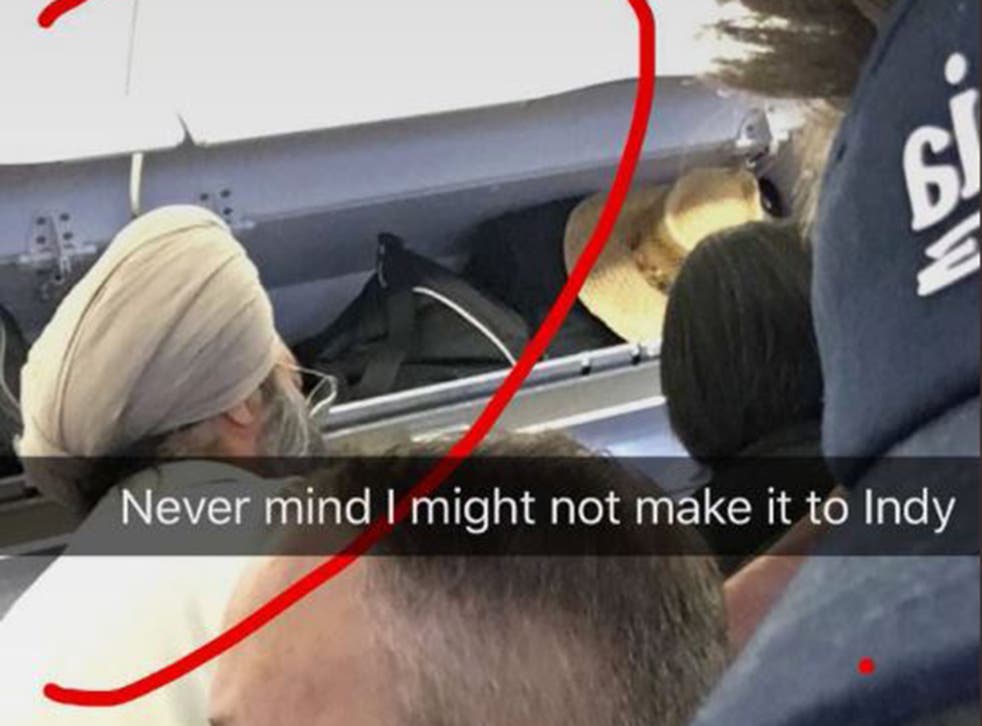 An airline passenger who mocked a Sikh man's turban and suggested he was a terrorist in a series of racist Snapchat posts has sparked outrage on social media.
The bigoted outburst began when the man took a picture of the Sikh from behind, circled his turban, and included the caption: "Never mind I might not make it to Indy."
He later snapped the Sikh as he slept during the flight, writing: "Update I'm still alive."
And in one post he suggested that the passenger was behaving suspiciously, saying: "Ok he just walk to the back of the Plane then to the front then to his seat."
Sikh academic Simram Jeet Singh posted screen grabs of the Snapchat posts on Twitter and claimed they show "what it's like for anyone who appears to be Muslim to travel by plane".
The professor, who teaches religion at Trinity University in Texas, has frequently spoken out against xenophobia and says he often experiences "uncomfortable stares and misguided fears" while travelling.
US Sikhs ask for hate-crime probe after man told 'go back to your own country' and shot
"This series of snaps should give you a sense of what it's like for anyone who appears to be Muslim to travel by plane," he tweeted.
"I try to live my life by the Sikh maxim, "Fear none, frighten none". I think about this teaching often when I travel.
"How do I retain my confidence and dignity on an airplane while also being thoughtful not to strike fear in the hearts of others?
"I think twice about getting up to use the restroom. I feel self-conscious when opening the overhead bin to take something out of my luggage.
"I look forward to the day when our kids can travel freely, without having to worry about what others might be thinking or saying about them."
Seven killed in Sikh temple mass shooting

Show all 2
Some of Mr Singh's 19,700 followers expressed their dismay over the pictures, which were retweeted and shared more than 15,600 times.
@FloridaVoterNPA replied: "It IS a shame that you have to think about those things. I'm sorry, I can't imagine. Sometimes the people of my country embarrass me."
Author Douglas Karr said: "When did turbans become the universal symbol of a) Islam or b) Terror?"
Sikhs have increasingly been the victims of discrimination in the US following 9/11 and are sometimes mistaken for Muslims because they wear turbans and often have long beards.
Worshippers remain 100 times more likely to be profiled or be targeted in xenophobic attacks in the US, according to figures compiled by the Sikh Coalition.
An Army veteran walked into a Sikh temple in Wisconsin and shot six people dead in 2012.
The religion, which originated in the Indian subcontinent, has 27 million followers around the world, and around 500,000 in the US.
Register for free to continue reading
Registration is a free and easy way to support our truly independent journalism
By registering, you will also enjoy limited access to Premium articles, exclusive newsletters, commenting, and virtual events with our leading journalists
Already have an account? sign in
Register for free to continue reading
Registration is a free and easy way to support our truly independent journalism
By registering, you will also enjoy limited access to Premium articles, exclusive newsletters, commenting, and virtual events with our leading journalists
Already have an account? sign in
Join our new commenting forum
Join thought-provoking conversations, follow other Independent readers and see their replies