Car crash victim sues Snapchat after being hit by teenager using app's 'speed filter'
'The speed on the Snapchat filter hit 113 miles per hour. McGee said: 'I'm about to post it''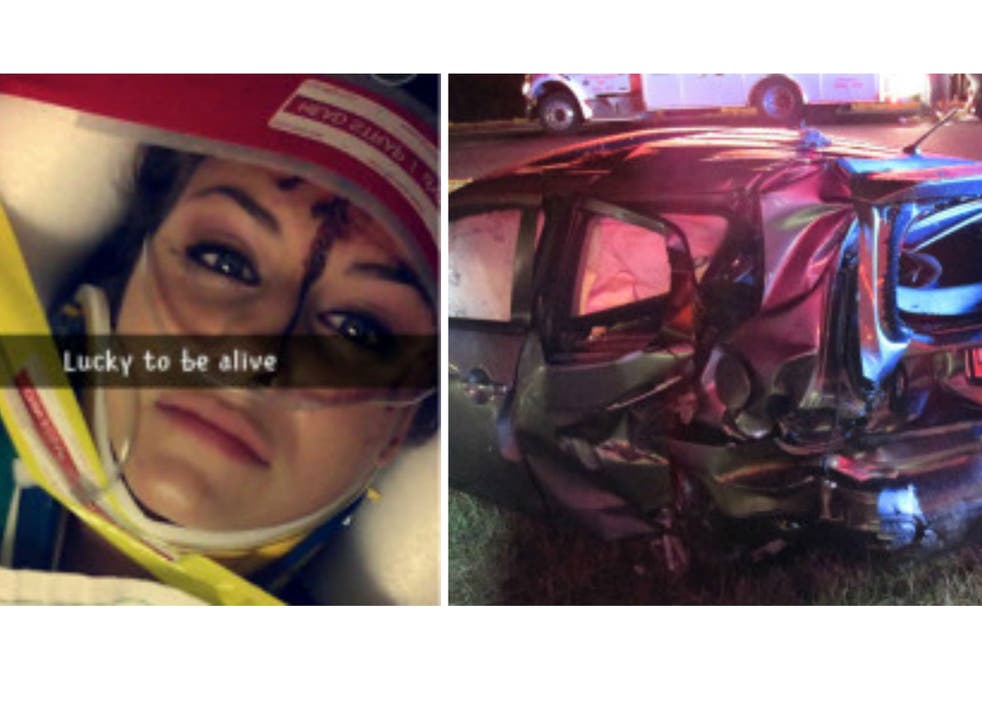 A lawsuit has been filed against social media giant Snapchat after a teenager allegedly used the app while driving and crashed, severely injuring another person.
Lawyers said Christal McGee, 18, was using Snapchat's 'speed filter' as she was driving her car, but became distracted and crashed into another road user at more than 100 miles per hour.
The driver of the second car, Wentworth Maynard, was left disabled and in need of constant care. His lawyers are now filing charges against Ms McGee and Snapchat for negligence, holding that the 'speed' filter, in which users can record their speed and impose it on an image, is inherently dangerous and distracts drivers.
Lawyers for Mr Maynard allege Ms McGee was ending her shift at a restaurant around the same time as Mr Maynard was beginning his shift for Uber in Hampton, near Atlanta, Georgia.
"McGee had her phone in her hand, and she started driving fast," MLN lawyers said in a statement. "One of her co-workers in the backseat was pregnant. She asked McGee to consider this fact and slow down. But McGee was caught up in Snapchat, a smart phone app for sharing photos and videos with friends.
"McGee wanted to post an image of herself going fast. She argued that she was, 'Just trying to get the car to 100 miles per hour to post it on Snapchat'."
Meanwhile, Mr Maynard was pulling onto the road, which had a speed limit of 55 mph.
The MLN statement continues: "The passenger in McGee's Mercedes saw the speed on the Snapchat filter hit 113 miles per hour. McGee said 'I'm about to post it.'
"At that moment, the passengers saw the Mitsubishi [driven by Mr Maynard] ahead and screamed."
The most controversial internet crazes

Show all 7
The lawyers argue the Ms McGee was traveling so fast there was "no time to react" and she ran into Mr Maynard's car, forcing it "violently" across the road and into an embankment. Investigators later estimated the collision impact speed to have been 107mph.
Both cars were badly damaged in the incident but Ms McGee and her passengers escaped with minor injuries. A Snapchat image was posted reportedly of Ms McGee with a bloodied face and on a stretcher, along with the words "Lucky to be alive".
However, Mr Maynard was considerably more hurt by the collision. Lawyers said he was hospitalised for more than two months because of a "severe traumatic brain injury" and suffered "trauma that would alter the rest of his life".
Mr Maynard, who used to be completely independent, is now completely reliant on round-the-clock care, according to his family.
"Wentworth would get up on his own, make his breakfast, go to work and cook dinner," said his wife, Karen Maynard, a co-plaintiff to the case. "Now he's so tired he falls asleep in his wheelchair during the day. We used to sit on the sofa and watch TV in the evening, and Wentworth would hug me. Now, he can't do that anymore."
Citing other car accidents where drivers have allegedly caused and documented crashes on the app, the lawsuit alleges: "Despite actual knowledge of the danger from using its product's speed filter whilst driving at excessive speeds, Snapchat did not remove or restrict access to the speed filter."
Snapchat told The Independent: "No Snap is more important than someone's safety. We actively discourage our community from using the speed filter while driving, including by displaying a 'Do NOT Snap and Drive' warning message in the app itself.
Register for free to continue reading
Registration is a free and easy way to support our truly independent journalism
By registering, you will also enjoy limited access to Premium articles, exclusive newsletters, commenting, and virtual events with our leading journalists
Already have an account? sign in
Register for free to continue reading
Registration is a free and easy way to support our truly independent journalism
By registering, you will also enjoy limited access to Premium articles, exclusive newsletters, commenting, and virtual events with our leading journalists
Already have an account? sign in
Join our new commenting forum
Join thought-provoking conversations, follow other Independent readers and see their replies