Soapbox Hollywood: The weird world of Dadgelina
He's the Oscar-winning actor famous to a new generation for being the estranged father of Angelina Jolie. And, as David Usborne reports, Jon Voight's got political views to get off his chest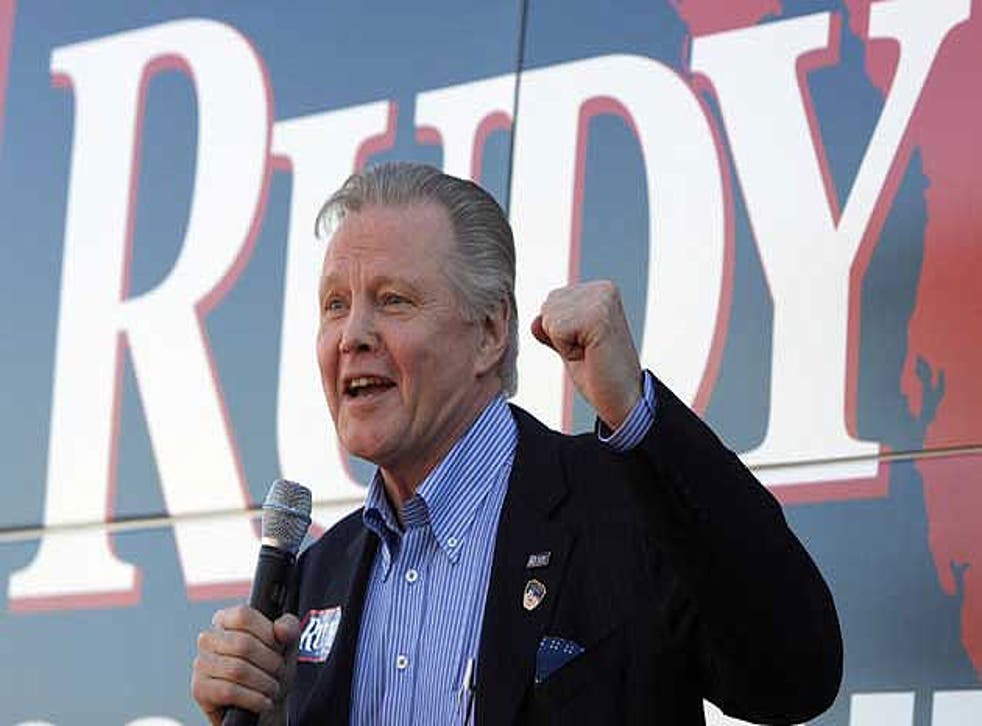 You might wonder if it bothers Jon Voight, the Oscar-winning veteran of the silver screen, that his name crops up as much nowadays because of who his little girl is than it does in connection with his work on big screen or small. Or does it irk him that his offspring has achieved a level of celebrity that just about no one could outshine, except perhaps her husband?
Something seems to be getting under his skin anyway. Whether or not it is the burden of having Angelina Jolie as your daughter (and Brad Pitt as your son-in-law) we can't know. They have famously been estranged for six years, but now, with Angelina just last month a mother again, this time to twins, there is word in the gossip columns that they are seeking a father-daughter reconciliation.
Celebrity envy is an understandable condition for someone whose life has been in Hollywood. Born in Yonkers, outside New York, to second-generation German immigrants, he will be 70 this year. Perhaps this has led to post-middle age panic. He has a very accomplished brother, by the way, James Voight (who goes by Chip Taylor). James has a good claim on fame, but nothing that could be considered threatening to Jon – he is a songwriter and singer best known for penning the Hendrix hit "Wild Thing".
Voight should be busy enough not to need headline writers' attention. You might catch him soon in the next run of episodes of 24 with Kiefer Sutherland on the TV or in a new film Pride and Glory about a New York police family. And yet he keeps stirring the pot where some say he shouldn't – in politics. He supported Rudy Giuliani in the primary season. In May he made a one-man trip to Israel to salute it on its 60th birthday. And now he is engaging in a surprise campaign to sabotage Barack Obama.
When the rest of us were hoping for a brief respite from Campaign 2008, Voight has decided that his views were too important to keep to himself. Thus he recently wrote an especially ill-humoured article for The Washington Times, an avowedly conservative organ. Yes, he revealed himself yesterday as pro-John McCain, "whose suffering and courage in a Hanoi prison camp is an American legend".
But it was the rest of what he said that has set the political blogosphere alight and led some to predict that Voight may find himself spurned henceforth by many of his Hollywood peers, and perhaps blacklisted by directors. He called Democrats propagandists and Obama a stooge for every lefty radical he has ever met. (He lists the Rev Jeremiah Wright, Louis Farrakhan, former anarchist agitator William Ayers and priest-cum-activist Michael Pfleger). Worse, he labels Mr Obama – gulp – a socialist.
"The Democratic Party, in its quest for power, has managed a propaganda campaign with subliminal messages, creating a God-like figure in a man who falls short in every way," Voight tells us. "It seems to me that if Mr Obama wins the presidential election, then Messrs Farrakhan, Wright, Ayers and Pfleger will gain power for their need to demoralise this country and help create a socialist America."
That paragraph alone would have been enough to spoil the digestion of studio big-wigs everywhere. How dare Voight spoil the notion that Hollywood is monolithically liberal in its political leanings. But Voight barely stops there. He uses his tract similarly to slide subtly from the s-word (socialist) to the m-word (Marxist) and also to repudiate all the anti-Vietnam generation that he was himself once aligned with.
"I was caught up in the hysteria during the Vietnam era, which was brought about through Marxist propaganda underlying the so-called peace movement," Voight writes. "The radicals of that era were successful in giving the communists power to bring forth the killing fields and slaughter 2.5 million people in Cambodia and South Vietnam. Did they stop the war, or did they bring the war to those innocent people? In the end, they turned their backs on all the horror and suffering they helped create and walked away."
His point, apparently, is that Mr Obama is cut from that same, liberal-softy cloth, because of what he is saying about Iraq. "If Mr Obama had his way, he would have pulled our troops from Iraq years ago and initiated an unprecedented bloodbath, turning over that country to the barbarianism of our enemies."
He goes on: "There is not a cell in my body that can accept the idea that Mr Obama can keep us safe from the terrorists around the world, and from Iran, which is making great strides toward getting the atomic bomb." Oh, the atom bomb. Always good to throw that in the mix.
Voight, the man who played Joe Buck to Dustin Hoffman's Ratso Rizzo in Midnight Cowboy, the film that made his career, and whose performance in Deliverance about a backwoods canoe trip that goes awry continues even now to haunt our imaginations, concluded with a bravura display of disgust for the man Democrats chose as their nominee. "If, God forbid, we live to see Mr Obama president, we will live through a socialist era that America has not seen before, and our country will be weakened in every way."
Well. If that happens, Voight will presumably be emigrating to Canada or elsewhere. But if he doesn't, he may find himself less welcome in his own home town. Or so suggested Jeffrey Wells, editor of a popular cinema website, Hollywood-elsewhere.com. Reacting to Voight's expectorations, he argued the actor was "obviously entitled to say and write whatever he wants". But he added: "It's only natural that industry-based Obama supporters will henceforth regard him askance. Honestly? If I were a producer and I had to make a casting decision about hiring Voight or some older actor who hadn't pissed me off with an idiotic Washington Times op-ed piece, I might well say to myself, 'Voight? Let him eat cake.'"
Another apparently deeply offended reader was Peter Bart, 76, the editor-in-chief of Variety, the industry's must-read trade rag. He responded by telling a story about how he once tried to persuade Voight to take the male lead in a film called Love Story. "The more we prodded, the more reluctant he became. He finally blurted: 'The character in this movie is a Harvard student. He's bright. He reads books. I could never be believable as that smart young guy'". Mr Bart then puts the boot in. "Reading Voight's op-ed piece these many years later, I realise how right he was."
The mail on Voight's doormat has had a mildly poisonous tinge of late. That's fine, he says. He has not responded to the Bart bitch-bite, but has not been able to let Mr Well's comments pass. Thus he has turned up talking to politico.com, the website that candidates and campaigns cannot ignore nowadays. "It's out of line to insinuate that we should blacklist people for speaking their minds," Voight told the website. "It's a strange thing when people in this country can't express their opinions without being attacked."
And what has Angelina had to say? Maybe nothing. Father and daughter are reportedly repairing relations after being estranged for six years or more. But Jolie might yet surprise us too. She has done some of her own opining of late – in praise of the surge in Iraq and in support of those arguing against an early withdrawal. Watching on as the maelstrom of disgust engulfs her father, Jolie might consider keeping her counsel until after the election. But she is an A-list actress so perhaps that's too much to expect.
Political movie stars
George Clooney
His recent high-profile meeting with Gordon Brown on the humanitarian crisis in Darfur and reports of a close friendship with Barack Obama confirms that the former ER heartthrob is now one of Hollywood's most active political personalities. His recent films have more and more frequently had a political bent, but he has denied he would ever get into politics himself because he had "slept with too many women, done too many drugs and been to too many parties".
Clint Eastwood
In 1986, the veteran star of such classics as A Fistful of Dollars and Dirty Harry was elected major of Carmel-by-the-Sea, a Californian seaside town with only 4,500 residents. During his time in power, he oversaw the legalisation of ice cream cones and the expansion of the town's library. Eastwood went on to serve on the California State Park and Recreation Commission for two terms, but was sacked this year after he opposed a new toll road that ran through a national forest.
Charlton Heston
Before his death in April 2008, Heston was the most visible figure of America's pro-gun lobby and served four terms as president of the National Rifle Association. Less well-known was his support in the 1960s for the civil rights movement, and he raised money for Martin Luther King Jr. He was a registered Democrat for many years, but switched to the Republican Party in the 1980s and campaigned for about 50 candidates in the 1996 election.
Toby Green
For rolling comment on the US election visit: independent.co.uk/campaign08
Register for free to continue reading
Registration is a free and easy way to support our truly independent journalism
By registering, you will also enjoy limited access to Premium articles, exclusive newsletters, commenting, and virtual events with our leading journalists
Already have an account? sign in
Register for free to continue reading
Registration is a free and easy way to support our truly independent journalism
By registering, you will also enjoy limited access to Premium articles, exclusive newsletters, commenting, and virtual events with our leading journalists
Already have an account? sign in
Join our new commenting forum
Join thought-provoking conversations, follow other Independent readers and see their replies