Soros vs Murdoch: The battle for the soul of America
Two billionaires – one liberal, the other conservative – are at war. The prize is the future of the US. David Usborne reports
Saturday 18 December 2010 01:00 GMT
Comments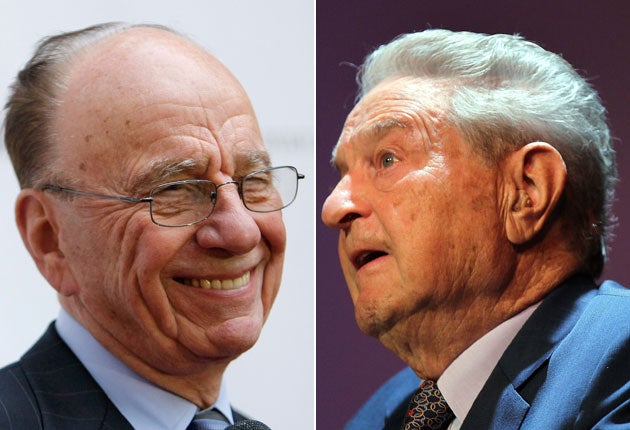 Who knew that Rupert Murdoch and George Soros, two billionaires of not so tender years, had it in them? But consider.
While the one means to impose a right-wing "dictatorial democracy" on America, the other is a "master puppeteer" bent on collapsing the dollar and forming a socialist world government.
Cartoonish this may be, but a joke it is not. These two behemoths of media and finance might, as they approach retirement, have restricted themselves to brandishing their ideological differences over an occasional dinner at their clubs in New York and London. Instead they are projecting their increasingly bitter fight on to the canvas of American politics. To whose benefit exactly, it's not clear.
The stakes in this clash are not as high as either side would have it. Running the world would be beyond any one man, even Soros. Yet, political discourse in America is increasingly being held hostage to their fight and the collateral damage is accumulating. If the polarisation between liberal progressives and the conservative Tea Party is getting worse in the US, thank these men.
Mr Murdoch has had the wisdom to let his proxies – the writers and gabbers on his US media platforms – do his swordplay for him. Fox News has championed the Tea Party movement in 2010 and channelled the most extreme of the conservative movement's assaults on President Barack Obama. His bravest and most bonkers warrior is Glenn Beck, who parades his conservative prejudices on his own show for Fox News every day and has distinguished himself in recent weeks with a tirade of deeply personal attacks on Soros.
The Hungarian-born financier lets his money do the fighting. His Open Society Institute (OSI) pours cash into many progressive groups in the US. One among them is Media Matters, a band of journalists and researchers based in Washington dedicated to exposing right-wing bias and distortion on the Fox News network and making fun of its on-air slogan, "Fair and Balanced".
The latest salvo from Media Matters came last week when it obtained internal Fox emails which seem to show the network's top brass giving instructions to on-air personalities on how to ensure the conservative bias was threaded through reporting on healthcare reform plans and global warming. On the latter, they should never forget to remind viewers that climate-change claims are not proven.
Mr Soros, however, has recently taken to vocalising his distaste, if not for Mr Murdoch then certainly for his outlets. He began with a statement in October that coincided with OSI giving $1m to Media Matters – or, as the Murdoch-owned Wall Street Journal in unusual juvenile form calls it, "Media Mutters". Soros bluntly implied that Fox was inciting Americans to armed insurrection.
"In view of recent evidence suggesting that the incendiary rhetoric of Fox News hosts may incite violence, I have now decided to support the organisation. Media Matters is one of the few groups that attempts to hold Fox News accountable for the false and misleading information they so often broadcast."
His loudest grenade came a week ago, when he was honoured at an International Crisis Center gala in New York, attended by the likes of Lord Patten, Bill Clinton and Paul Tudor Jones. The words of Mr Soros at the podium were reported instantly by a writer for Forbes magazine: "George Soros warned tonight in New York that the combination of Fox News, Glenn Beck and the Tea Party and the ability of Americans to fantasize unrealistically about their political system might lead this open society to be on the verge of some dictatorial democracy."
If Soros was reacting in part to the things that Beck had said during a three-day-long campaign of insults against him on the air in November you could not altogether blame him. Shockingly, Beck went so far as to say that Soros, born to Hungarian Jews, had as a teenager been a Nazi sympathiser.
How much of what Beck said of Soros last month made sense even to his loyal viewers is anyone's guess. The main thrust of his thesis was that the financier has a history of using his financial wherewithal to topple governments – it is true that he, more than any private citizen, helped bring down totalitarian dictatorships in eastern Europe as the Berlin Wall came down – and hobble national currencies. And indeed his bets on the pound being drummed out the ERM in Europe in 1992 remain legend.
And Soros, according to Beck, was about to do the same in America. "Not only does he want to bring America to her knees financially, he wants to reap obscene profits off us as well," he told his viewers. America is being haunted by "saboteurs" interested only in the creation of "One World Government". "All the paths, time after time, really led to one man, George Soros," Beck declared.
And the economic doldrums everyone has been suffering from in America? Yup, it's him again. "What you're seeing happen and what is coming between the inflation in the grocery stores and the gas pumps, the organisations out in the streets. It's a puppet show. It is orchestrated by George Soros."
Soros's decision to return fire at the Manhattan gala triggered another colourful eruption from Beck. Soros had, of course, played directly back into his hands. "If I say hello America, doesn't that make you a little afraid of Fox News and me creating a dictatorship?" Beck spoofed on his programme.
A second front in the war was opened with the Fox emails found by Media Matters. The one suggesting that Fox reporters refrain from giving credibility alone to the greenhouse gas school of thought elicited a sharp riposte against Murdoch's Fox from that other old liberal of the American scene, Al Gore. "There's no legitimate debate: the planet is warming," the former vice-president fulminated. "Moreover, man-made global warming pollution is the principal cause... Fox News has consistently delivered false and misleading information to its viewers about the climate crisis. The leaked emails now suggest that this bias comes directly from the executives responsible for their news coverage."
And so it is time to turn to the Murdoch corner for a left-hook on Gore. And here it comes, whoosh, but not from Fox but from a blog-writer named James Taranto on that other News Corp property, the Wall Street Journal. "Gore and the Media Mutters munchkins aren't journalists and thus are free to be as unfair and unbalanced as they want," he offered. "But as media critics, they are utterly inept, lacking the most basic understanding of the newsman's job."
Part of what drives the conservative wing so crazy about Soros is his willingness to point out rather often that the US is an empire on the decline and that China, by contrast, is rising to take over the world. These are the words of a traitor, surely, because, as every Tea Party disciple knows, America is the exceptional country on the planet chosen to be so by God.
Funny thing, but Murdoch has recently said much the same about the rise of China as the ascendant first power in the world. Maybe Rupert and George could talk about that over dinner and leave domestic politics alone.
Join our commenting forum
Join thought-provoking conversations, follow other Independent readers and see their replies