South Carolina Governor Nikki Haley leads calls for removal of Confederate flag from state house
Leaders and activists have been calling for flag's removal after Charleston massacre
Payton Guion
Tuesday 23 June 2015 07:07 Comments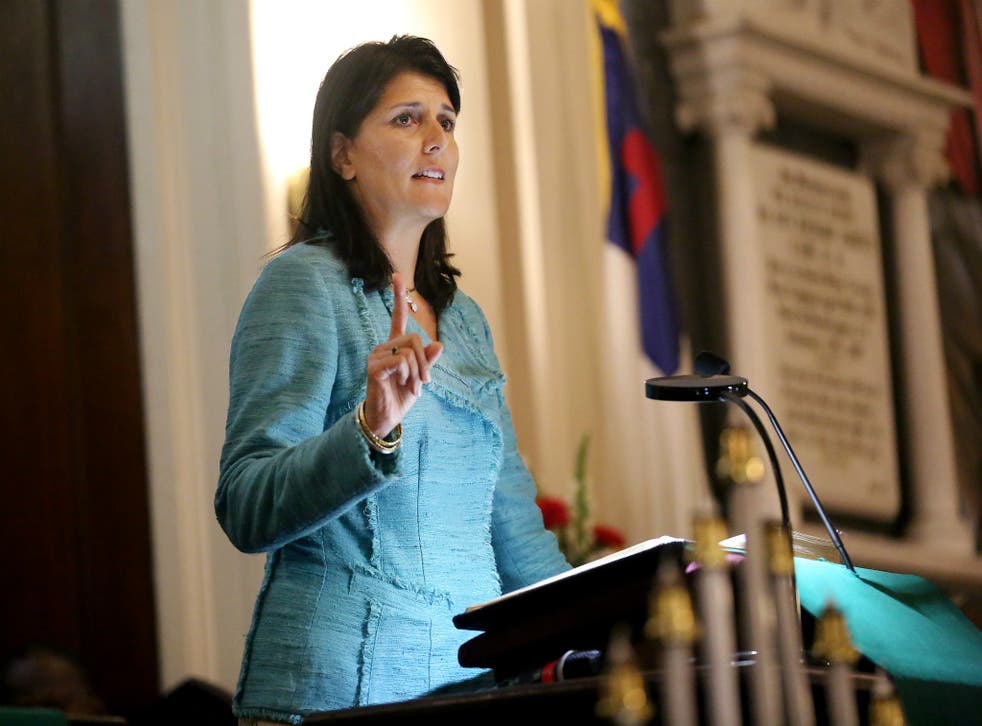 US Senator and presidential hopeful Lindsey Graham joined South Carolina Governor Nikki Haley in calling for the removal of the Confederate flag from the State House.
US Senator Tim Scott, also from South Carolina, also was present to demand the flag be removed during a Monday press conference.
"It's time to move the flag from the capital grounds," Ms Haley said on Monday, adding that people wishing to display the flag on private property will not be stopped.
The Confederate flag has long been criticized as a symbol of the racist history of the US South, though many supporters claim the flag is more about heritage than racism.
South Carolina has displayed the flag on the State House grounds since 2000 and previously it was flown above the State House building.
The Confederate flag has been thrust into the spotlight again after last week's massacre at Emanuel African Methodist Episcopal Church in Charleston that left nine people dead.
The governor also asked that focus remains on the victims, not on the flag.
Dylann Roof, the confessed shooter, has posed in a handful of photographs containing the Confederate flag, which were discovered over the weekend.
Last week, Mr Graham said he thought the church shooting would reignite the long-simmering Confederate flag debate, but declined to take a stance.
The South Carolina legislature is expected to take up the issue on Tuesday and many lawmakers already have called for the flag's removal.
Follow @PaytonGuion on Twitter.
Register for free to continue reading
Registration is a free and easy way to support our truly independent journalism
By registering, you will also enjoy limited access to Premium articles, exclusive newsletters, commenting, and virtual events with our leading journalists
Already have an account? sign in
Join our new commenting forum
Join thought-provoking conversations, follow other Independent readers and see their replies