US and South Korea to suspend war games following summit between Donald Trump and Kim Jong-un
North Korea has long condemned the joint military drills as acts of aggression
Jeremy B. White
San Francisco
Tuesday 19 June 2018 00:31 Comments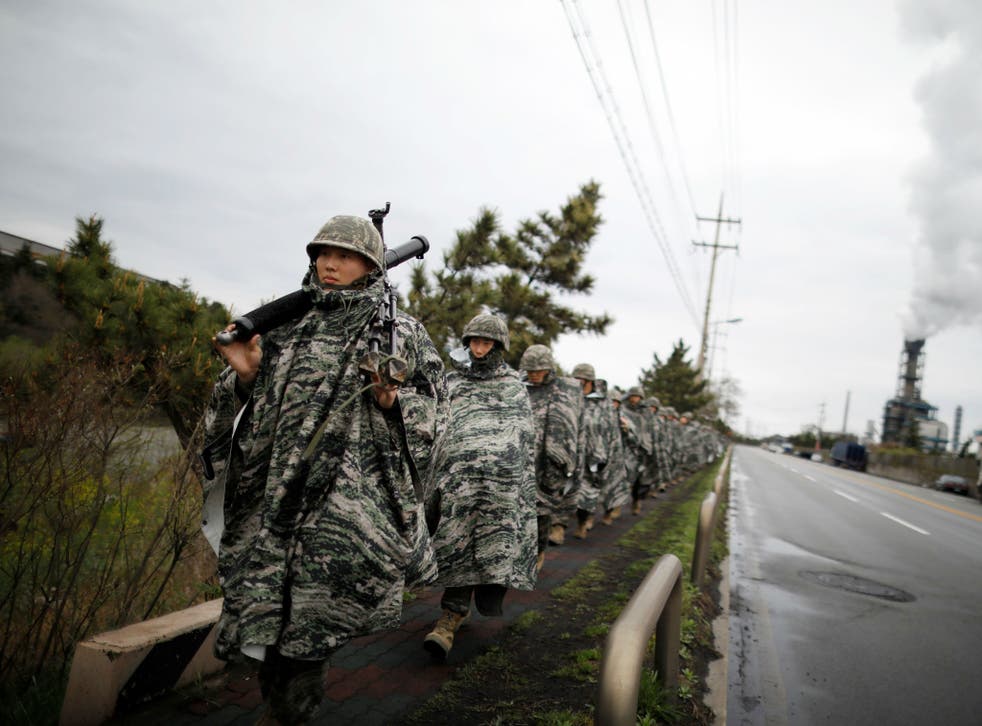 American and South Korean officials signalled that they would halt joint military exercises following Donald Trump's meeting with North Korean leader Kim Jong-un in Singapore.
"Following close cooperation, South Korea and the US decided to suspend all planning activities for the UFG," Seoul's defence ministry reportedly said in a text message to reporters that referred to the "Ulchi Freedom Guardian" operation scheduled for August.
An unnamed US military official confirmed the plan to Reuters, and White House press secretary Sarah Huckabee Sanders said America was on track to not participate.
"As long as the North Koreans continue to act in good faith as we saw in Singapore then we expect those things to be on pause", Ms Sanders said.
Viewed by the US and its allies as a bulwark of Asian security, the drills are reviled by Pyongyang as preludes to an invasion.
After meeting with Mr Kim to discuss scrapping North Korea's nuclear arsenal, Mr Trump announced he would cancel the military exercises and noted the move would "save us a tremendous amount of money".
"We will be stopping the war games", Mr Trump said.
US/South Korea joint exercise Operation Pacific Reach

Show all 10
Both leaders signed onto a statement pledging to "work toward complete denuclearisation of the Korean Peninsula" - a goal that the Trump administration has defined as the total and verifiable destruction of Pyongyang's nuclear programme.
In the months before Mr Kim proposed the summit, the United Nations sought to isolate North Korea and stifle its economy by imposing successive rounds of economic sanctions. Mr Trump has suggested that North Korea could see those penalties lifted and begin resuscitating its economy if the regime follows through on abandoning its nuclear arms.
Donald Trump salutes North Korean soldier at Singapore summit
But the administration swiftly shot down Pyongyang's suggestion that Mr Trump had already agreed to lift sanctions, saying that would not occur until North Korea delivers on its end of the bargain.
"We're going to get denuclearisation," Mr Pompeo told reporters after meeting with Japanese and South Korean officials. "Only then will there be relief from sanctions".
Register for free to continue reading
Registration is a free and easy way to support our truly independent journalism
By registering, you will also enjoy limited access to Premium articles, exclusive newsletters, commenting, and virtual events with our leading journalists
Already have an account? sign in
Join our new commenting forum
Join thought-provoking conversations, follow other Independent readers and see their replies