Sowerby's beaked whale: Reclusive deep-water whale washes up on US beach
Biologists are investigating how rarely-seen whale washed up on Massachusetts beach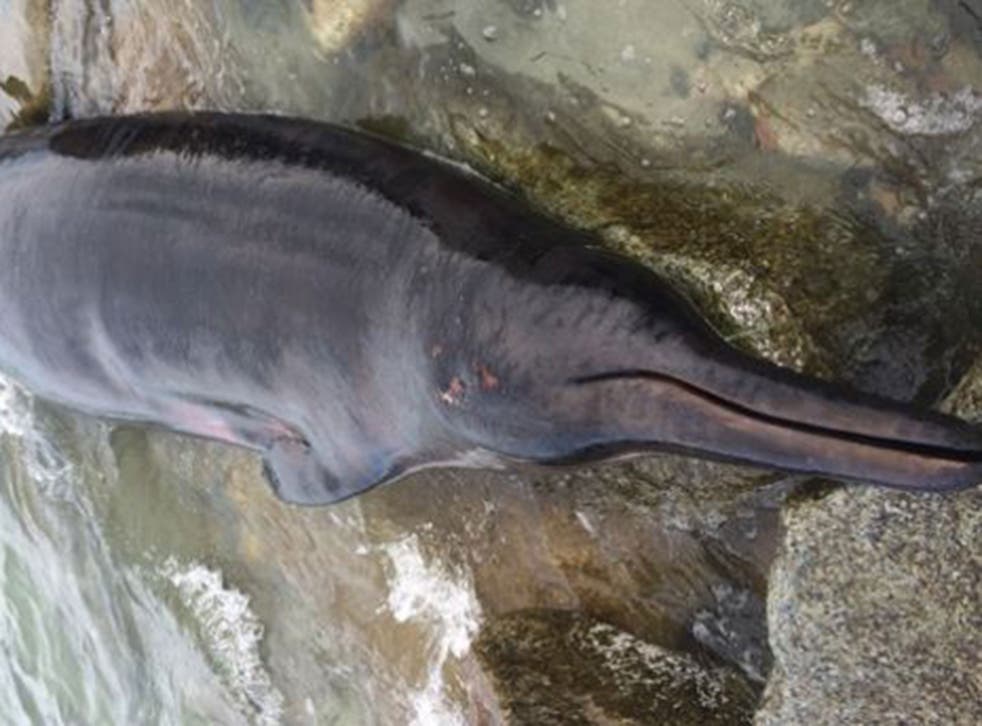 A reclusive deep water whale has washed up on a US beach, giving marine biologists a rare chance to investigate the species.
The 17ft carcass, weighing almost a tonne, is believed to be a female Sowerby's beaked whale, which typically range in waters up to 5,000ft deep.
Holidaymakers at Jones Beach, in Plymouth, Massachusetts, were amazed to see the whale, which has a distinctive beak, similar to a bottlenose dolphin.
Mary Kate McHugh DiLoreto, who discovered the whale while out walking on Friday, posted on Facebook: "We were amazed to learn that one of the rarest species washed ashore.
"It is a beaked whale not commonly found in this area.
"We were told members of the aquarium were heading down to bring it back to study it. Very cool!"
New England Aquarium biologists and staff from the International Fund for Animal Welfare are performing a post-mortem at the Woods Hole Oceanographic Institution, the Press Association reported.
It is the first Sowerby's beaked whale the aquarium has handled for almost a decade.
CBS Boston reported that the whale's carcass was in fairly good condition when it was discovered.
First described by English naturalist James Sowerby in 1804, Sowerby's beaked whales are reclusive creatures that stay away from ships and are rarely sighted. Commercial fishermen sometimes net them accidentally.
They are believed to feed primarily on squid and molluscs, but cod has also been found in their stomachs.
The carcass offers a chance for biologists to learn more about them.
Join our new commenting forum
Join thought-provoking conversations, follow other Independent readers and see their replies