Spoiled brat or neglected child? A US court must decide as Rachel Canning's lawsuit to force her estranged parents to support her continues
The case appears to be a referendum on two rival approaches to parenting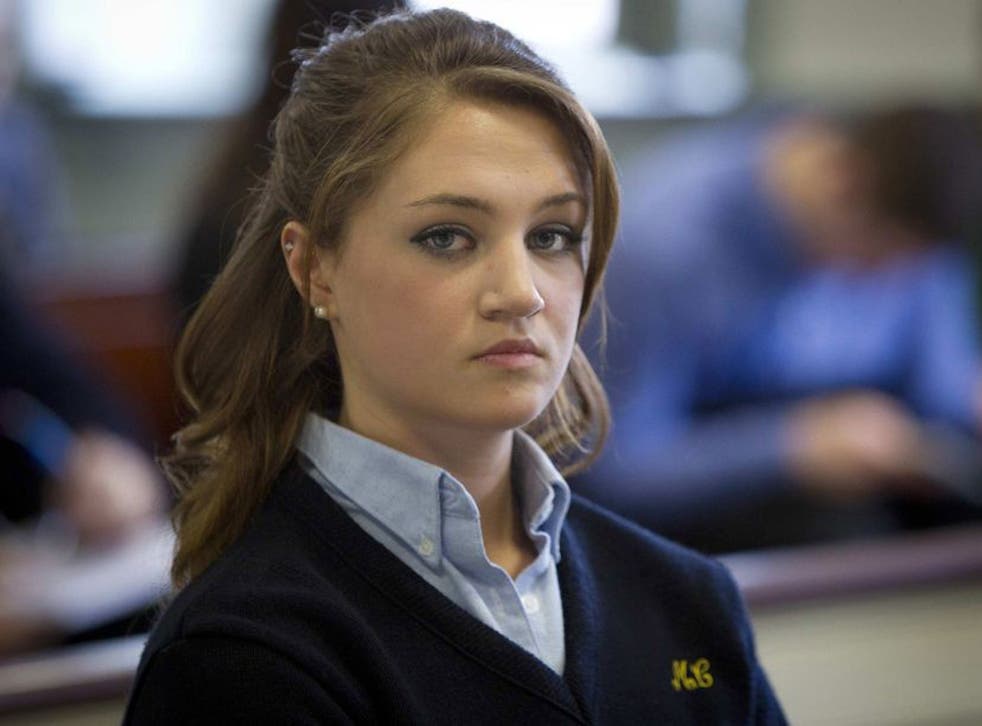 Given the combustible temperament of teenagers and the litigious culture of the United States, perhaps it should be less surprising when American children take legal action against their parents. But that hasn't stopped the case of 18-year-old Rachel Canning, a New Jersey high-school student suing her parents for child support, from becoming a sensation.
Last week, the cheerleader lost the first round of her lawsuit when a judge denied her demand that her estranged parents pay $650 (£390) in weekly child support. She has also asked for them to pay her legal costs, the remainder of the fees for her private high school, and to give her access to a fund set aside for her college tuition.
To her supporters, Miss Canning is a victim of mental abuse; to her opponents, she is a spoiled brat. Judge Peter Bogaard warned that the lawsuit could lead down a "slippery slope" were it to prove successful. He asked: "Are we going to open the gates for 12-year-olds to sue for an Xbox? For 13-year-olds to sue for an iPhone?"
Miss Canning claims her parents threw her out in November, shortly after she turned 18, because they didn't approve of her boyfriend. The Cannings, who also have two other daughters, say that Rachel left home of her own volition because she refused to abide by their reasonable household rules. Judge Bogaard sensibly recommended some family counselling.
In fact, the case appears to be a referendum on two rival approaches to parenting. John Inglesino, the wealthy lawyer who is both funding Miss Canning's case and representing her in court, is also the father of her closest friend. Since leaving her parents' home, Miss Canning has been staying with Mr Inglesino and his family.
In court documents, her father, retired police chief Sean Canning, wrote that the Inglesino household was "more lenient" than the Canning household. His daughter, he claimed: "Would often tell us how the Inglesino parents would allow alcoholic parties to be held at their house. Rachel was angry because we would not host an alcoholic party. Rachel's first time drinking alcohol was at the Inglesino house, in March of 2011, and on other occasions including their daughter's 15th birthday where they have freely provided alcohol."
"We love our child and miss her," Mr Canning told New Jersey newspaper the Daily Record before the hearing. "We're not draconian and now we're getting hauled into court. She's demanding that we pay her bills but she doesn't want to live at home and she's saying: 'I don't want to live under your rules.'"
On Friday, the teenager came under fire for a Facebook post that some media outlets claimed she had written. Mr Inglesino, however, insisted the page was a "hoax", and had nothing to do with his client. The author of the post, on an account called Education For Rachel, framed the case as a conflict between the Baby Boomer generation and their offspring. "Suburban baby boomer types are the spoiled lot," the author wrote. "We have been stunned by the financial greed of modern parents who are more concerned with retiring into some fantasy world rather than provide for their children's college and young adult years."
Perhaps the most famous case of legal action taken by a child against his parents was in 1992, when Gregory Kingsley, 12, legally divorced his mother, whom a court ruled was unfit to raise him. He changed his name to Shawn Russ and joined the family of his adopted parents George and Lizabeth Russ. In 2012, he revealed in a rare interview that his teens had been troubled, and that he regretted never reconciling with his mother, Rachel, who died in 2006.
In a sense, Canning seeks the opposite of Kingsley. She will return to court next month to seek a ruling to say she is non-emancipated from her parents, and they therefore remain obligated to fund her further education. Yet her actions could have a similarly divisive long-term effect on her family. And, like Kingsley, she too may come to have regrets.
Register for free to continue reading
Registration is a free and easy way to support our truly independent journalism
By registering, you will also enjoy limited access to Premium articles, exclusive newsletters, commenting, and virtual events with our leading journalists
Already have an account? sign in
Register for free to continue reading
Registration is a free and easy way to support our truly independent journalism
By registering, you will also enjoy limited access to Premium articles, exclusive newsletters, commenting, and virtual events with our leading journalists
Already have an account? sign in
Join our new commenting forum
Join thought-provoking conversations, follow other Independent readers and see their replies