St Louis protests: Police caught on camera firing projectiles into crowd of protestors
Protests broke out in the city following the acquittal of former police officer Jason Stockley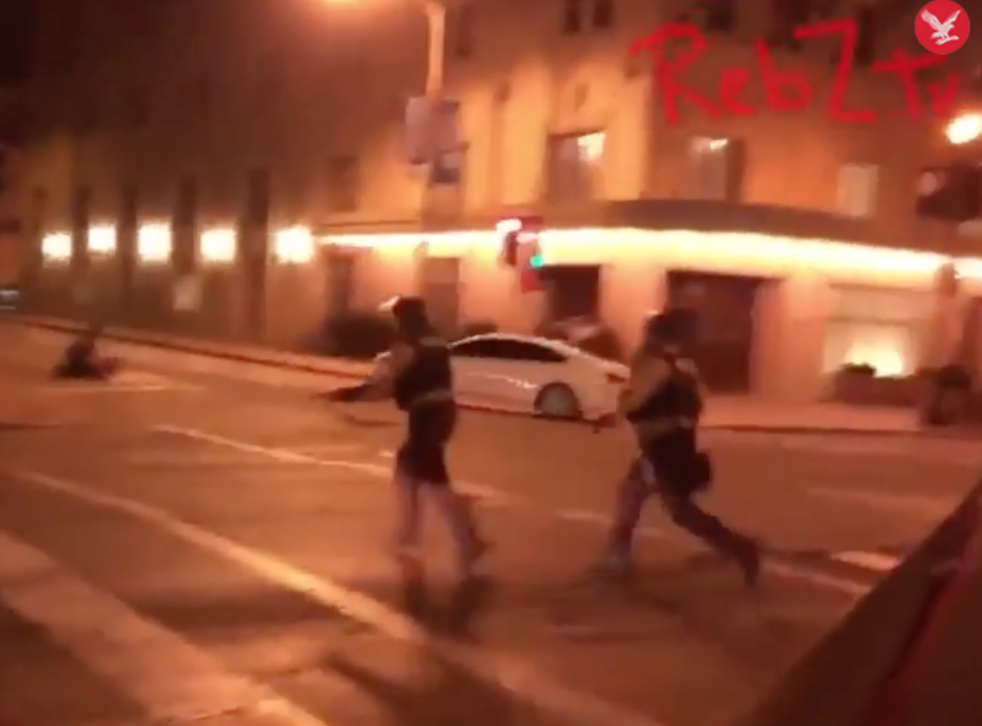 Video has emerged of protesters in St Louis running in fear as they are chased after by police officers firing projectiles into the crowd. It is not clear what projectiles the police were using.
Video posted by Jon Ziegler, a digital journalist who goes by the name "Rebelutionary_Z," shows a crowd marching through the Missouri city at night.
As the crowd approaches an intersection, a few people begin to yell in alarm. The protesters flee from the intersection, and police can be seen chasing after them.
"They're spraying rubber bullets," someone says.
Another voice can be heard yelling: "Get down!"
Ferguson Anniversary Protests

Show all 11
Protests broke out in St Louis on Friday, when a circuit court judge acquitted former St Louis Metropolitan Police officer Jason Stockley on murder charges in the death of Anthony Lamar Smith.
Mr Stockley shot and killed Mr Smith following a police car chase in 2011. Mr Stockley's defence team told the court he shot in self defence, after seeing Mr Smith reach for a gun. State prosecutors disputed this, alleging that the gun was a plant.
St Louis – the site of massive protests following the police shooting of another young black man, Michael Brown, in 2014 – once again descended into protests after the verdict was handed down.
Protesters marched to the home of St Louis Mayor Lyda Krewson on Friday. Most of the protestors were peaceful, but several broke windows at the residence. Protesters have also damaged the public library, thrown bricks at officers, and attempted to block a freeway ramp, police and witnesses say.
Police have used tear gas and pepper spray to disperse protesters. More than 80 people were arrested in connection with the protests on Sunday; at least 32 were arrested earlier in the weekend. Police say nine officers were injured during protests on Friday.
At a press briefing on Monday, Interim Police Chief Lawrence O'Toole promised to prosecute those who caused damage "to the fullest extent of the law".
"We're in control. This is our city and we're going to protect it," he said.
One person arrested in connection with the protests was 63-year-old Laura Jones, who was knocked down and walked over by police officers on Friday. The police department told The Independent that Ms Jones failed to obey police orders, and was arrested and charged with interfering.
Register for free to continue reading
Registration is a free and easy way to support our truly independent journalism
By registering, you will also enjoy limited access to Premium articles, exclusive newsletters, commenting, and virtual events with our leading journalists
Already have an account? sign in
Register for free to continue reading
Registration is a free and easy way to support our truly independent journalism
By registering, you will also enjoy limited access to Premium articles, exclusive newsletters, commenting, and virtual events with our leading journalists
Already have an account? sign in
Join our new commenting forum
Join thought-provoking conversations, follow other Independent readers and see their replies