St Vincent volcano: Power cuts as Caribbean island is hit by another 'explosive event'
Power and water supplies are limited after another volcanic eruption on the Caribbean island of St Vincent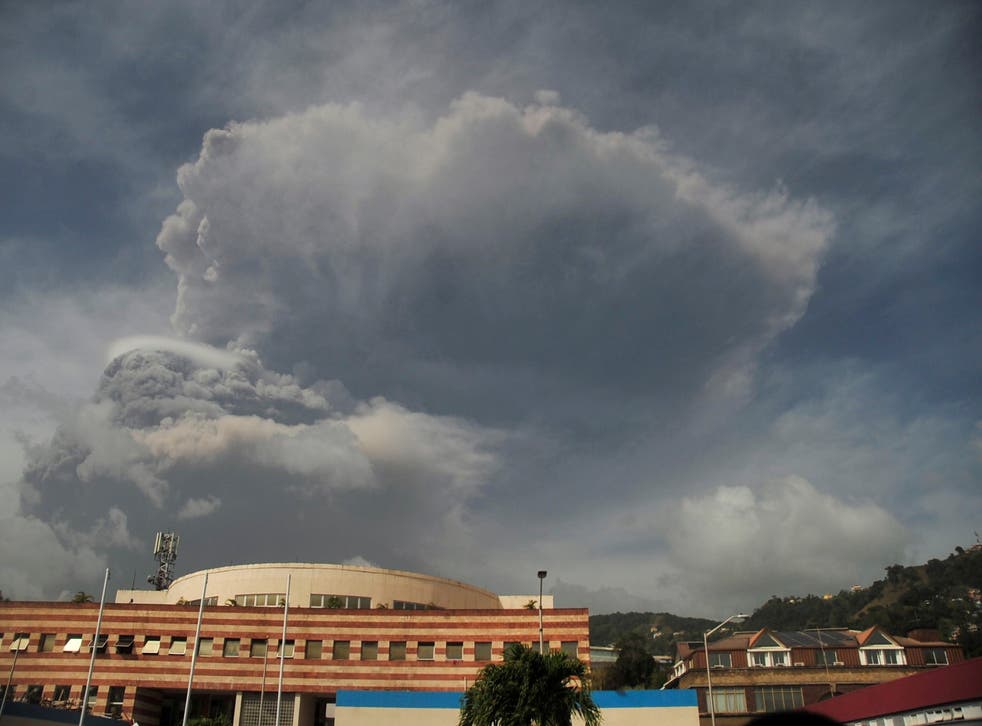 Another volcanic eruption on the Caribbean island of St Vincent has triggered massive power outages and limited water supplies.
The La Soufrière volcano on the island's northern tip erupted at least twice on Friday, shooting ash 33,000 feet in the air, and again on Sunday.
The National Emergency Management Organisation of St Vincent and the Grenadines (NEMO SVG) wrote on Twitter that the "majority of the country [is] out of power and covered in ash" following "another explosive event".
In an address broadcast by local radio station NBC News, prime minister Ralph Gonsalves urged people to "save water", warning that supplies are "limited".
Mr Gonsalves also encouraged people to wear face masks as it's "difficult to breathe" because of the amount of ash blanketing the island.
"You can see when you come out and you walk, you see the imprint of your shoes," he said. "And around town, there's a lot of ash on the road."
Nobody has been reported hurt or killed as a result of the eruptions.
Residents living in the north of St Vincent, totalling some 16,000 people, were ordered to evacuate their homes on Thursday after scientists reported magma movements close to the earth's surface.
Emergency supplies, including cots, tents and respirator masks, reached some of those sheltering from the blasts after nations from Antigua to Guyana offered help.
The Barbados Defence Force has also been deployed to St Vincent to provide humanitarian assistance and disaster response, the Caribbean Disaster Emergency Management Agency said.
Surrounding islands like Barbados and St Lucia have seen ashfall. The Chief Medical Officer of Barbados, Kenneth George, reportedly called on residents to stay in doors to "protect yourselves and your family".
The majority of the ash is expected to blow into the Atlantic Ocean.
Further eruptions are possible, lasting days or even weeks, Richard Robertson, a geologist at the University of the West Indies, has warned.
The 4,000 foot volcano, which had lain dormant since 1979, began to rumble on Thursday. A new volcanic dome and changes to its crater lake were discovered in December.
Register for free to continue reading
Registration is a free and easy way to support our truly independent journalism
By registering, you will also enjoy limited access to Premium articles, exclusive newsletters, commenting, and virtual events with our leading journalists
Already have an account? sign in
Register for free to continue reading
Registration is a free and easy way to support our truly independent journalism
By registering, you will also enjoy limited access to Premium articles, exclusive newsletters, commenting, and virtual events with our leading journalists
Already have an account? sign in
Join our new commenting forum
Join thought-provoking conversations, follow other Independent readers and see their replies