Marvel Comics legend Stan Lee granted restraining order against business manager accused of elder abuse
Co-creator of Spiderman and Iron Man at the centre of care battle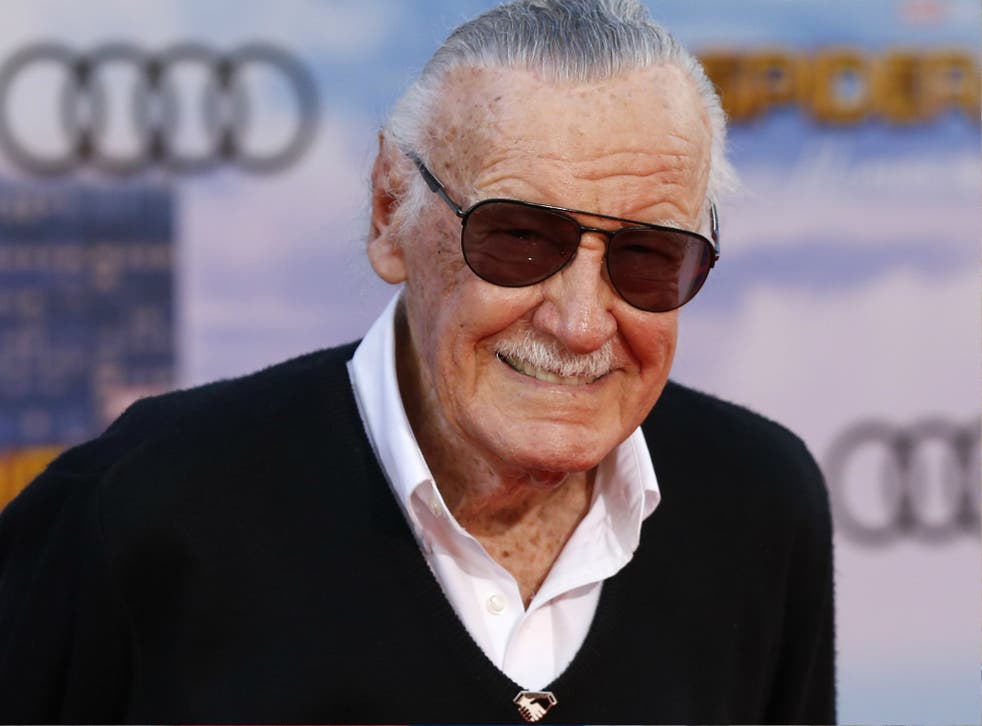 Marvel Comics legend Stan Lee has been granted a restraining order against his business manager.
Tom Lallas, who serves as legal guardian for the co-creator of Spider-Man, Iron Man, the Fantastic Four said in a statement that a Los Angeles Superior Court judge approved the order against Keya Morgan.
Mr Morgan was arrested earlier this week after he was accused of filing a false police report on 30 May, when he was barred from entering Lee's home.
Police and social workers had been conducting a welfare visit at the time, but Mr Morgan said burglars were in the home when he called 911.
The business manager began acting as a caregiver for Mr Lee, who is worth an estimated $50m (£43.6m), last July.
He stepped in after Lee's wife Joan died, according to documents filed to obtain the restraining order. He is also under investigation for elder abuse.
Days before his arrest, Lee had posted a video on social media which claimed the pair "work together and are conquering the world side by side".
"My only partner and business manager is @KeyaMorgan not all the other people making false claims," the former editor in chief of Marvel Comics' wrote in the accompanying tweet.
Mr Lallas, however, said that police have been investigating Mr Morgan since February 2018 when Mr Lee signed a declaration that he had "concerns regarding the intention and conduct of various people".
ABC News obtained a copy of the documents, which claimed Mr Morgan "took control of Mr Lee's home on February 15, 2018."
It accused him of hiring a security team and made household decisions.
He is also alleged to have moved Mr Lee out of his longtime home and into an apartment.
The court papers also claim that Mr Lallas was fired without explanation around the same time and that he has been unable to contact Mr Lee and neither have family members who had once been in regular contact with him.
Mr Lallas filed the court papers for the restraining order because he is still the legal guardian.
Marvel legend Stan Lee pays tribute to late wife Joan Lee as he is honoured at Hollywood ceremony
That document also claimed two other men in addition to Mr Morgan had been attempting to take advantage of Mr Lee through his 67-year-old daughter JC.
The Hollywood Reporter had written in April that Ms Lee and Mr Morgan "consolidating their power" over Mr Lee after he changed his mind about the February declaration.
The entertainment news industry outlet also said Mr Morgan had allegedly taken control of Lee's email account, monitored visits with Lee's longtime assistant Mike Kelly and fired housekeeping staff who had been working with the Lee family for several years.
World news in pictures

Show all 50
Lee had posted another video in the days following the Hollywood Reporter story - one that was filmed and distributed by Mr Morgan.
"You people have been publishing the most hateful, harmful material about me and my friend Keya [Morgan], and some others...It's as if you suddenly have a personal vendetta against me and the people I work with", he said.
"If you don't stop these articles and publish retractions, I am going to sue your a** off."
Mr Morgan also filed a separate claim in December 2017 that Lee's previous business partner committed elder financial abuse.
Join our new commenting forum
Join thought-provoking conversations, follow other Independent readers and see their replies