State of the Union: Obama declares 'the shadow of crisis has passed' in US as he demands action on Isis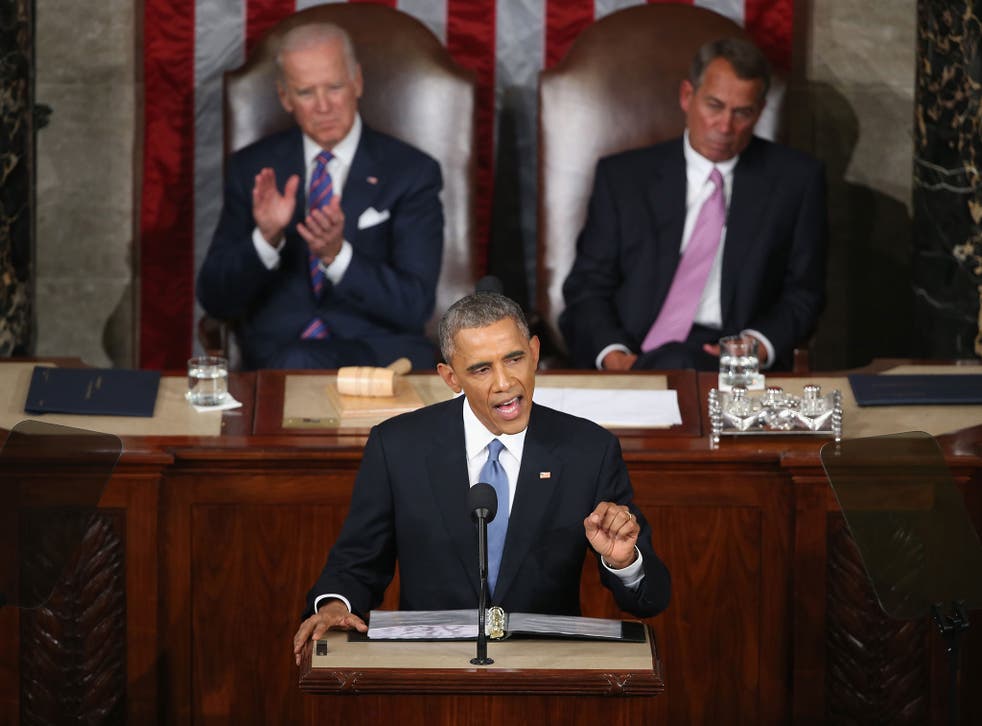 Lifting the embargo on Cuba, raising taxes on America's richest and hunting down Isis terrorists were themes of a sweeping State of the Union address by President Barack Obama on Tuesday night that opened with a wish-list of measures to boost the fortunes of the poor and middle class.
"Will we accept an economy where only a few of us do spectacularly well?" Mr Obama asked. "Or will we commit ourselves to an economy that generates rising incomes and chances for everyone who makes the effort?"
Even as he faced a Congress that for the first time since his election is under Republican control in both of its chambers, Mr Obama was spirited if not almost rambunctious as he celebrated the progress the United States has made on the economic front saying that the "shadow of crisis" had passed.
State of the Union address: President Obama's speech

Show all 8
If it was a liberated president at the podium it was for reasons he himself explained. "I have no more campaigns to run… I know because I've won both of them," he declared in one of the lighter moments of a speech that ran for just over one hour. Clearly at play, however, were the nation's vastly improved economic indicators even since a year ago coupled with a recent jump in his own approval ratings.
He used the moment to appeal to Republicans to end the "old patterns" of partisan enmity in Washington and back his plans for lifting a middle class that still hasn't felt the full impact of economic recovery. "Imagine if we broke out of these tired old patterns," he said. "Imagine if we did something different."
Mr Obama, who will depart this morning for Kansas and Idaho – two mostly Republican states – to promote his vision, specifically proposed increasing capital gains and inheritance taxes the wealthiest Americans to raise $320 billion over ten years that would be used to fund significant tax cuts for the middle class and help make community college tuition free for millions of young Americans.
But if he asked for harmony, Mr Obama was also unabashed about his willingness to block any Republican efforts in Congress to undo progress he has already made for instance on universal healthcare and relief for illegal immigrants in America without papers.
"We can't put the security of families at risk by taking away their health insurance or unraveling the new rules on Wall Street or refighting past battles on immigration when we've got a system to fix," he declared. "And if a bill comes to my desk that tries to do any of these things, it will earn my veto."
There was, however, strong bipartisan applause when Mr Obama defended free speech and members of Congress waved yellow pencils to show their solidarity with Paris as it continues to grieve the murder of journalist at the satirical magazine Charlie Hebdo.
As well as defending the deal struck with Cuba last month to resume diplomatic ties and exhorting Congress to take steps to dissolve the more than 50-year-old embargo against the island – a guest at the address was Alan Gross, the US aid worker whose release in December from a Cuba prison helped kick start the thaw - Mr Obama also returned to his quest to close the US prison at Guantanamo Bay.
"I will not relent in my determination to shut it down," he said, referring to the detention centre where one Briton is still a detainee. "It is not who we are. It's time to close Gitmo."
On the ongoing terror threat, Mr Obama asked for congressional approval and funding for military action against the Islamic State in Syria and Iraq. "I call on this Congress to show the world that we are united in this mission by passing a resolution to authorize the use of force against ISIL," he declared, referring to the Islamic State group."
While even the White House knows that there is zero chance of Republicans in Congress approving his taxation changes, it is also confident that the pitch for relief for the poor and middle class will resonate with many Americans and may provide the next Democratic candidate for president – widely thought to end up being Hillary Clinton – the first building blocks of a 2016 campaign that will put the Republicans on the defensive.
Register for free to continue reading
Registration is a free and easy way to support our truly independent journalism
By registering, you will also enjoy limited access to Premium articles, exclusive newsletters, commenting, and virtual events with our leading journalists
Already have an account? sign in
Register for free to continue reading
Registration is a free and easy way to support our truly independent journalism
By registering, you will also enjoy limited access to Premium articles, exclusive newsletters, commenting, and virtual events with our leading journalists
Already have an account? sign in
Join our new commenting forum
Join thought-provoking conversations, follow other Independent readers and see their replies