State of the Union speech: Barack Obama tackles economy and tries to put human face on plea for tougher gun laws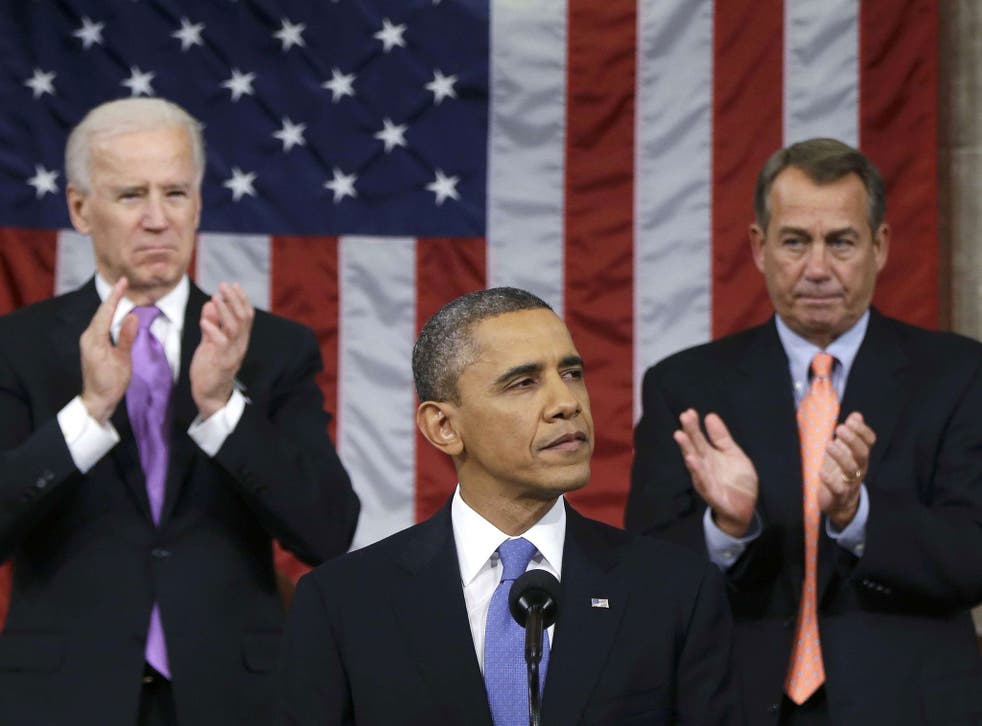 By turns pugnacious and inspirational, Barack Obama last night used his State of the Union address to table a laundry list of aspirations for his second term that ranged from achieving tax reform to increasing the minimum wage and tackling issues from gun control to immigration and climate change.
Standing before a joint session of the US Congress and with millions of Americans watching at home, Mr Obama reaffirmed a mostly optimistic vision for the country that since he took first took office four years ago has climbed out of economic calamity and come close to ending military wars abroad. "Together, we have cleared away the rubble of crisis, and can say with renewed confidence that the state of our union is stronger," he insisted.
In a speech that was dominated by domestic concerns and above all with boosting the economic recovery and ensuring a more level playing field between the wealthy and the middle class, Mr Obama also announced plans to negotiate a new comprehensive trade agreement with the European Union, "because trade that is free and fair across the Atlantic supports millions of good-paying American jobs".
On foreign issues, however, he told Iran that the time for negotiating an end to the stand-off on its nuclear programme had arrived and he castigated North Korea for its latest test of an atomic device. He moreover said he was accelerating the withdrawal from Afghanistan. "I can announce that over the next year, another 34,000 American troops will come home from Afghanistan. This drawdown will continue. And by the end of next year, our war in Afghanistan will be over."
He also revealed he was taking executive steps to help America defend itself from cyber-attacks from abroad and urged Congress to take legislative action for the same purpose. "Our enemies are also seeking the ability to sabotage our power grid, our financial institutions, and our air traffic control systems. We cannot look back years from now and wonder why we did nothing in the face of real threats to our security and our economy."
The night – an annual ritual in America's political calendar set on a stage peopled by every member of Congress, of the president's cabinet, of the top brass of military and of the Supreme Court crammed into the chamber of the House of Representatives under the eye of a packed public gallery and network television cameras – ended with a rebuttal form the opposition, delivered last night by Marco Rubio, the fast-rising Republican Senator from Florida.
The investment Mr Obama intends to make on trade ties with the EU may not go unnoticed in Downing Street. Washington has advertised its anxieties about David Cameron's promise of a referendum on EU membership if re-elected Prime Minister. While there is free-trade between the EU and the US already, a new pact would aim to go further to free up traffic in services and harmonise regulations between the two sides of the Atlantic.
Speaking so fast his mouth dried to a crust, Mr Rubio accused Mr Obama of harbouring an "obsession with raising taxes". And he accused him of trying to demonise his party as the party of the rich. "I don't oppose your plans because I want to protect the rich. I oppose your plans because I want to protect my neighbours," Mr Rubio said.
Lasting one hour, Mr Obama's speech took off in its final passages as he implored Congress to take seriously his proposals on new gun control as the only way to avoid a repeat of recent gun massacres. With many victims of those tragedies in the chamber, Mr Obama achieved first a hush in the chamber that was slowly followed by a swell of applause and, in some cases, the rapid wetting of cheeks.
Mr Obama asked members of both parties to consider those touched by each tragedy. "They deserve a vote," he said. "Gabby Giffords deserves a vote. The families of Newtown deserve a vote. The families of Aurora deserve a vote. The families of Oak Creek, and Tucson, and Blacksburg, and the countless other communities ripped open by gun violence – they deserve a simple vote."
Two guests in the chamber drew particular attention. Ms Giffords, the former Arizona Congresswoman who suffered such grievous brain damage in a shooting two years ago, watched and applauded by clasping her hands together and shaking them. Clapping remained beyond her damaged body. And in announcing a bipartisan commission to find ways to improve America's voting system, Mr Obama pointed to a woman who had stood in line to vote four hours last November and had never given up. She was Desiline Victor. She is 102 years old.
Many overseas allies will be glad to see Mr Obama grasping the nettle of climate change firmly, citing recent climate catastrophes in America. "We can choose to believe that Superstorm Sandy, and the most severe drought in decades, and the worst wildfires some states have ever seen were all just a freak coincidence," he said. "Or we can choose to believe in the overwhelming judgment of science – and act before it's too late."
Within the chamber he seemed to strike a chord on immigration reform, a reflection that Republicans, disowned by most Hispanics in the last presidential race, are now ready to move on giving 11 million illegal immigrants a path to citizenship. "Our economy is stronger when we harness the talents and ingenuity of striving, hopeful immigrants," the Presidebnt declared. "And right now, leaders from the business, labour, law enforcement, and faith communities all agree that the time has come to pass comprehensive immigration reform."
But if Mr Obama sees hope for progress there, on other issues the fight might be more difficult. On fiscal policy and the impending automatic triggering of $1.2 trillion in spending cuts, the divisions between the parties were highlighted by the speech. But Mr Obama tried to scold Republicans for their continuing insistence on cuts in social welfare spending he will not tolerate and for resisting tax increases.
"These sudden, harsh, arbitrary cuts would jeopardize our military readiness," he said. "They'd devastate priorities like education, energy, and medical research. They would certainly slow our recovery, and cost us hundreds of thousands of jobs. That's why Democrats, Republicans, business leaders, and economists have already said that these cuts, known here in Washington as "the sequester," are a really bad idea."
He also accused the Republicans of repeatedly pushing the country to the edge of fiscal disaster. "Let's set party interests aside, and work to pass a budget that replaces reckless cuts with smart savings and wise investments in our future. And let's do it without the brinksmanship that stresses consumers and scares off investors. The greatest nation on Earth cannot keep conducting its business by drifting from one manufactured crisis to the next."
Join our new commenting forum
Join thought-provoking conversations, follow other Independent readers and see their replies