Stephen Paddock: Donald Trump describes Las Vegas shooter as 'very sick, demented man'
'We are looking into him very, very seriously', the President added
Alexandra Wilts
Washington DC
Tuesday 03 October 2017 14:46 Comments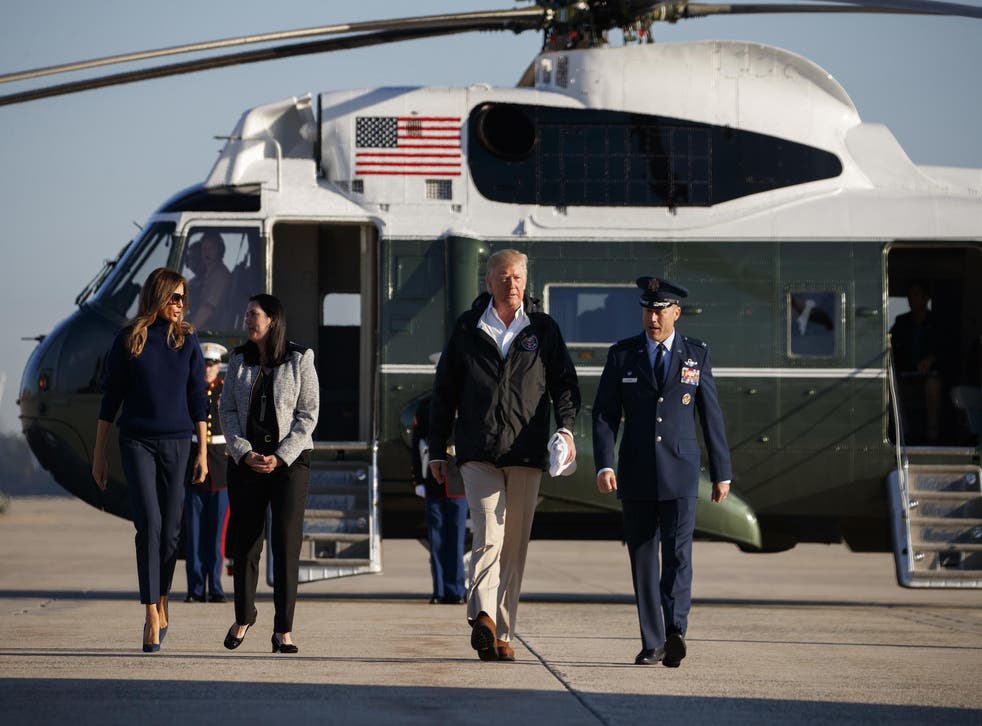 Donald Trump has described Stephen Paddock – who killed 59 people and injured more than 500 in America's deadliest mass killing in modern history – as a "very sick, demented" man.
Multiple government agencies are investigating what led the 64-year-old to open fire from a Las Vegas hotel room into a crowd of some 22,000 concert-goers.
"He's a sick man, a demented man. A lot of problems, I guess," Mr Trump told reporters before boarding his Marine One helicopter as he makes his way to hurricane-ravaged Puerto Rico.
"We are looking into him very, very seriously. But we're dealing with a very, very sick individual," the President added.
Police said they believed Mr Paddock killed himself before they stormed his hotel room on the 32nd floor of the Mandalay Bay, which is next to the concert site.
The shooting has reignited the controversy over gun ownership laws, but the White House and Republicans have brushed aside attempts to discuss gun policy.
When asked whether the Las Vegas shooting would prompt him to take up gun control legislation, Mr Trump responded: "Look, we have a tragedy. What happened is, in many ways, a miracle."
Las Vegas shooting – in pictures

Show all 15
"The police department, they've done such an incredible job," he added. "And we'll be talking about gun laws as time goes on. But I do have to say, how quickly the police department was able to get in was really very much of a miracle. They've done an amazing job."
Police found at least 23 weapons inside Mr Paddock's hotel room, including multiple rifles.
Mr Trump will visit Las Vegas on Wednesday.
Christopher Sullivan, general manager of Guns & Guitars, a gun shop in Mesquite, Nevada, confirmed that Mr Paddock had bought firearms at his store. Mr Paddock never gave any indication that he might have been unstable, Mr Sullivan said in a statement.
The gun shop owner also said Mr Paddock showed no signs of being unfit to buy guns. All the purchases were legal and cleared routine federal screening, Mr Sullivan said.
Paddock lived in a house in a retirement community in the small city of Mesquite, which is about an hour and a half drive from Las Vegas.
Register for free to continue reading
Registration is a free and easy way to support our truly independent journalism
By registering, you will also enjoy limited access to Premium articles, exclusive newsletters, commenting, and virtual events with our leading journalists
Already have an account? sign in
Join our new commenting forum
Join thought-provoking conversations, follow other Independent readers and see their replies