Stephen Paddock's father was on FBI's 10 most wanted list
Patrick Benjamin Paddock was a violent bank robber in the 1960s and 1970s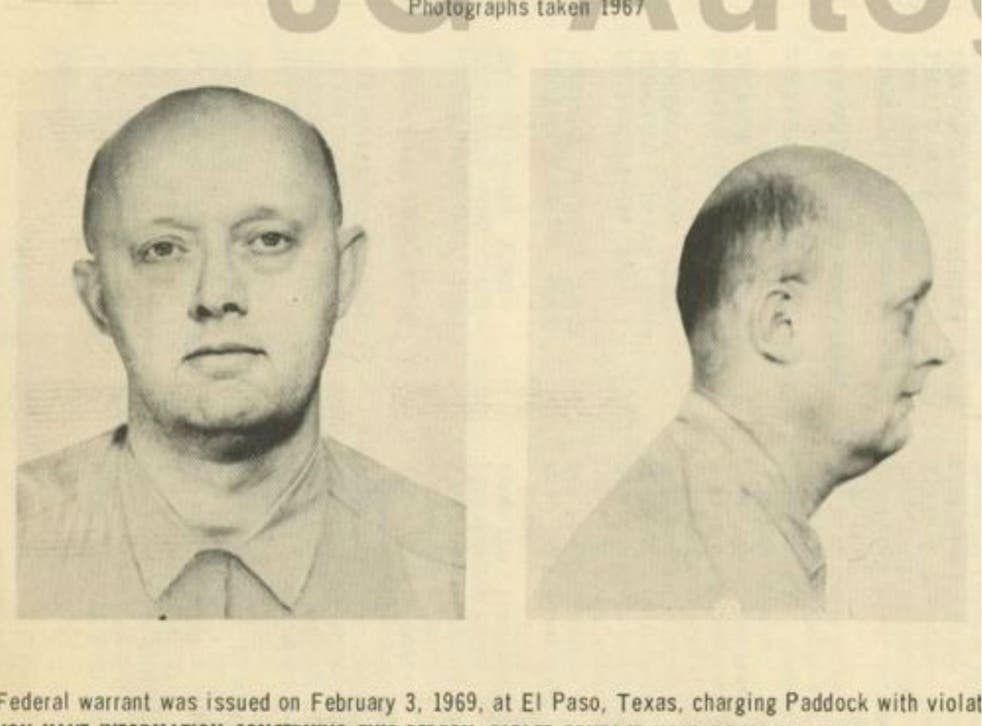 The Las Vegas shooter's father was once on the FBI's 10 most wanted list.
Stephen Paddock killed more than 58 people when he opened fire on a concert in Las Vegas, spraying a concert with a hail of bullets. He shot himself before he could be apprehended.
And it has now emerged that his father, Patrick Benjamin Paddock, was known as a violent bank robber during the 1960s and 1970s. His crimes made him one of the most notorious criminals in the US during his heyday.
An FBI poster that is available online says that the Las Vegas killer's father "diagnosed as psychopathic, has carried firearms in commission of bank robberies" and "reportedly has suicidal tendencies and should be considered armed and very dangerous."
Local news reports soon after his crimes were reported said that neighbours "couldn't believe that the colorful businessman, then 34 years old, was involved in crime". Another report says that he was captured in 1978, when he was running a bingo parlor.
He had been removed from the most wanted list a year before, because "it was felt he no longer fit the 'Top Ten' criteria", according to the FBI's official website.
The older Paddock was also involved in a violent attack in Las Vegas, according to a contemporaneous report in Tucson's Daily Citizen. When he was apprehended by the FBI, he attempted to run down an agent using his car, the report said.
Paddock himself had no criminal record apart from a traffic violation, according to Las Vegas police.
Brother of Las Vegas gunman says there is no logic to explain the mass shooting
The detail is the one strange piece of information to emerge about the man behind the massacre, which is the deadliest mass shooting in US history. People including his brother, who first reported their father's notoriety, said that Paddock's life was surprisingly normal and there was nothing to indicate he was planning such an attack.
Las Vegas shooting – in pictures

Show all 15
His brother, Eric Paddock, said he was a peaceful man who moved back to Nevada, where gambling is legal, partly because of his fondness for video poker.
"He's never drawn his gun, it makes no sense," Paddock said from his doorstep in Orlando, Florida. His brother had a couple of handguns he kept in a safe, perhaps a long rifle, "but no automatic weapons."
Eric Paddock said he had helped his brother move away from Central Florida's humidity to Nevada. The two were last in touch last month, texting about power outages after Hurricane Irma slammed into Florida.
Register for free to continue reading
Registration is a free and easy way to support our truly independent journalism
By registering, you will also enjoy limited access to Premium articles, exclusive newsletters, commenting, and virtual events with our leading journalists
Already have an account? sign in
Register for free to continue reading
Registration is a free and easy way to support our truly independent journalism
By registering, you will also enjoy limited access to Premium articles, exclusive newsletters, commenting, and virtual events with our leading journalists
Already have an account? sign in
Join our new commenting forum
Join thought-provoking conversations, follow other Independent readers and see their replies