Las Vegas gunman armed with at least ten guns during mass shooting
The man believed to have carried out the attack had no criminal record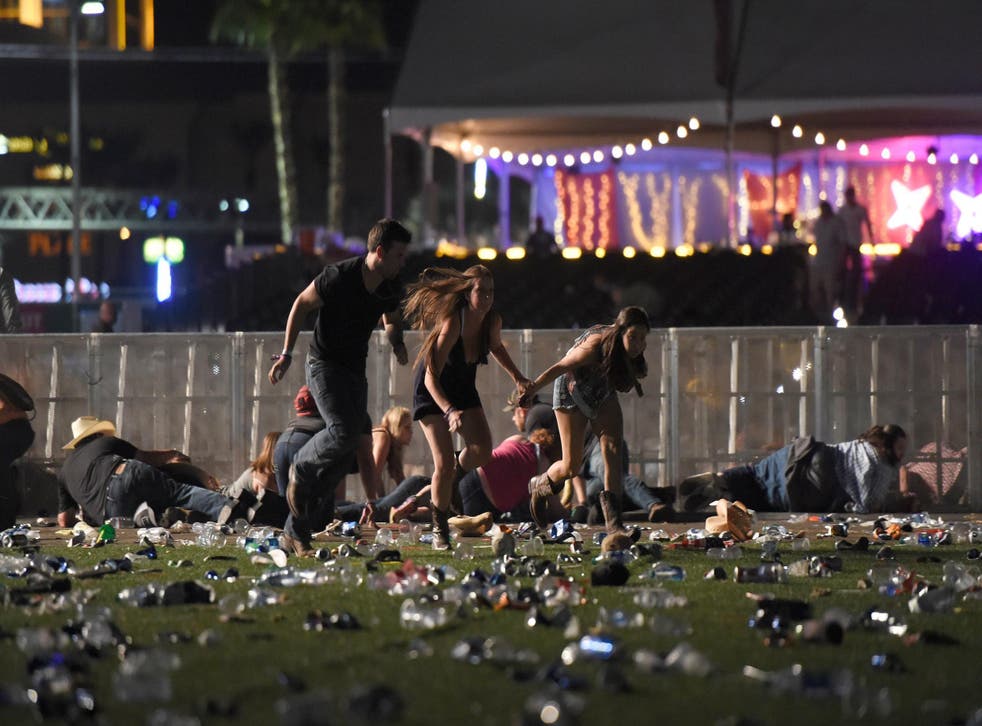 The suspected Las Vegas shooter was armed with more than ten weapons when he launched his attack on a country music festival, police have revealed.
Las Vegas Metropolitan Police Sheriff Joseph Lombardo said the alleged gunman, 64-year-old Stephen Paddock, was firing from the 32nd floor of the nearby Mandalay Bay hotel.
"We think it was in excess of ten guns," he said, during a press conference in the early hours. He also had two tripods and a camera for monitoring police.
Las Vegas shooting – in pictures

Show all 15
Officers said they believed that Mr Paddock, who was a resident of the city of Mesquite, 80 miles to the northeast, had checked into the hotel room last Thursday. After opening fire on people attending the Route 91 Harvest festival, located just of the Las Vegas strip, he took his own life, officers said.
Initially police believed there were two people in the room and for some hours officers were searching for a woman called Marilou Danley - apparently his housemate in Mesquite. Mr Lombardo said officers believe that Mr Paddock had illegally made use of her ID.
Las Vegas shooting: 50 dead and more than 400 hospitalised
"We have located her out of the country. She was not with him when she checked in," he said. "We have discovered that he was utilising some use of her identification. We have have had conversation with her. At this time, we believe her not to be involved but obviously that investigation will continue."
Mr Lombardo was asked when Mr Paddock took his own life. "We believe the individual killed himself prior to our entry," he said.
A reporter asked about the number of weapons they found in Mr Paddock's room. "We're still going through a search warrant actively at this time, but in excess of ten rifles," he responded.
The officer said that officers were also at Mr Paddock's home in Mesquite. He said the search of the property in Babbling Brook Court, which he bought in 2015, would proceed slowly as officers searched for possible explosives.
USA Today said the property is located in a retirement community, Sun City Mesquite, a development of about 1400 homes. The community includes an 18-hole golf course, indoor and outdoor swimming pools and a recreation centre, the newspaper said. Residents must be at least 55 years old, and no children are allowed.
Mr Lombardo said officers had located a Hyundai Tucson and a Chrysler Pacifica Touring, both with Nevada plates, which were registered to the dead suspect.
Join our new commenting forum
Join thought-provoking conversations, follow other Independent readers and see their replies